Disclosure: This article may contain affiliate links. We will make a small commission from these links if you order something at no additional cost to you.
Japan may have Kyoto, and China may have Xi'an, but South Korea has Gyeongju.
Nestled in the western mountains of the country, Gyeongju is the ancient capital of Korea. A small, unassuming town, Gyeongju doesn't attract the hordes of tourists that visit other ancient capitals. However, featuring four fantastic UNESCO World Heritage Sites and many other worthwhile attractions, Gyeongju should be on the shortlist for any traveler coming to South Korea.
From 57 B.C. to 953 A.D., Gyeongju was the capital of the Shilla Dynasty, the first true incarnation of what would become Korea. Largely spared destruction during the Korean War, Gyeongju and the surrounding hillside still contain a myriad of temples and burial grounds that date from this important time in Korean history.
The most accessible attraction is the many tombs that make up the Daereungwon Tomb Complex. Located within walking distance of the city center, the tombs, which appear as giant mounds in the earth, are surrounded by a park, a great place for a stroll. One of the tombs has been excavated, giving you an interesting look at the inside of an ancient Korean royal burial.
Nearby the tomb complex is another fascinating site: Cheomseongdae Observatory. Built in 634 A.D., the observatory was the first in Korea, and is the oldest existing observatory in Asia. Standing approximately 30 feet high, the observatory is a great place to visit in the city.
Further afield, is Anapji Pond, and the quite interesting Gyeongju National Museum. Housing thousands of artifacts from the Shilla Dynasty, it's the second best history museum in South Korea (after the National Museum in Seoul).
The highlights for many visitors to Gyeongju, however, are Bulguksa Temple and Seokguram Grotto.
Located on the outskirts of the city, Bulguksa Temple underwent a major restoration in the 1970s, but parts of it date from as early as the 8th century. The temple is considered one of the best examples of Buddhist architecture in Korea and has been listed as both Korean Scenic and Historic Site Number 1 and as a UNESCO World Heritage Site.
While at the temple, make sure to check out Seokgatap and Dabotab, two pagodas that sit in temple's inner courtyard. At over 1,300 years old, the pagodas are revered by Koreans. Dabotab is so famous that it is pictured on the back of the ten Won coin.
The temple grounds are very beautiful and are a fertile ground for fantastic pictures. Be aware though, if you go on a weekend, the temple will likely be very busy (you might even see the Korean Urkel), however, if you go early in the morning or during the week, the temple should be much more enjoyable and quiet.
After checking out the temple, take the bus or follow the trail for about 4km to Seokguram Grotto. Easily one of the most impressive sites in all of Asia, the grotto looks like a movie set from Indiana Jones. When you approach the entrance, it looks rather underwhelming, just a small temple front against a large mound. However, beneath the earthen mound sits a stone grotto, carved with beautiful inlays of Buddhist art. In the middle, sits a 3.5 meter tall statue of Buddha. Even if you have to wait in an hour long line, like I did, viewing the grotto is something that is not to be missed if you make your way to Gyeongju.
Another great place to visit in Gyeongju is Namsan Mountain. Despite sharing a name with Seoul's most famous mountain, Namsan in Gyeongju is a peaceful walk through history. It is while hiking the trail on this mountain that Gyeongju's slogan "Museum without Walls" really comes to life.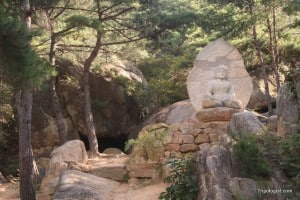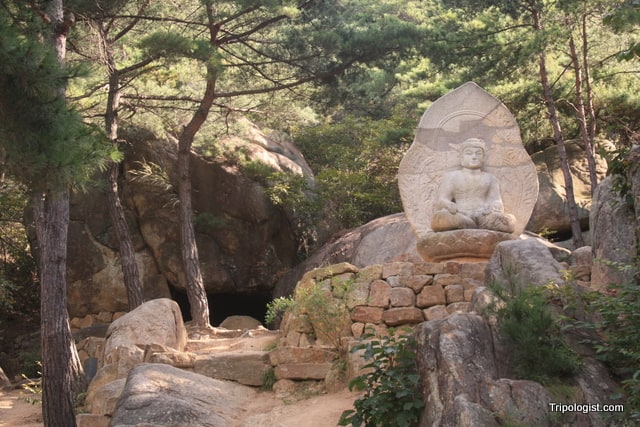 Along the hike, you'll encounter several statues and carvings that are over a millennia old. With no guardrails or curators in site, you can truly appreciate these ancient wonders.
For more information about hiking Namsan Mountain, check out a piece I wrote in February 2012: Namsan Mountain: A Magical Hike into South Korea's Past.
Another spot worth checking out is Golgulsa Temple, located about 45 minutes outside of town, Golgulsa is the training grounds for Sunmudo. Until recently, this martial art was a closely kept secret, only taught to the resident monks. Today, however, it can be learned by anyone who does a temple stay. They also put on a daily martial arts demonstration, which is well worth the trip.
For more information about Golgulsa and directions to this fantastic temple, click over to this post from February 2012: Golgulsa: The Most Kick-Ass Temple in Korea.
Gyeongju is one of my favorite destinations in South Korea. It is easy to get to from Seoul or Busan, as multiple trains and buses head to the town each day. When traveling South Korea, Gyeongju is a must for any lover of Asian history or architecture.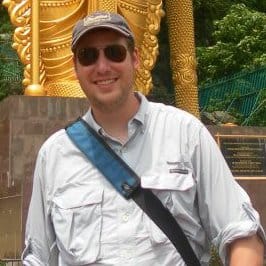 Jim Cheney is the creator of Tripologist.com. Having traveled extensively in North America, Europe, and Asia, Jim enjoys sharing his love of travel and some of his favorite places to visit around the world. He lives in Pennsylvania, USA, with his wife and two kids.