Disclosure: This article may contain affiliate links. We will make a small commission from these links if you order something at no additional cost to you.
Far from both the throbbing metropolis of Tokyo and the still-recovering disaster sites of Fukushima and Sentai lies Kyoto, the former imperial capital of Japan. Though it's a large city in its own right, the city's charm is not so much modern technology and neon lights, but rather the nearly 2,000 ancient temples and shrines that dot the city.
Kyoto first came into prominence in 794 when the capital of the Imperial Japanese Court was moved there from nearby Nara. Over the course of the next thousand years, Kyoto served as the capital of Japan. Thankfully, Kyoto was spared heavy bombing during World War II and was removed from the atomic bomb list due to its cultural importance. As a result, Kyoto is one of the few places in Japan that has pre-World War II buildings in abundance.
Despite not having an airport (the closest one being located 30 minutes away in Osaka), Kyoto is well-connected by high-speed train to most major cities in Japan. Therefore, nearly all visitors to Kyoto arrive at the massive Kyoto Station downtown. The modern appearance of the train station and the 131-meter-tall Kyoto Tower across the street belie the historical significance and tranquility of the city. As you move away from the station, the modern quickly merges with the ancient, and there seems to be a small temple on nearly every city corner. With so many options for sightseeing, it's important to narrow your focus so that you don't miss the best the city has to offer.
Kyoto's most famous temples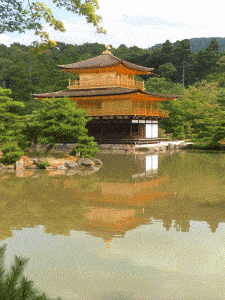 One of the first stops on any tour of Kyoto should be the amazing Kinkaku-ji. Better known as the Golden Pavilion, this popular tourist destination is a Zen Buddhist temple that dates to the 14th century. It was burned down by a monk in 1950 only to rise from the ashes in 1955. Coated in gold leaf, this magical temple is perhaps most photogenic when reflected in the pond that faces it.
Traveler's Tip: Make sure to arrive as soon as it opens at 9 am to beat the onslaught of tour buses.
Located a short walk from the Golden Pavilion is Ryoan-ji, which features one of the best Zen gardens in all of Japan. If you've only ever seen a Zen garden in miniature or on television, seeing one in person is something else altogether. The garden is designed with 15 large rocks scattered in a rectangle of white gravel. It's said that if you can see all 15 rocks at the same time you will achieve enlightenment. Whether you reach nirvana or not, it's an impressive place to sit for a few quiet moments of rest in your busy day of sight-seeing.
Traveler's Tip: Take the time to see the other buildings around the grounds as well: a peaceful pavilion in the middle of the pond is a highlight.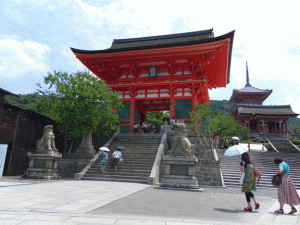 Another top tourist draw is the centrally located Kiyomizu-dera, a Buddhist temple dating from the 8th century. The most impressive feature at this temple is the stage that stands 13 meters off the ground. It used to be said that anyone who survived a jump from the ledge would be granted a wish, but jumping is no longer allowed. Instead, you can make a wish as you drink from the temple's triple fountain.
Traveler's Tip: The walk up to Kiyomizu-Dera is steep and lined with souvenir shops. This is a good place to look for personal mementos or gifts for loved ones.
 Going off the beaten path
Don't be fooled: not all of Kyoto's best sites are on the standard tourist trail. In fact, two absolutely essential temples aren't included on most tourists' itineraries: Fushimi Inari Shrine and Sanjusangen-do.
Located a ten-minute train ride out of Kyoto, Fushimi Inari Shrine is a glaring omission from the suggested itineraries in many travel guides. Taking up one entire side of Mt. Inari, this Shinto shrine is dedicated to Inari, a fox-shaped god who is depicted numerous times in the shrine.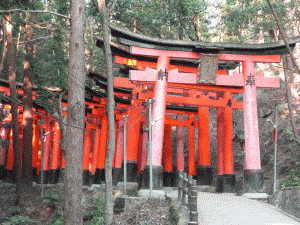 Hiking up the mountain, visitors walk under a canopy of thousands of bright orange torii (traditional Japanese gates). Periodically, the path will open up into a small clearing, filled with mini-shrines, each with their own small torii. Hiking to the end of the trail would only take about 30-45 minutes going non-stop, but you'll likely find yourself pausing frequently to take in the wonder of the small shrines covering the mountainside.
Traveler's Tip: Don't turn back till you reach the end of the trail, which affords fantastic views of Kyoto and the surrounding hills.
Once you arrive back in downtown Kyoto, another fantastic temple to visit is Sanjusangen-do. Consisting of a single, 120-meter long building, it may not seem like much from the outside; however, prepare to be awestruck once you venture inside. Surrounding a giant statue in the middle are 1,000 life-sized Kannon figures. Made of Japanese cypress, these statues were all carved over 800 years ago.
Traveler's Tip: Pictures are not allowed inside the main hall, but something this impressive will stay with you for a long time. Or you could just buy a postcard from the gift shop.
Though only three hours from Tokyo by high-speed train, Kyoto has more than enough to keep you enthralled for days. For an unforgettable encounter with Japan's rich historical and cultural legacy, a visit to Kyoto is a must.
A longer version of this post appeared in the December 2011 edition of 10 Magazine under the title "Asian Destination: A Temple Tour of Kyoto".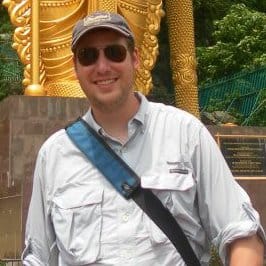 Jim Cheney is the creator of Tripologist.com. Having traveled extensively in North America, Europe, and Asia, Jim enjoys sharing his love of travel and some of his favorite places to visit around the world. He lives in Pennsylvania, USA, with his wife and two kids.