Disclosure: This article may contain affiliate links. We will make a small commission from these links if you order something at no additional cost to you.
I'm a big fan of good quality beers; so, when I heard about Troegs Brewery, I knew I had to visit.
Located in Hershey, Pennsylvania, birthplace of Hershey's Chocolate and close to my home in Harrisburg, Troegs Brewery is one of the top microbreweries in Pennsylvania.
While they offer self-guided tours, my wife and I opted to pay the $5 to take the guided tour because, not only do you get a better tour, but you also get free beer at the end.
The Troegs Brewery Tour starts where the beer starts: in a room filled with hops. The tour then follows the entire production line of the beer, all the way to the bottling. Having taken brewery tours in the past, I didn't find anything amazingly unique about the process at Troegs, but the tour was fun and informative.
The best part though, and the reason most people take brewery tours, is the free beer at the end.
Our tour guide started by grabbing a few beers right off the production line, and then selecting a few others for sampling. In their small tasting room, we were each given several small glasses with different brews to try, each somehow better than the last.
Once the Troegs Brewery tour was over, my wife and I decided to head into their large tasting room, which consisted of a large bar and a food counter for lunch and more beer (Yes, we did our tour in the morning!).
We opted to get a beer sampler so that we could try each of Troegs regular beers as well as getting some delicious food from the snack bar.
The bar at Troegs Brewery offers not just samplers, but full glasses of each of their beers. They also feature seasonal beers and scratch beers (small production test brews).
If you're ever in the Harrisburg/Hershey area of Pennsylvania, I would highly recommend taking the Troegs Brewery tour in Hershey.
To reserve a spot in the Troegs Brewery tour, visit their website, Troegs.com.
For more information about travel in Pennsylvania, visit UncoveringPA.com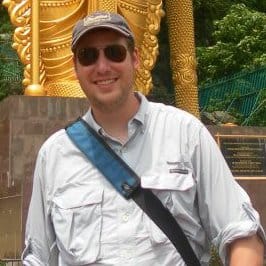 Jim Cheney is the creator of Tripologist.com. Having traveled extensively in North America, Europe, and Asia, Jim enjoys sharing his love of travel and some of his favorite places to visit around the world. He lives in Pennsylvania, USA, with his wife and two kids.