Disclosure: This article may contain affiliate links. We will make a small commission from these links if you order something at no additional cost to you.
It's holiday season again. Time to get together with those you love and celebrate with gifts, Christmas cards, and fantastic movies and music. That is of course, if you are home with your family.
However, if you're traveling or living abroad, the holiday season can be rough. It's hard for even the most seasoned of adventurers to not get a little homesick during the holiday season. So, here are five tips to help you fight the loneliness and bring a bit of holiday joy to your travels.
Call Your Family and Friends
It's amazing how close to home you can feel when you talk to your family and friends, especially when using a video service like Skype. If you've been fortunate enough to receive gifts while away, or if you've sent gifts home, opening the gifts online can really help you feel at home on Christmas day.
It's even possible on some services to do video conference calls, so you can see everyone, even if they are in different locations.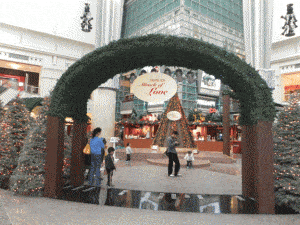 Go Christmas Shopping
In an exciting foreign location? Why not pick up a few unique souvenirs and send them home for the holidays. After all, what's more exciting that sharing a bit of your travels with your family and friends back home.
While it may sound expensive, from some locations, especially in Asia, you can do your Christmas shopping early and ship it very cheaply via ground shipping. You can even open the gifts you got them over Skype.
Watch a Christmas Movie
Even if you aren't at home, you can still watch some of your favorite holiday movies online.
While it is hard to find legal sources to watch some of the more recent holiday favorites, it is possible to watch some of the older Christmas classics like "Miracle on 34th St.", "Rudolph the Red-Nosed Reindeer", or the terrible "Star Wars Holiday Special".
About.com has a great page that lists links to many different Christmas movies and TV specials that you can watch online for free.
Find Yourself Some Turkey and Stuffing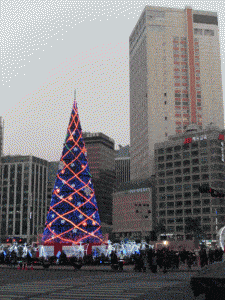 One of the best ways to keep yourself from feeling homesick during the holidays is to grab some friends or travel partners and head out to enjoy a holiday feast. On Thanksgiving and Christmas, most large cities around the world will have a few restaurants offering traditional meals.
If you are at a loss of where to look, try the restaurant at a large international hotel chain or the foreigner district of the city you are in.
However, if you are taking the slow boat in Loas or in some other place far from a large city, you might have to settle for something else on the big day.
Treat Yourself to Something Special
Even if you are traveling on a budget, it will still help your morale to treat yourself to something nice every once in a while, and what better time to do that than around the holidays.
This will not only give you something nice, but will give you something to look forward to other than seeing a new temple or visiting a new town.
So, I'm giving you permission, go out and do something nice for yourself: go to the spa, stay in a nice hotel, eat at a fancy restaurant. The holidays are a special time; treat them that way.
Follow my blog with Bloglovin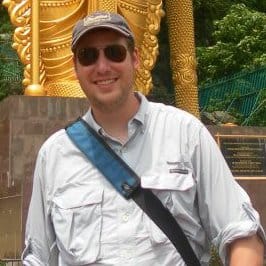 Jim Cheney is the creator of Tripologist.com. Having traveled extensively in North America, Europe, and Asia, Jim enjoys sharing his love of travel and some of his favorite places to visit around the world. He lives in Pennsylvania, USA, with his wife and two kids.