Disclosure: This article may contain affiliate links. We will make a small commission from these links if you order something at no additional cost to you.
In August of 1786, the British flag was raised for the first time in southeast Asia; however, the flag wasn't first raised over Hong Kong or even Singapore. Instead, the first British possession in the region was the island of Penang, off of Malaysia's northwestern coast.
Trading a lie of protection to the Sultan of Kedah in exchange for the island, Sir Francis Light secured the Straights of Malacca for the British East India Company. And, by declaring the island to be a free trade zone, he secured Penang's place as one of the most important trading centers in all of Asia.
Known originally as Prince of Wales Island, Penang grew quickly. The original settlement was on the island's northeastern corner around Fort Cornwallis, located in the heart of downtown Georgetown. Immigration was rampant during the colony's early years thanks to Light's offer of free land to anyone who could clear it. Because of this, the island attracted a large number of Chinese, Indian, and Malay settlers.
The city that sprang up around them had the civility of a tidy English town, with the diverseness that comes from a multicultural society.
Fortunately for travelers, this eclectic architecture of the city survives into the present. Walking down the streets, you can go from colonial England, to Chinatown, and to Little India in a matter of a few blocks.
Since the island of Penang, along with the rest of Malaysia, gained its independence from Britain in 1957, the port is becoming less and less important; however, as a travel destination, Georgetown has never been more popular. Every year, millions of tourists flock to see the UNESCO protected old town, and the ruins of Britain's first southeast Asian colony.
This article was part of a publication for Tourism Malaysia. If you enjoyed this article and would like to find out more about travelling to Malaysia, please visit the Tourism Malaysia website.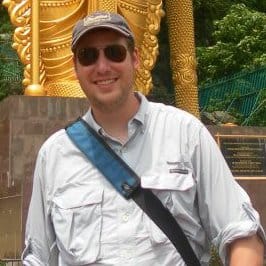 Jim Cheney is the creator of Tripologist.com. Having traveled extensively in North America, Europe, and Asia, Jim enjoys sharing his love of travel and some of his favorite places to visit around the world. He lives in Pennsylvania, USA, with his wife and two kids.