Disclosure: This article may contain affiliate links. We will make a small commission from these links if you order something at no additional cost to you.
Nestled in the central valleys of South Korea is the ancient capital of Gyeongju. Similar to Kyoto, but without the fame or hordes of tourists, Gyeongju stands as a testament to Korea's past. Scattered throughout the town of Gyeongju and its outskirts are enough temples and burial grounds to keep you occupied for weeks.
However, for me, there is only one place in the city that truly incapsulates the city's slogan, "A Museum Without Walls": Namsan Mountain.
Gyeongju's Namsan Mountain, despite sharing a name with a very popular mountain in downtown Seoul, has very little in common with its namesake. Yes, both are popular hiking destinations, but that's where the similarities end.
Within a few moments of starting your hike of Namsan Mountain, you'll understand why. Dotting the mountainsides of this forested peak are statues dating over a thousand years into the past. Not one is protected from hikers by a glass wall, curator, or even a simple rope. Instead, visitors can walk right up to the statues and even touch them if they desire (not that I'm suggesting that that is a good idea).
The best hike for visitors is a hike through Samneung Valley on Namsan's western slopes. Taking only around 2 – 2:30 hours round trip, this hike affords you the chance to see several ancient statues and a great panoramic view of Gyeongju.
Starting from the road, you will soon come to the statue of a headless Maitreya Buddha that was carved over 700 years ago. Decapitated many years ago, the base of the statue still shows the magnificence of the original statue. If you follow the side trail up another fifty meters or so, you'll also come to a weathered carving on the rock face with a small shrine in front.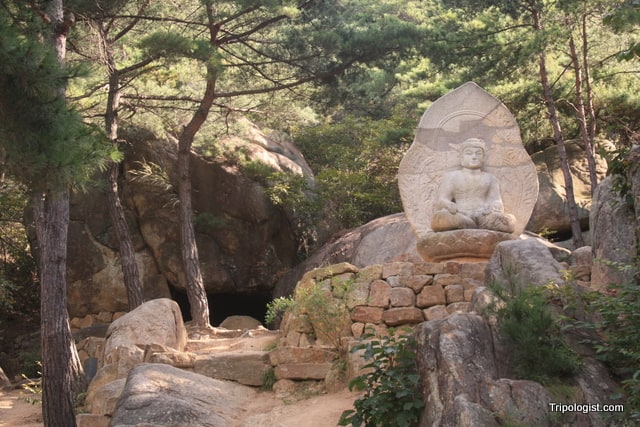 Continuing up the trail, you'll encounter several more statues and carvings, each just steps off the main path. Eventually, you'll get to a statue of a Shakamuni Buddha that seems fit for a museum, but without any curators to bother you. This statue is one of the most impressive examples of Korean Buddhist art that I have seen, and it sits on a beautiful ledge overlooking the dry creek bed below.
Soon after leaving the Shakamuni Buddha statue, you'll arrive at Sangseonam Hermitage, a small temple near the mountain's peak. This is a great spot to rest, and they have even managed to somehow get a vending machine here. I'm still baffled as to how they accomplished that.
From Sanseonam Hermitage, it is only a 5-minute walk to another very impressive carving. At nearly seven meters tall, the Maitreya Buddha statue here is very impressive. It's even more impressive when you consider that it has been sitting, unprotected from the weather, for over 700 years. Make sure to pause for a moment and admire the amazing view this carving has of the countryside surrounding Gyeongju.
Continuing up the trail, it is a short hike to the ridge of Namsan Mountain. From here, you have three choices: you can turn around and go back the way you came, you can hike to the right and continue your hike to make a longer day out of it, or you can do what I did and head left.
If you turn left, you'll continue up the mountain ridge for a few minutes to a very impressive view over the city of Gyeongju. From there, look for a small, handwritten sign indicating the way to Sambulsa Temple (삼불사), a small temple at the bottom of the mountain.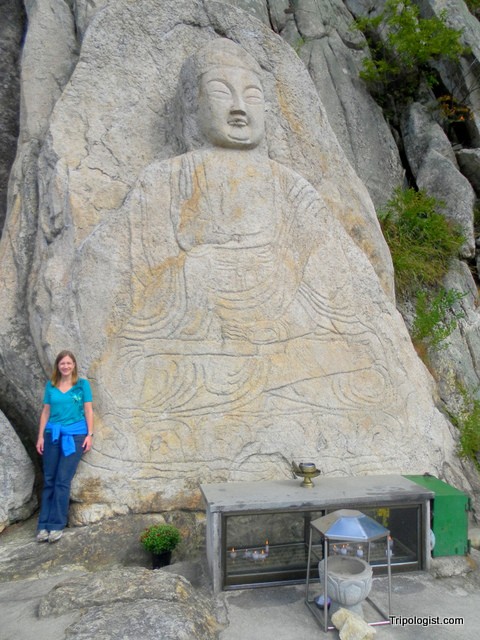 The hike down the hill isn't quite as smooth or defined as the one up, but it shouldn't be too much trouble to follow. After passing several more carvings, though none as impressive as the ones you've already seen, you'll come to a small bamboo grove, and then out into the temple area. The temple is very peaceful and worth spending a few minutes walking around.
Getting There and Back
The Samneung Valley trail head is easy to reach from downtown Gyeongju. From the bus station, cross the street and take any of the buses numbered from 500-505. It takes about 15 minutes to reach the trailhead, which is across the street from a large parking lot, and just after the stop for Sambulsa Temple.
Getting back is just as easy. From the temple, it is a short walk back to the road. From there, you can take any of the buses that come by back into town.
If you are planning a trip to Gyeongju, make sure to also check out Golgulsa Temple.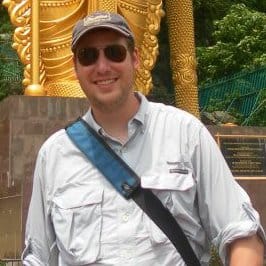 Jim Cheney is the creator of Tripologist.com. Having traveled extensively in North America, Europe, and Asia, Jim enjoys sharing his love of travel and some of his favorite places to visit around the world. He lives in Pennsylvania, USA, with his wife and two kids.