Disclosure: This article may contain affiliate links. We will make a small commission from these links if you order something at no additional cost to you.
Laos is a landlocked country, there's no denying that. However, that doesn't mean you can't get some quality relaxation time on the water.
For nearly the entire length of the country, the Mekong River runs its course from Tibet to the South China Sea. While millions of people live along this river and rely on it for their very lives, there are also several opportunities for traveler's to rest their weary feet.
Just across the Lao border from Cambodia lies the area known as Si Phan Don to locals, but better known to travelers as 4,000 Islands. While most of the islands are no more than small sandbars during the dry season, there are several inhabited islands among the Mekong's 14-kilometer breadth. Of these, the most popular with traveler's are Don Dhet and Don Khon.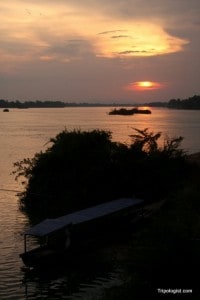 Seperated by a small channel, but connected by an old French railway bridge, the two islands are fairly easy to reach from any point in southern Laos or northern Cambodia.
Once you reach the islands, there is as much or as little as you want to occupy your time. Should you chose to be busy, you can rent a kayak or inner tube to float down the river, or you can rent a bike to explore the islands a bit further.
When I was there recently, I chose to rent a bike and headed over to Don Khon from my hotel on Don Dhet.
I had a wonderful day riding through the old villages on the islands, following old railway trails, looking for dolphins in the river, and watching water roar over a waterfall. It was a great way to see a bit of life in rural Laos fishing villages.
On the other hand, no trip to 4000 Islands would be complete without a day spent lounging in a hammock, cold Beer Laos in hand, waiting until you get just toasty enough to cool off with a swim in the mighty Mekong.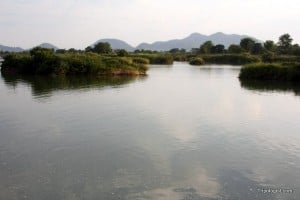 Whether you want to stay for 1 night or for 10 nights, make sure to get to Si Phan Don soon, as it is quickly changing. While I was visiting, there was a constant hum of hammers and saws as new, larger hotels and guesthouses were being built.
In my opinion, most of the charm of 4000 Island is that you can relax on the riverside for mere dollars a night, while still being able to enjoy some traveler friendly food, and biking through villages that have changed little in the last 100 years. However, once the large and nicer guesthouses open, I suspect that these islands will start to lose a lot of their charm. Crowds will take over the quiet riverside, restaurants will serve you food after 9pm, and the wifi might become even faster.
While progress is always good, there is something nice about the tranquility you can experience at Si Phan Don. Make sure to get there before that goes away forever.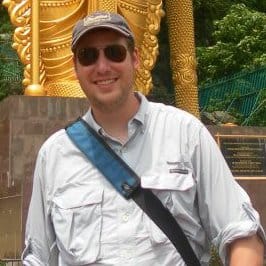 Jim Cheney is the creator of Tripologist.com. Having traveled extensively in North America, Europe, and Asia, Jim enjoys sharing his love of travel and some of his favorite places to visit around the world. He lives in Pennsylvania, USA, with his wife and two kids.