Japan is one of the most popular tourist destinations in the world. Most visitors make it to Tokyo or Kyoto and might even make it as far as Hiroshima or Osaka. Unfortunately, Nara, a fantastic town, easily accessible from Kyoto, is often missed by tourists.
Sitting just an hour by train from Kyoto or 30 minutes from Osaka, Nara's one of the most important towns in the history of Japan. It was here, in 710 that the Emperor of Japan set up his capital. Nara's reign as the capital of Imperial Japan lasted a brief 74 years, but the effects of those years still remain.
Most of the city's sights are located within Nara Park, a large, beautiful park in the center of the city. Nara Park features several ancient temples as well as over 1,200 wild deer. The local sika deer are considered a National Treasure. According to legend, the gods sent the deer to protect the capital. The deer were so highly regarded that harming them was punishable by death until the 17th century. Today, the deer are very tame and many vendors sell crackers that the deer will eat right out of your hand.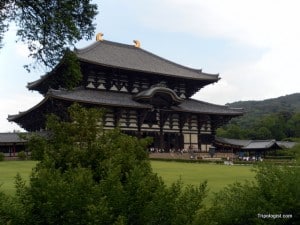 While nature lovers might find the deer to be the highlight of Nara Park, history lovers will love the fantastic temples that dot the parks grounds.
The most impressive site to visit is Todaiji. The temple features the largest wooden building in the world, which encloses a 50-foot tall, bronze statue of Buddha. Outside of the temple also sits one of the most odd looking Buddha statues that I've every encountered.
While there, try to squeeze yourself through a hole in the middle of the temple. It is said that those who can will reach enlightenment.
The park also features a fantastic five-tiered pagoda at Kofukuji, a temple on the parks outskirts. While you can't go inside or climb up the pagoda anymore, it's still worth stopping to see.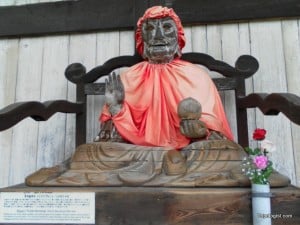 Nara is a fantastic day trip for anyone visiting Kyoto or Osaka because it allows you to peer into the ancient history of Japan.
Getting to Nara Park
Most traveler's to Nara arrive at one of the town's two train stations. From the JR Nara Station, it's a 20 minute walk to the park, and from  Kintetsu Nara Station it's only 5 minutes.
It is also possible to take a local bus from the train station to and from the park.
Entrance to Nara Park is free; however, there is a 500 Yen entry fee for Todaiji Temple.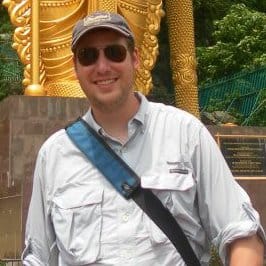 Jim Cheney is the creator of Tripologist.com. Having traveled extensively in North America, Europe, and Asia, Jim enjoys sharing his love of travel and some of his favorite places to visit around the world. He lives in Pennsylvania, USA, with his wife and two kids.