Disclosure: This article may contain affiliate links. We will make a small commission from these links if you order something at no additional cost to you.
When I think about Buddhist temples, two different images come to mind. First, I think of a monk sitting under a tree, with a gray robe and a shaved head, meditating. Second, I think of the monks of Kung-fu movies, meditating by day and flying through the air on an assassination mission by night.
While this second image was true hundreds of years ago, it's almost entirely absent from modern reality. However, tucked away in the mountains outside of Gyeongju, South Korea is a temple where monks still practice ancient martial arts.
For years, the practice of Sunmudo was a closely guarded secret, known only to the few monks privileged enough to study under the tutelage of the temple's martial arts master. In recent years though, the practice of Sunmudo has been brought to light. While you once could only learn this Zen martial art as a Buddhist monk at Golgulsa Temple, the practice is now open to non-monks at several centers around the world, including through temple stays at Golgulsa itself.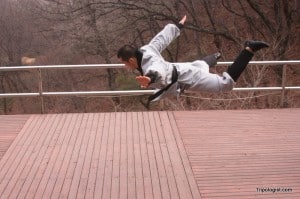 The way best way to see Sunmudo in practice is to head to Golgulsa itself for the twice daily performances. Featuring examples of both meditation and acrobatics, the performance is a unique experience.
Originally constructed in the 6th century, Golgulsa is the only cave temple in Korea. Sitting above the cave is a giant statue of the Maya Tathagata Buddha. Protected now by a glass roof, this ancient statue stands high above the temple grounds, still an object of reverence for the temple's faithful.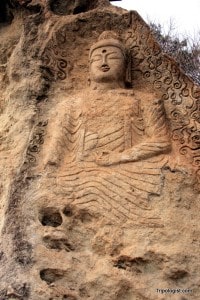 Golgulsa Temple is a overlooked gem for anyone interested in Buddhism or martial arts in Korea.
Getting To Golgulsa Temple
Golgulsa Temple is a worthwhile challenge to see if you are visiting Gyeongju, South Korea.
From the Gyeongju Bus Terminal or Train Station take bus number 100 or 150 for 30- 35 minutes to the Andong bus stop. From the bus stop, which is basically in the middle of nowhere, head along the road to your left for about 15 minutes until you see two small buildings and a road leading off to the left. From there, it is another five minutes up to the temple entrance and about 15 minutes of walking up to the main temple area.
The monks of Golgulsa put on a performance on Sunmudo everyday of the week, except Mondays, at 11am and 3pm. Make sure to time your visit to the temple to see one of these spectacular performances.
Entrance to Golgulsa Temple is free. There is a small gift shop just down the hill from the performance stage that sells t-shirts, bandannas, and monks clothing.
For more information on learning Sunmudo or doing a temple stay, visit the Golgulsa Temple website.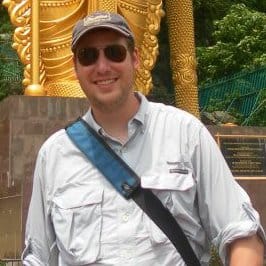 Jim Cheney is the creator of Tripologist.com. Having traveled extensively in North America, Europe, and Asia, Jim enjoys sharing his love of travel and some of his favorite places to visit around the world. He lives in Pennsylvania, USA, with his wife and two kids.