Disclosure: This article may contain affiliate links. We will make a small commission from these links if you order something at no additional cost to you.
Listening to the soldier speak, I felt as if I was going into war. "Don't point at anything," he warned as he strode quietly in front of the group of nervous, but eager participants. "If you look behind me, they are looking at you through binoculars right now," he continued.
Sure enough, standing mere meters away was a North Korean soldier, decked out in his dark, green uniform, gun at his side, peering through his binoculars and ready to strike at a moment's notice. Between us, however, were several intimidating South Korea soldiers, all highly trained in both marksmanship and martial arts, ready to intercept any ill-concieved advance by Kim Jong-un's finest troops.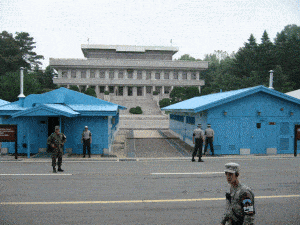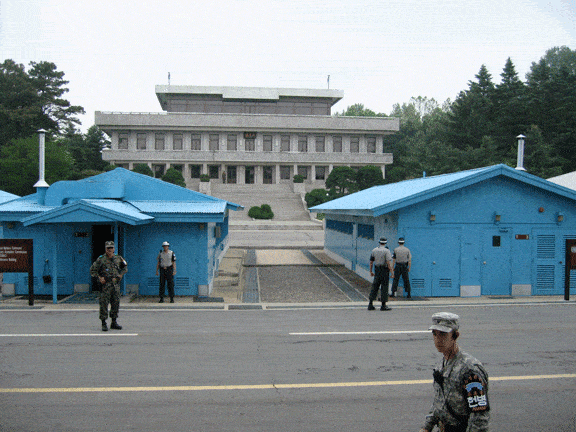 Having earlier signed a piece of paper acknowledging that I was entering an active war zone, and that I alone was responsible for my own safety, the potential consequences of standing just steps away from the most highly militarized border in the world left me more than a little jittery.
What I was doing, however, was something that hundreds of tourists to the Korean Demilitarized Zone do on a daily basis: face down the military of one of the world's last communist countries and live to tell about it.
Truthfully, it's a bit odd visiting the DMZ as a tourist. This is never more apparent then when you are asked to sign a waiver that declares the United Nations not responsible for any injuries due to "hostile enemy action". Fortunately, it has been many years since any guns were fired in the Joint Security Area, and the only shots fired now are the thousands taken everyday by camera-wielding tourists.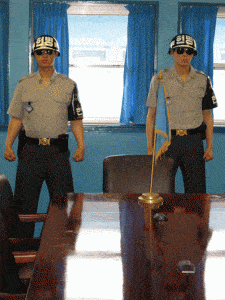 While not cheap, taking a trip to the DMZ is a must when visiting South Korea. Not only do you get the chance to stare down a North Korea soldier, but you actually get the opportunity to walk into North Korean territory, albeit while inside a room, guarded from potential North Korean abduction by some pretty badass looking South Korean soldiers.
The trip to the DMZ starts in the heart of Seoul. Leaving the city, you quickly start to realize how seriously South Korea takes border security. Jutting out of the ground, and separating the highway from the Han River, a barbed wire fence runs for as far as the eye can see, interrupted only for the frequent guard towers that line the fence's path.
Once you arrive at Camp Bonifas, the military camp just outside the DMZ, you are required to board a United Nations' bus and are escorted to a briefing room where you are given the rules and history of the Joint Security Area. After signing the aforementioned waiver, its onward ho towards the North Korean border.
After touring the Joint Security Area and hearing about some of the incidents of the past, you get back on your original tour bus to see the rest of the sites.
From this point, most tours include trips to Dorasan Train Station, the last, lonely outpost of the Korean rail system, the Third Infiltration Tunnel, and Dora Observatory, along with several gift shops and a stop for lunch.
The visit to the Third Infiltration Tunnel affords visitors the ability to head underground and see a tunnel dug by the North in case they ever decided to invade South Korea. Fortunately, the tunnel was discovered, and the only risk now is bumping your head on the low ceilings. There is also a pretty good museum at this stop.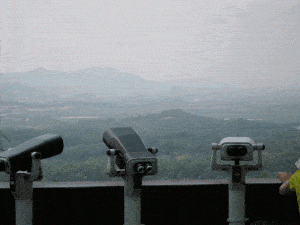 After that, you'll have the opportunity to once again view North Korea, this time from high atop a mountain at Dora Observatory. Unfortunately, pictures are highly restricted here, but on a clear day you can view the entire width of the DMZ, and even the North Korean border city of Kaesong.
If you have the ability to plan your trip to the DMZ in advance, I would highly recommend booking your tour through the US military's USO (http://www.koridoor.co.kr) which runs several tours a week and allows most nationalities to come along.
If the USO tour is full, or if their schedule doesn't work for you, then there are several other companies that run tours to the DMZ; however, make sure that your tour includes a visit to Panmunjom as some don't.
One final thought, as a quick word of warning, make sure that you carefully read and follow the dress code given to you by your tour operator and that you carry your passport with you at all times. On my tour, a woman was only allowed to go into the Joint Security Area because the bus driver let her borrow his shoes.
Have you been to the DMZ and have an interesting story to share? Have you been with a tour operator that you want to recommend or warn others about? Do you have any questions about booking your tour to visit the DMZ? If so, please comment below.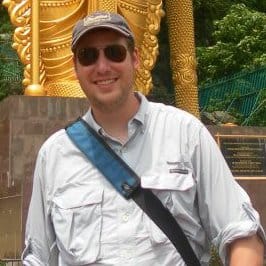 Jim Cheney is the creator of Tripologist.com. Having traveled extensively in North America, Europe, and Asia, Jim enjoys sharing his love of travel and some of his favorite places to visit around the world. He lives in Pennsylvania, USA, with his wife and two kids.