Disclosure: This article may contain affiliate links. We will make a small commission from these links if you order something at no additional cost to you.
South Korea and Japan are two fantastic countries to visit, and if you are visiting one, it makes a lot of sense to take the short hop across the East Sea/Sea of Japan to visit the other. Unfortunately, the cost of flights between the two countries can be ridiculously high, with a one-way ticket usually costing over $300 USD for the short two-hour flight.
However, for those in either country, there is another way to travel from the Land of the Morning Calm to the Land of the Rising Sun: the JR Beetle.
A high-speed ferry that zips across the sea in just under three-hours, the JR Beetle is an excellent choice for those on a budget or looking for an alternative to the cost and hassle of flying. It also makes a loop of Japan and South Korea very convenient for those traveling for an extended period of time.
Even better, unlike the airports of either city, which require leaving the city center and going through high-levels of security, the ferry crossing couldn't be more pleasant. No need to arrive two to three hours before the ferry leaves as check-in, security, and immigration is a breeze.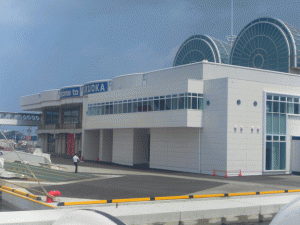 The ferry connects Busan, South Korea and Fukuoka, Japan, both in the southern part of the country. These cities are fantastic places to spend a few days because they feature some interesting cultural spots, decent beaches, and good shopping. They also have excellent rail connections to the rest of the country.
From Busan, you can get to Seoul in less than three hours for under $50 USD, and from Fukuoka, you can easily get to Hiroshima, Kyoto, Osaka, or Tokyo by bus or train.
When I went in the summer of 2010, the ferry ride was very pleasant, with a refreshment area and an English speaking staff. The ride was very smooth, and they even played "Roman Holiday" an American movie from 1953. The ferry is a hydrofoil, which means that it sits well out of the water, so you should get a fairly smooth ride in all but the worst of weather.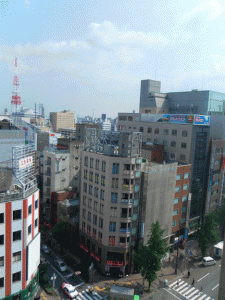 To get tickets for the Beetle, head over the JR Beetle website . The tickets cost 13,000 Yen ($170) one-way or 24,000 Yen ($315) return. It is also possible to get a return ticket for 20,000 Yen if you travel only on weekdays and use the return portion within a week.
(Update: May 16, 2013) If you are having trouble booking your tickets through JR Beetle website, try calling +810-922-812-315 from Japan or, from Korea, dial 051-441-8200. There are usually English operators available. (Thanks to Eugene of Katsu News and Lyndee S. for supplying the updated information.) 
Travel Tip: Make sure that you have the "Ferry Departure Tax" when you arrive at the terminals. The cost is approximately 15,000 Won or 1,500 Yen, depending on which country you are in.
The ferry terminal in Busan can be reached with a 5-10 minute walk from Jungang-dong Station on subway line number 1.
The Fukuoka Ferry Terminal has frequent bus connections, and there is an English speaking sign at the information counter telling you how to get to the city center, train station, etc. There is also money changing facilities and a restaurant at each terminal.
Find somewhere great to stay in Busan and Fukuoka!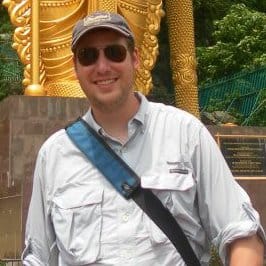 Jim Cheney is the creator of Tripologist.com. Having traveled extensively in North America, Europe, and Asia, Jim enjoys sharing his love of travel and some of his favorite places to visit around the world. He lives in Pennsylvania, USA, with his wife and two kids.