Disclosure: This article may contain affiliate links. We will make a small commission from these links if you order something at no additional cost to you.
There really isn't any way to sugarcoat it: Japan is an expensive destination. From $40 hostel dorm beds, to insanely expensive taxi rides, it's hard to find a good deal in Japan.
However, having just visited Tokyo, I came away with a few ideas on how to save money while traveling to  Japan, one of the most expensive countries in the world.
Don't Take the Taxis
Taxis in Tokyo are insanely expensive. At ¥710 ($9.25 USD) for the first 2 kilometers, they can add up very quickly. While Tokyo is an expensive city to get around, taking a taxi should be your last option. It's even worse for those that like to stay out late, as there is an additional 30% charge after 10pm; so it's best if you can get back to your hotel or hostel by midnight when the subway stops running.
If you can't, and you are far away from where you are spending the night, it might be worth it to look into other sleeping arrangements. After all, it is possible to get a capsule hotel bed for around $35, cheaper than nearly any taxi ride home.
Get a Japanese Rail Pass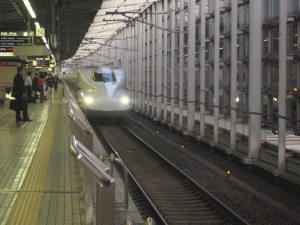 Are you planning on doing a bit of traveling in Japan? If so, you really can't beat the trains. Clean, efficient and reaching nearly every corner of the country, train travel may very well be the best way to travel around the Land of the Rising Sun; and, the best way to save money on trains is with a Japanese Rail Pass.
Consider this: a round trip ticket from Tokyo to Kyoto will run you about ¥26,000; however, a 7-day unlimited use JR rail pass will only cost you ¥28,300. So, if you are planning on going anywhere else on your trip, even if it's just a day-trip to a nearby town, you almost can't lose money on the rail pass.
If you are going to get a rail pass, make sure to purchase it before you leave on your trip. I know from personal experience that you can't purchase rail passes while in Japan.
For more information on obtaining a Japanese rail pass, go to the official Japanese Rail Pass website.
Eat at the Convenience Stores
Finding a cheap meal in Japan can be tough. Even cheap restaurants like Yoshinoya, my personal favorite, will run you around $6. If you are staying in a hostel, you can always save money by cooking your own meals, but that can be tiring after a long day of sightseeing. There is, however, a great middle ground: prepared meals from 7/11, Lawson's Station, Family Mart, or one of the other convenience stores that dot the country.
Ranging in price from between ¥250 and ¥450 ($3.25 – $5.75) you can get a tasty and filling meal that won't bust your budget. Featuring everything from salads, to sushi, to pasta, something can be found for nearly everyone. The convenience stores workers will even volunteer to heat up your meal and provide you with chopsticks. The only issue is that most locations have no seating options. Of course, this is really only an issue if it's too cold to eat outside or if you are far from your hotel room.
Walk Everywhere
Another great way to save money in Japan is to skip the subway and buses and walk whenever possible. Considering that even the most basic ride on the subway costs over $2, this can be a great way to save money.
Tokyo is covered by an excellent system of maps, dotting almost every major corner, as well as street signs clearly marked in English. Using these, coupled with the maps provided in the subway stations, it shouldn't be hard for you to find your way across the city.
Besides, what's the worst that can happen? Even if you get lost, you'll see a part of the city that you would have never seen from underground, and you might even discover something special that's off the beaten path. Worst case scenario: you have to jump on a subway to find your destination.
However, if walking isn't your thing, and you plan on riding the subways a lot during the day, a day pass for the subway system may save you a few bucks.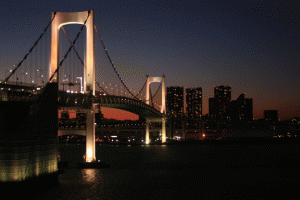 Take Advantage of the Free Sights
While Japan can be an expensive place to visit, some of the best tourist attracts, especially in Tokyo, are free. From the gorgeous views from the 44th floor of the Tokyo Metropolitan Government Building, to the windy, but breathtaking, walk across the Rainbow Bridge, you could fill a whole week just visiting the free sights available to you in Tokyo.
My personal favorites, aside from the ones already mentioned, were the East Gardens of the Imperial Palace, the Sony Showroom, and Sensoji Temple.
There really isn't a need to pay to see sights while in Tokyo.
Do you have any suggestions on how to save money while visiting Japan? Share them in the comments section below.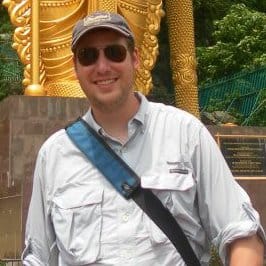 Jim Cheney is the creator of Tripologist.com. Having traveled extensively in North America, Europe, and Asia, Jim enjoys sharing his love of travel and some of his favorite places to visit around the world. He lives in Pennsylvania, USA, with his wife and two kids.