Disclosure: This article may contain affiliate links. We will make a small commission from these links if you order something at no additional cost to you.
I must admit, I really enjoy watching tv. However, between the lack of the same stations, time differences, and poor-quality Internet, it can be hard to keep up with your favorite television shows while traveling. While some may think it is silly, I know I'm not the only one who enjoys sitting down at night and watching the newest episode of a show from back home.
While living abroad for the last two years, I have tried and researched many different methods for watching tv. Here are three ways that you can keep up with your favorite American tv shows while abroad.
Get a Slingbox
The most like watching a regular television at home, the Sling Media's Slingbox
 is a small box that you will need a friend or family member to plus up to their cable and to their internet connection to work. On the positive side, as long as you have an internet connection, you will be able to watch your favorite tv shows at the exact moment as your family and friends.
On the negative side, however, you will not only need a pretty good internet connection, but you'll also need to carry a laptop with you since you have to download the necessary computer program. You'll also have to watch the show while it's on television, which could be a problem if you are half-way around the world.
Torrents
For those of you who aren't familiar with torrents, it is basically a file that someone uploads to the internet for others to download. This can be a good way to get high-quality videos that you can watch later, even if you don't have internet access.
There are several problems with using torrents, though. First, they require you to carry your own computer while traveling and to install software. You are also opening yourself up to the potential of downloading a nasty virus or two. It can also take a while before torrents become available.
Use Online Streaming
In my opinion, the best way to watch tv while traveling is to use online streaming sites. While it's not perfect and still requires access to a computer and a decent internet connection, online streaming is still the best option for most travelers.
There are a few sites that you can use to stream your favorite television shows such as Sidereel.com, SurfTheChannel.com, Youtube.com, and, if you are in America, Hulu.com.
Some videos will require a while to download and may occasionally be of lower quality, however, most videos are generally available within 24 hours of being shown live on television.
Do you have another way that you like to use to watch television from back home? Is there are great resource that you know of for backpacker's from another country? Let us know in the comments section below.
Disclaimers: Using some of these sites and torrents are technically somewhere between frowned upon and illegal. Make sure that you follow all local laws and regulations.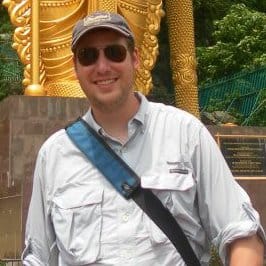 Jim Cheney is the creator of Tripologist.com. Having traveled extensively in North America, Europe, and Asia, Jim enjoys sharing his love of travel and some of his favorite places to visit around the world. He lives in Pennsylvania, USA, with his wife and two kids.