Disclosure: This article may contain affiliate links. We will make a small commission from these links if you order something at no additional cost to you.
The prospect of getting eaten alive isn't something that appeals to most people. After all, images of natives with bones through their noses or sharks coming towards you are likely the first things that run through your mind.
However, in Seoul, as in many other Asian cities, it is possible to get chewed on while sipping a coffee in a relaxing coffee shop. All you have to do is head to a cafe that offers Dr. Fish.
Located in the Gangnam district of Seoul, Namu Gunul (나무그늘) is a cozy, but crowded coffee shop that appears at first glance to be not so different from many others in the city. What separates it from the competition however is that it offers the experience of having tiny fish nibble on your feet for only 2,000 Won (about $1.80 US).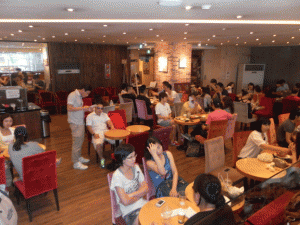 Upon entering the cafe, you are provided with a menu. In order to get the Dr. Fish treatment, you must first order and enjoy a drink. They have everything from espresso-based drinks to fruit smoothies, so there should be something for everyone. The drinks cost around 5,000 – 6,000 won.
With your drink purchase, comes a wonderful assortment of breads and complimentary coffee and tea. Be careful though as they claim to charge 10,000 Won for any leftovers.
Once you have finished your drink, you can head over to the Dr. Fish Zone. After taking off your shoes and socks, you will be prompted to wash your feet before you can put your feet in the fish tanks.
There are two tanks available for use. The first one contains a large number of a garra rufa fish. At about an inch long, these fish are considered the 'original' Dr. Fish and are found in fresh water rivers in the Middle East. These fish tend to be a bit ticklish, but don't feel terribly uncomfortable even for people who have sensitive feet like myself.
These fish will suck on your feet and release enzymes that are known to be good for your skin.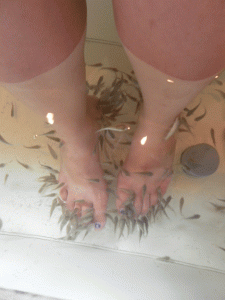 The second tank has a smaller number of the larger chin chin fish. From China, these fish actually nibble at your feet instead of sucking. I found them to be very ticklish, but some of the people I went with actually liked them more. I spent a greater portion of my time in the tank with the smaller garra rufa fish, but I would definitely recommend trying out both tanks.
Going to a Dr. Fish cafe if definitely something that I would recommend doing while in Seoul. Just keep in mind that some claim it to be unhygienic, and it is probably best to avoid going if you have any open cuts on your feet.
Getting to the Cafe 
From Gangnam Station (Subway Line 2 or the Shin Bundang Line), head out exit number 10 and walk straight for about 5 or 6 minutes. You will eventually comes to a BSX (Basic House) on your left and a large crosswalk on your right. The cafe is located on the second floor above BSX.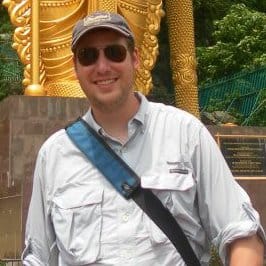 Jim Cheney is the creator of Tripologist.com. Having traveled extensively in North America, Europe, and Asia, Jim enjoys sharing his love of travel and some of his favorite places to visit around the world. He lives in Pennsylvania, USA, with his wife and two kids.