Disclosure: This article may contain affiliate links. We will make a small commission from these links if you order something at no additional cost to you.
Yesterday I had the opportunity to hike a portion of the Seoul City Wall. Built several hundred years ago, the wall has been extensively restored due to the effects of time, Japanese rule, and the Korean War.
While the wall extends around the majority of the center of the city, the best portion of the hike extends behind Gyeongbukgung and the Blue House.
In fact, you are so close the the President's house that you are required to bring your ARC card or passport and must check-in to the trail office upon arriving and leaving. There are also guards posted every several hundred feet and barbed wire lining the majority of the trek making it feel like you are hiking in a war zone.
The hike begins from Hansung University Station on line number 4, continues to Hyehwamun Gate, Sukjeongmun Gate, and finally ending at Changuimun Gate where buses can take you back into the center of the city. Hiking this section should take you between two to three hours and the hike can be extended easily as the wall continues on from both ends.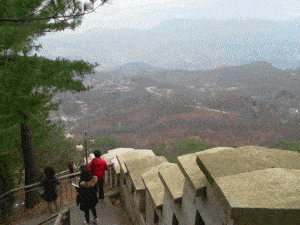 Just prior to Sukjeongmun Gate, you will be required to check into the park office and will be issued a visitor badge after filling out the entrance form and showing your ID.
From there, the trail winds up and down Bugaksan Mountain, giving fantastic views of Seoul. From the top, you can easily see Gyeongbukgong Palace, Gwanghwamun Square, Seoul Tower, and even the 63 Building.
Unfortunately, you are restricted from taking photographs in most locations since there are numerous military posts around the mountain. Guards seem to do random checks of cameras for prohibited photos.
The portion of the hike from Sukjeongmun Gate to Changuimun Gate requires visitors to bring either their passport or ARC card. You can only start the hike between 9am and 3pm from April to October and 10am to 3pm from November to March. You must be finished hiking this portion of the trail by 5pm. You are not allowed to hike this portion of the trail on Mondays.
For more detailed directions, check out this link from the Korean Tourism Organization: Take a Walk Down 'Seoul-gil'.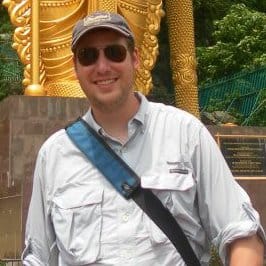 Jim Cheney is the creator of Tripologist.com. Having traveled extensively in North America, Europe, and Asia, Jim enjoys sharing his love of travel and some of his favorite places to visit around the world. He lives in Pennsylvania, USA, with his wife and two kids.