Disclosure: This article may contain affiliate links. We will make a small commission from these links if you order something at no additional cost to you.
When you think of Seoul, what do you think of? High-end technology? The conflict with North Korea? If this is all that comes to mind, you are really missing out on a lot of awesome!
Rising from the ashes of the Korean War, the city, and the whole country for that matter, has turned itself into a fantastic place to visit. With world-class sights, fantastic cuisine, and a great public transportation system, Seoul should be on every traveler's short list.
However, is it  possible to get a night's lodging, three meals, transportation, and a day of sight-seeing in for under $30 US? Let's find out.
How Much Money Do We Have – 34,000 Won
As always, we will be working with a budget of $30 US. As of December 1, 2011, $1 US was worth about 1,140 Korean Won. Therefore, our $30 is worth 34,000 Korean. Let's see if we can have a fantastic day in Seoul within that budget.
Accommodation – 16,000 Won
Fortunately, even though Korea has very expensive real-estate prices, the cost of a hostel bed is still fairly cheap. Checking out the listings on HostelWorld.com, you can get a well-rated hostel for 16,000 Won or less, taking up less than half of our daily budget.
Food – 13,000 Won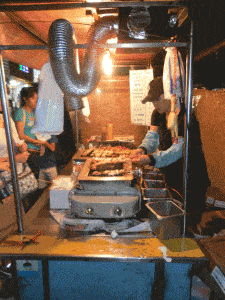 Korea can be a very expensive place to eat; however, while the city has its share of expensive sit-down restaurants, most of the eateries feature inexpensive meals, and there are a plethora of street-food stalls that offer fantastic food for a cheap price. You'll have around 13,000 Won to spend on food for today.
For breakfast, you can hop into one of the local convenience stores and get a couple of fresh bananas and a carton of milk for only 2,000 Won, or you could hop into a local Dunkin' Donuts and pick up a couple of donuts for the same price.
For lunch, you should dine on a couple of Korean snack food favorites. First, pop into a convenience store or kimbap shop, like 김밥 나라, and pick up a roll of kimbap (rice and vegetables wrapped in seaweed) for around 1,500 Won. After that, look for a street cart selling tteokbokki (떡볶이), rice cakes and fish cakes in a spicy red sauce, which should run you around 2,500 Won.
For dinner, head to almost any small shop, and ask for bibimbap (비빔밥), a bowl of rice and assorted vegetables. It should run you about 6,000 Won at most establishments.
That will leave you with 1,000 Won, which should be enough for a mid-afternoon snack or a bowl of rice with lunch or dinner.
Total food costs: 13,000 Won
Sightseeing – 3,000 Won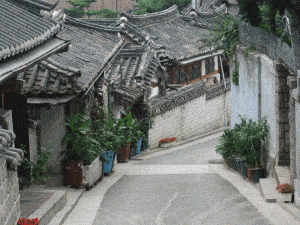 There are many fantastic places to see in Seoul and the surrounding areas, such as touring the DMZ. However, while the DMZ is definitely something you need to see while in Korea, it it too expensive for our budget today. Instead, start your day at the main palace in Seoul, Gyeongbokgung.
First built in the late 14th century, but rebuilt in the last fifty years, Gyeongbokgung was one of the chief palaces used by the Korean Royal family. The site will take you several hours to fully see, and the 3,000 Won admission cost includes an optional guided tour, which is available in English.
After touring Gyeongbokgung, exit through the rear to see the Blue House where to President of Korea lives, and then follow the wall back around the front of the palace, where you can explore Gwanghwamun Square and the Cheonggyecheon Stream. After exploring this area, walk to Bukchon Hanok Village, a quaint area of town next to Gyeongbokgung, where you can see hundreds of traditional Korean houses that people still live in today.
Total sight-seeing costs: 3,000 Won
Transportation – 1,800 Won
Since all of the sites that you will be viewing are within a short walk from each other, your transportation costs shouldn't exceed the cost of a basic subway or bus ride to and from your hostel. You will only need to allot 1,800 Won for transportation costs during the day.
Conclusion – Total Spent: 33,800 Won
So, there you have it, a whole day in Seoul, South Korea, one of the largest cities in the world, for $30. In fact, we came in slightly under our budget of 34,000 Won at 33,800. It wasn't easy, but you can get a nice room, transportation, some of Korea's best food, and a full day of sight-seeing for only $30
Do you have any suggestions of how to spend a great day in South Korea for under $30? Do you have questions about the basic itinerary presented in the post? Comment below, and let us know.
[signoff]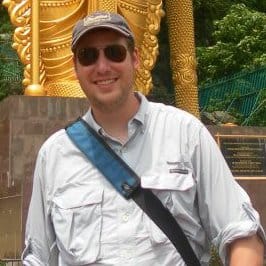 Jim Cheney is the creator of Tripologist.com. Having traveled extensively in North America, Europe, and Asia, Jim enjoys sharing his love of travel and some of his favorite places to visit around the world. He lives in Pennsylvania, USA, with his wife and two kids.