Disclosure: This article may contain affiliate links. We will make a small commission from these links if you order something at no additional cost to you.
When the news broke that Kim Jong-il had died, I was just finishing up my lunch, ready to go back to class. A million thoughts ran through my head: Would North Korea attack? Would South Korea attack? What would happen to the exchange rate in South Korea? (I've got a lot of money I need to exchange into dollars in the next few months.)
As the minutes passed, my initial thoughts of an imminent attack inched their way towards reality. Barring a North Korean decision to commit "country-cide", there would be no full scale invasion because it makes no more sense today than it did last week.
After all, North Korea, as well as China, realize that there is no way that North Korea could even defeat South Korea and her allies, and South Korea has too much to lose economically to risk an invasion on their end. So, in the grand scheme of things, very little will change on a daily basis.
Having been in South Korea through two North Korean attacks last year, I have come to realize how little the average South Korean concerns themselves with North Korea. Even on a day like today, my students and fellow teachers went about their lives, just as they have every day for the last 60ish years.
While the military might be on a higher alert, people are still walking the streets, stores are still open, and restaurants are still bustling. Sure, there might be a slightly different tone to the conversations being had over the dinner table tonight, but no one is seriously concerned with war.
So, don't listen to the Western media who will likely pretend that the Korean Peninsula is on the brink of war in order to coax a few more hours of coverage out of the event. As someone on the ground, less than 75 miles from the border, I can tell you, it's business as usual in the South.
All that being said, I am a little more hopeful for the future today than I was yesterday. I hope that the new leadership in North Korea commits itself to becoming a more willing participant on the world stage, and stops its tired and worn-out threats to "turn Seoul into a sea of fire". If it can do this, maybe we will one day see a Libyan-like revolution in North Korea, and a peaceful reunification with the South.
What do you think of today's news? Are you more of less hopeful for the future of Korea after the passing of Kim Jong-il?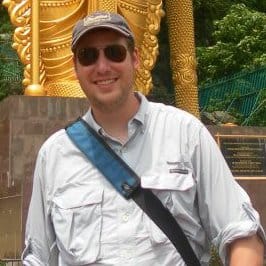 Jim Cheney is the creator of Tripologist.com. Having traveled extensively in North America, Europe, and Asia, Jim enjoys sharing his love of travel and some of his favorite places to visit around the world. He lives in Pennsylvania, USA, with his wife and two kids.