Disclosure: This article may contain affiliate links. We will make a small commission from these links if you order something at no additional cost to you.
Dublin is a bustling, charming city located on the eastern coast of Ireland.  Built up around the now-modernized port at the mouth of the River Liffey, the sprawling Irish capital city hosts a dynamic blend of historic sites and modern architecture.  Dublin also has a plethora of ancient pubs and a thriving new bar scene and boasts weeks worth of various activities to explore.
However, if you only have a three-day weekend in Dublin to experience everything there is to see and do, you're going to have to prioritize.  After an incredible whirlwind four day tour there with my wife, I can say without question that on our next trip to Ireland, these are ten spots that we definitely will go see again.  
Some of the items on our list aren't the "top tourist destinations," but that's intentional – many of those top destinations also draw massive, unmanageable crowds. In our experience, all of these locations are easily attainable, accessible, and often quite personable as well.  
Day Trips from Dublin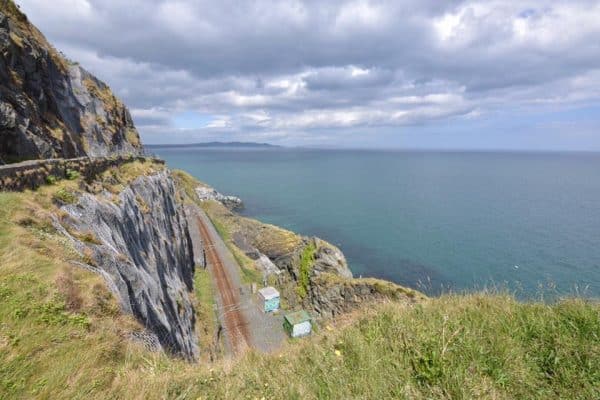 As is the case with most capital cities, there are plenty of excellent day trip opportunities surrounding Dublin.  With limited time and a crowded itinerary, being the coastal people that we are, we stuck to Ireland's coastline and absolutely adored the two options highlighted here.  Each is roughly 30 minutes on Dublin's highly affordable DART train system, and are fantastic ways to spend about six to eight hours.
Cliff Walk from Bray to Greystones – Ireland is a very unique island.  Though it sits at the same latitude as Northern Germany, the Netherlands,  and even Alaska, Ireland boasts a remarkably stable and temperate climate due to its location within the warm currents of the Atlantic Ocean.  The Emerald Isle undoubtedly earned its nickname, as the perpetually moderate temperatures (rarely below freezing or much above 80*F) encourage a ridiculously lush landscape – and unquestionably the northernmost outdoor palm trees!
The jaw-dropping contrasts of the intensely green landscape and the brilliant blue ocean view is on full display on the leisurely four-mile cliff walk from Bray to Greystones.  The well-maintained dirt-and-gravel path in County Wicklow was originally built as an access and supply path for the men building the original DART Rail Line along the coast.  As such, it is wide, gently sloped, and accessible for virtually all to experience – and will take only 2-3 hours to complete, depending on how frequently you stop to take pictures!
Directions:  Like most European public transit systems, the DART Rail Lines are named based upon their terminal point, so when traveling from Dublin to Bray, you take the train towards Greystones.  Get off at the Bray Station, and walk around the backside of the station and down to the historic promenade. Walk south along the promenade towards the distant hillside, and you'll find the entrance to the cliff walk very easily.  Give yourself about six to eight hours to fully experience the Cliff Walk and to spend time in the villages at each end.
Howth Harbor – On the northern coastline opposite Greystones Harbor is the picturesque peninsular fishing village of Howth (pronounced "Howt," as the "h" is silent), where we spent an incredibly enjoyable afternoon.  
We rode a bus up the steep hills of the charming village and had lunch at the locally popular Summit Inn.
After a leisurely walk around the neighborhood, we strolled back down the hill into town, and spent a couple hours walking along the circular pier and out to the lighthouse. The lighthouse and pier both afford excellent views of the boats sailing the harbor and the tiny island of Ireland's Eye.  We then ate a marvelous seafood dinner at The Oar House (reservations strongly recommended, especially on weekends).  One could easily spend a full day navigating the charming village and hilly peninsula.
Friends who accompanied us to Ireland did just that, completing a much longer and more rigorous hike on the Howth Cliff Walk.  There are a number of golf courses, the jaw-dropping (but frequently closed) Howth Castle, and the hilltop relic of Ben of Howth, which provides splendid panoramic views of the harbor.
Directions:  Take the DART train from Dublin towards Howth, and get off at the final stop, which drops you at the very edge of the pier.  The DART station is at the northern edge of the peninsula, which extends in all directions out towards the south. The village is quite easy to navigate, and offers bus service to many popular locations.  Budget roughly six to eight hours to experience Howth.  
Sightseeing/Tourism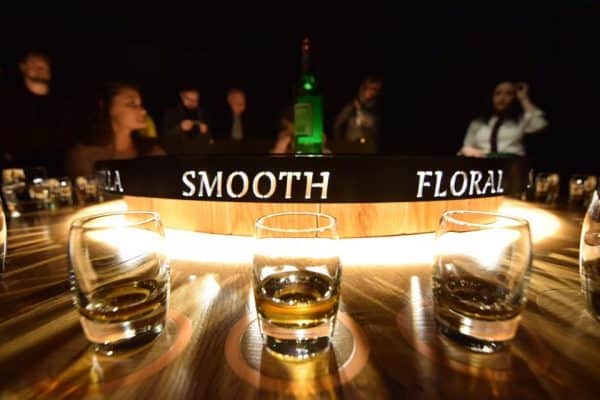 A brief word of warning before we begin:  I do not typically enjoy exploring the most popular and well-known tourist attractions.  I find that they are often over-crowded and over-priced, and occasionally are even underwhelming.  
I far prefer sites where I can really spend time exploring and experiencing the history and beauty of a place.  As such, the three stops in my list below are historic in value and moderately well-known, but will not have nearly the crowd sizes of the more popular stops.
Two additional points of warning:  We briefly attempted to go see the Book of Kells and Old Library at Trinity College, but turned back immediately after we witnessed the three-plus hour line to get in. Though I still would love to see the relics and the library's interior, I'll only do so if I have enough time in Dublin to waste the hours in line.  
My wife and I DID take the Guinness Storehouse tour, and I desperately wish we had not wasted the time.  
I cannot recommend strongly enough that you do something else with your time;  the "tour" is self-guided, quite generic and bland, and is so over-stuffed with uninteresting information that we gave up after about 90 dreadful minutes (during which time we had only covered half of the floors of the seven-story museum).  
We rode the elevator up to the rooftop bar, which was densely packed and over-priced, didn't even bother attempting to wait in line for a pour of Guinness (which is available at virtually every pub in Dublin), spent ten minutes looking out at the view of Dublin and left.
Kilmainham Gaol – Ireland has a long and bloody history of revolution and political dissent.  The impressive stone facade of the centuries-old Kilmainham Gaol (pronounced "jail") belies the inhumane horrors that transpired within, making it a very poignant place to learn more about Ireland's and Dublin's history.  
The exterior and interior architecture are both fascinating and dramatic, and the in-depth guided tour provides frequent stops to see and photograph the place. Many famous and infamous prisoners were kept or executed here, and the Gaol has a long and sordid history of a wide variety of abysmal treatment of prisoners, who ranged in age from very small children up to the quite elderly.  
Directions:  Because the Gaol lies more than a half-mile west of central Dublin, I recommend you use public transit to get there.  The Gaol can only be experienced on one of the Guided Tours, which can sell out weeks in advance.  If you wish to do the tour, you must book your time there well before your trip.  Note – tours are only provided to a maximum of 35 people at a time, so the Gaol is never over-crowded with other tourists.  Expect to spend about 90 minutes in total at the Gaol.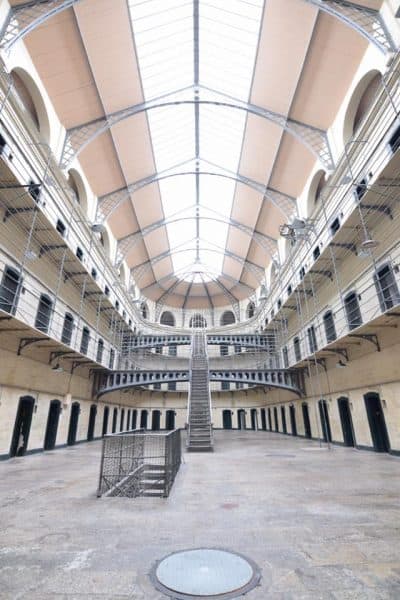 Jameson Distillery Tour – The Jameson Distillery at Bow Street was easily one of my favorite experiences in Dublin.  The Distillery Tour was the polar opposite of our abysmal experience at the Guinness Storehouse – in-depth, fascinating, historically accurate, hands-on, and included not one, but two opportunities to try several types of different whiskeys.  
Being completely honest, I had never even tried Irish Whiskey before the Distillery Tour, and became an instant convert during the first taste-testing: A Pepsi-Challenge of whiskey, if you will, where you are provided the opportunity to try Jack Daniels, Jim Beam, and Jameson in quick succession.  
The side-by-side comparison is almost unfair to the two American whiskeys, whose flavors and smoothness pale in comparison to the infinitely superior Irish whiskey.
This tour is one of the few "Must-Do" recommendations I make to anyone who is going to visit Dublin for the first time.
It provides excellent background information to the history of both the distillery and the city itself, and also takes a long look at when the company struggled financially and the steps it took to survive difficult times. There are a couple hands-on exhibits, plenty of descriptive details and insight for the whiskey novice, and a large bar and shopping area immediately after the tour to taste and purchase additional whiskeys.
If you have the funds to buy it, a personalized bottle of the complex and delicious Distillery Edition (which is only sold on-site) makes an excellent gift for any whiskey drinker on your list (including you!).
Directions:  The Distillery at Bow Street is located in the heart of central Dublin, just a short walk northwest across the River Liffey from the Temple Bar district.  As with the Kilmainham Gaol, these tours often sell out well in advance, so I recommend you book your tour a couple weeks before your visit to Ireland.  Give yourself at least two hours to fully experience the tour, the shop, and for time at the bar to try a few drinks.
Irish Whiskey Museum – You may be noticing a theme here, and you may be right:  whiskey plays a big role in Dublin's history, and as a bit of an addict myself, whiskey also played a big role in my time in Dublin.  
Having over-indulged a bit the night before, my wife needed a couple hours of relaxation and recovery time, leaving me an afternoon to explore the city by myself.  After spending an hour or two souvenir shopping and pub hopping, I decided to explore my new-found love of Irish Whiskey a bit further.
The Irish Whiskey Museum offers a fascinating and entertaining additional look into the history of the distilled spirit.  Less educational and more hands-on experience and enjoyment, the Irish Whiskey Museum offers a couple rooms with displays of different periods in the history of Irish Whiskey and a tasting of several different whiskeys afterward.  
Being located a half-block from the extensive whiskey inventory at the wonderful Dingle Whiskey Bar only enhanced the overall experience.
Directions:  The Irish Whiskey Museum is very centrally located, at the terminal end of the busy shopping district along Dame Street, immediately across the street from the main entrance to Trinity College.  Budget roughly 90 minutes, although if you're going to check out Dingle Whiskey Bar as well, you'll want at least double that time.  
Pubs & Taverns: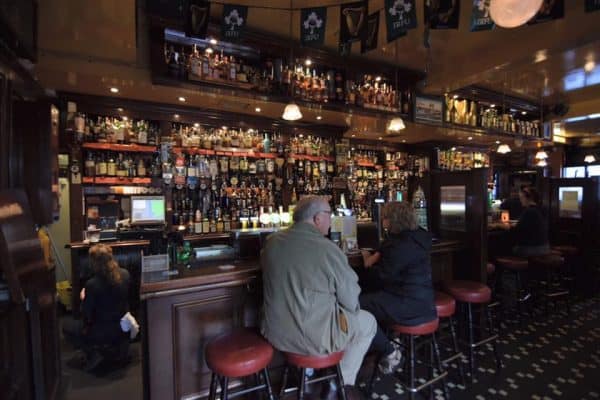 Continuing with our "Ireland is a great place for people who love to drink" theme, I'd like to close things out with an in-depth look at our favorite pubs and taverns for those with a weekend in Dublin, Ireland.
I have to be honest here: I was not impressed by Irish food. Much of it is deep-fried, and there is not a lot of creativity nor variety from pub to pub when exploring Dublin.  That said, the dearth of good food is more than made up for by the excellent and dynamic range of options when it comes to imbibing in Dublin, especially for beer and whiskey drinkers. 
Pubs are listed in alphabetical order:
Brazen Head – We're also starting with the oldest pub first, the oldest still-active pub in Ireland, as a matter of fact:  The Brazen Head.  Located about a quarter-mile west of the Temple Bar district, this large pub has a facade of stone built to look like an ancient castle.  
With multiple service bars, indoor and outdoor seating options, and several different rooms inside, the Brazen Head is a great option day or night to stop by and have a couple pints or pours of whiskey.  The food is decent enough, the bar staff is incredibly gregarious, and there are frequent live performances of Irish folk music. Find it here.
Dingle Whiskey Bar – As I mentioned above, the Dingle Whiskey Bar is located right down the street from the Irish Whiskey Museum.  The bar is as quaint and unassuming as its website. Do NOT let its size nor its website fool you, however;  it is one of the best and most accessible collections of whiskey that I've ever experienced.
As you walk in, you immediately notice two things:  rows and rows of whiskeys from all over the world behind a glass wall and bar on your left, and a curved wall of old barrel staves with names painted in white on your right.  With nearly 200 different types of whiskey and remarkably friendly and knowledgeable bar staff, Dingle Whiskey Bar is the closest thing to heaven for a whiskey drinker. Just writing about it makes me wish I were there…  Find it here.
O'Neill's Pub & Kitchen (Suffolk Street) – One of the most uniquely-designed pubs we experienced was also host to the second best meal we had in Dublin (after our seaside meal in Howth).  
O'Neill's Pub takes up three whole floors of the corner building at Church Lane and Suffolk Street.  The historic pub (over 300 years old) has beautiful woodwork, multiple bars, and highly popular bench seats and tables within the massive curved-glass windows on the second and third floors.  
We had dinner at the carvery on the first floor on our last night in Dublin, and as I said, the meal was both surprisingly affordable and absolutely delicious. This is definitely another one of my "Must-Do" recommendations for visitors to Dublin.  Find it here.
Stags Head – Dublin is home to more than its fair share of amazing pubs, but if you put a gun to my head and forced me to choose a favorite, it would be either the Dingle Whiskey Bar or the Stags Head.
Over 230 years old, the sumptuous interior is wrapped in dark woodwork on nearly every surface, with plush leather seats and barstools, a glorious crystal chandelier, and a magnificent stuffed stag head with enormous antlers. Plenty of local and regional beers on tap and a few wooden barrels outside for gathering on warm spring and summer days round out the experience.
The beauty, intimacy, and wonderment of the interior and the friendly and warm staff make it a phenomenal place to grab a couple pints with your mates.  Find it here.  
Temple Bar – Last but certainly not least is the Temple Bar, the foundational tavern for which the neighborhood is named.  With history dating back to the early 17th century, this sprawling pub features multiple service bars, several different rooms of seating and a large beer garden, and even a whiskey distillery store next door, you could easily lose a couple hours drinking here.  
This is the very first pub we visited upon our arrival in Dublin, and it definitely did not disappoint! Find it here.
Dublin is a phenomenal city that is well-worth spending days or even weeks exploring its historic center, its scenic surroundings, and flourishing pub and tavern scene.  I hope you've enjoyed reading about my favorite highlights, and you've been inspired to travel there soon (if you're not already planning to go!) for a great weekend in Dublin, Ireland.
Where to Stay in Dublin
Want to find somewhere to stay while in Dublin? Check out this great map below featuring live hotel pricing for the city.


---
About the Author:
An enthusiastic hobby photographer and traveler since his youth, Scott Berney developed an interest in specifically gearing his trips to exploring back roads in 2013.  He has since ridden and written about thousands of miles of back road adventures along the East Coast, West Coast, and internationally.
With two cross-country and several regional road trips coming up in the next twelve months, he will have plenty of material to photograph and blog about for years to come on his site TakeBackRoads.com.