Disclosure: This article may contain affiliate links. We will make a small commission from these links if you order something at no additional cost to you.
Note: Most of the information regarding pricing and festival events relates to my experience at the 2012 Hwacheon Sancheoneo Ice Festival. However, information about festival dates have been changed for 2014. 
Use this post as a rough guide of what to expect at this awesome festival!
Named one of the seven wonders of winter by CNN and Lonely Planet in 2012, the Hwacheon Sancheoneo (Mountain Trout) Ice Festival is an amazing festival to attend if you are in Korea.
For 11 months of the year, the tiny town of Hwacheon is a quiet town sitting precariously close to the North Korean border. However, during the month of January nearly 1,000,000 people swarm the town hoping to catch enough trout to provide for an evening meal.
This past weekend I took a day trip to see what all the fuss was about. Leaving Seoul, I had my doubts whether it was cold enough for the river to be frozen enough for the festival, but upon arriving in the town, my fears were soon calmed. Nestled between the town and the mountains, the river was not only covered by a thick layer of ice, but also by thousands of festival participants.
Unlike some Korean festivals I have been to, there is a lot to do at this festival. You can ride an ATV or go kart on the ice, go sledding, ice skating, push a metal cart on the ice, or do some regular reel fishing.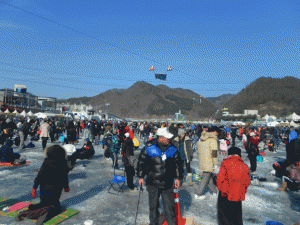 However, the two events that attract the most attention are ice fishing and bare-handed fishing.
For the ice fishing you are provided with a hole in the ice and a bag for putting your catch for 8,000 Won (about $7) of which you get 5,000 Won back in Love Bucks, money you can spend around the festival grounds on food and souvenirs.
If you aren't Korean, make sure to head to the foreigner only section. It is not only less crowded, but there is English-speaking help and you are given a free fishing pole.
When you get on the ice, pick a hole, let out enough line to get your lure to the bottom of the river. Then, quickly flick your wrist upwards and let it float back to the bottom. Some persistence is required, but I managed to catch two fish and my wife got three.
Once you finish fishing, head over to the grilling station, where they will grill up your fish for 1,000 Won each, plus 3,000 for a grill and fire no matter how many fish you have. You can also get your fish done sashimi-style (raw) for 2,000 Won. I found the grilled fish to be incredibly tasty.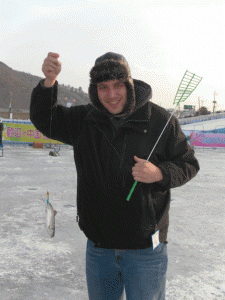 Another popular way to get some fish for dinner is by catching them bare-handed in a pool of very cold water. Participants brave enough to endure the cold put on provided shorts and t-shirts and wade into the water to snag their catch. It seemed popular to put the squirming fish down your tucked-in shirt to keep them from getting away.
I highly recommend a trip to the festival if you are in Korea during the month of January. It was definitely one of the most interesting and exciting festivals I've attended while in Korea.
The Hwacheon Sancheoneo Ice Festival runs for most of the month of January, running from January 4th until Sunday, January 26th, 2014, and most of the festival's events run from 9am to 6pm.
I arrived at 12pm and found myself unable to do several activities that I wanted to do. I would recommend arriving at the festival grounds early or spending the night in Hwacheon or nearby Chuncheon so that you can fully enjoy the festival's activities.
Getting to the Hwacheon Sancheoneo Ice Festival*
Getting to the festival is fairly simple. Buses leave every 30 minutes from the Dong Seoul Bus Terminal in Seoul (Sangbong Station, Line 2), and take 3 hours to arrive in Hwacheon. You can also take a bus or train to Chuncheon and catch a bus to Hwacheon from the Chuncheon Bus Terminal, which takes around 45 minutes.
The festival itself is a 10-15 minute walk from the Hwacheon Bus Terminal. There is an English map with directions next to the information booth inside the station.
There is also a new foreigner shuttle bus that is new in 2014 and departs from Seoul at 8am each day. The cost is 10,000 Won. Information about the shuttle bus can be found on the website for the Hwacheon Sancheoneo Ice Festival.
Warning: Bus tickets from Hwacheon do not guarantee a seat on a particular bus. The last bus to Seoul departs at 8:10pm, and the last bus out of the city, to Chuncheon, leaves at 9pm. When I was leaving on a Saturday night, the buses were quite full and there was a long line.
I would recommend arriving at the bus station no later than 7:30pm if you are planning on catching the 8:10pm bus. If you are forced to take the 9pm bus to Chuncheon, get off the bus at Chuncheon Station and take the subway back into Seoul, a long, but inexpensive ride.
If you miss the 9pm bus to Chuncheon, you will likely have to find lodging in Hwacheon.
*The information in this post, including prices and times, relates to my visit to the 2012 festival. I have updated it with the correct dates for the 2014 Ice Festival. However, pricing and bus information may be incorrect because I am no longer in the country to verify it. Please make sure to check the bus schedule at the station.
For more information on the festival, check out the official website of the Hwacheon Ice Festival.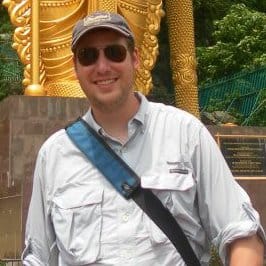 Jim Cheney is the creator of Tripologist.com. Having traveled extensively in North America, Europe, and Asia, Jim enjoys sharing his love of travel and some of his favorite places to visit around the world. He lives in Pennsylvania, USA, with his wife and two kids.