Disclosure: This article may contain affiliate links. We will make a small commission from these links if you order something at no additional cost to you.
Seoul, South Korea is one of my favorite cities in the world. With ultra-modern architecture, historic homes and fortresses, trendy night clubs, and spacious parks, the city has something for everyone. However, if you only visit the Korean capital, you're definitely missing out on some of the country's best sites.
I'm often asked what my favorite places are throughout South Korea. While some of them are located in Seoul, such as Gyeongbokgung, and some are simple day trips from the city center (the DMZ and Namhansanseong), others are located several hours from the city.
While I've written about all of my favorite places in Korea at one point or another, I've never really collected together my favorite places in one place.
This list is definitely not a complete listing of all the great places to visit in South Korea. For more information about all of my favorite sites in and out of Seoul, head over to Tripologist's Korean Article Archive for a list of all the posts I've done on the country.
Here, in no particular order, are my five favorite destinations outside of Seoul to visit in South Korea:
Seonyudo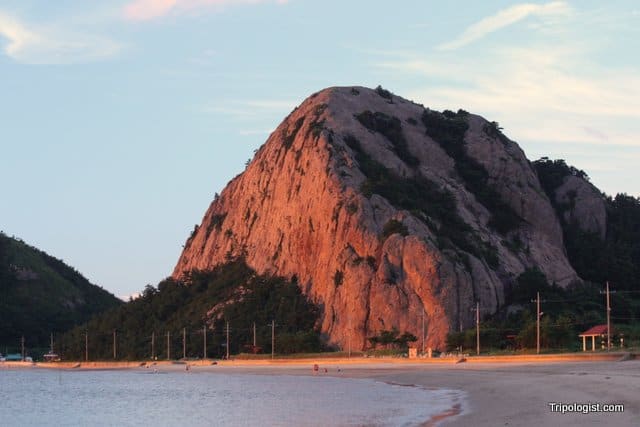 A grouping of three small islands tucked off the coast of Gunsan on the western shores of Korea, Seonyudo is a fantastic island getaway. In fact, I usually consider it to be my favorite destination in Korea, and it makes a great and relaxing trip from Seoul.
What makes Seonyudo so special is that it retains a peaceful and relaxing atmosphere even on summer weekends. With only a handful of motorized vehicles, renting a bike and exploring the islands is a great way to spend an afternoon. In the evening, head to the main beach to watch the sunset and get dinner at one of the island's seafood restaurants.
For more information on how to visit Seonyudo, check out, Seonyudo: My Favorite Place in South Korea.
Boseong Green Tea Fields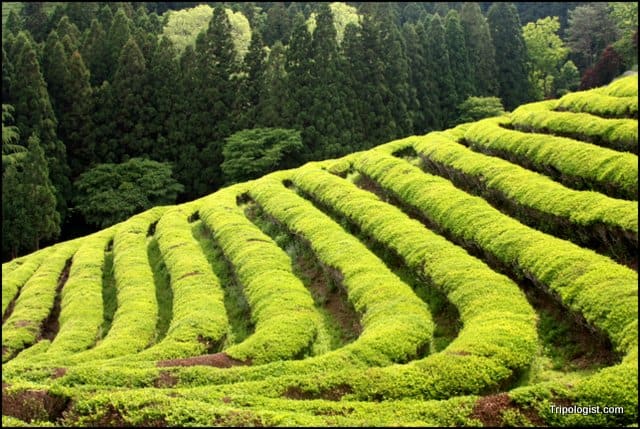 Nestled in the southwestern corner of the Korean peninsula, the Boseong Green Tea Fields remain off the tourist path for many visitors and expats. For Koreans, however, Boseong is famous, both for its beauty, and its delicious tea. Stretching hundreds of feet up a hillside, the tiered green tea fields are one of the most captivating sights in Asia, especially in the spring and early summer when the leaves are at their most green.
While visiting, make sure to check out the on-site restaurant for interesting culinary treats like green tea infused bibimbap and jajangmyeon as well as fantastic green tea ice cream. The attached gift shop has local green tea at fantastic prices as well as other unique souvenirs.
For more information on visiting the Boseong Green Tea Fields, check out, Off the Beaten Path: The Boseong Green Tea Fields.
Seokbulsa Temple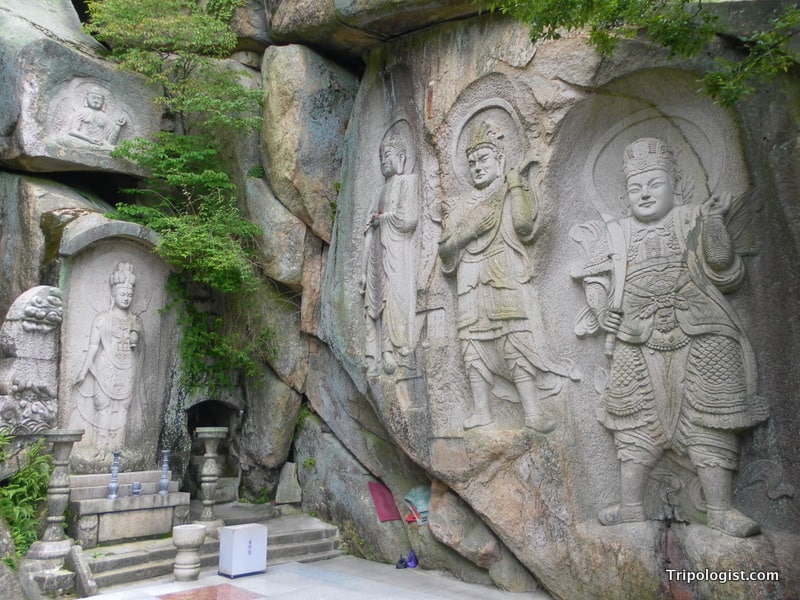 Many travelers to Korea make the time to go to Busan, South Korea's second largest city. With beautiful beaches and a more laid back atmosphere than Seoul, it's easy to understand why. While in the city, many visit well-known temples like Beomeosa and Haedong Yonggungsa, but most visitors overlook the country's most amazing temple.
Located in the mountains on the outskirts of Busan, Seokbulsa is an absolutely must-see temple and is one of the most amazing temples I've seen in all of Asia. Difficult to find, but simple amazing to see, Seokbulsa is Korea's hidden gem. With carved rock walls towering above you, fantastic views of Busan, and the temple's secluded location, it is definitely worth the strenuous hike to reach.
Don't miss out on this temple if you are anywhere near Busan.
For more information on how to visit Seokbulsa, as well as directions on how to find this hidden temple, check out, Seokbulsa: South Korea's Hidden Jewel.
Ulleungdo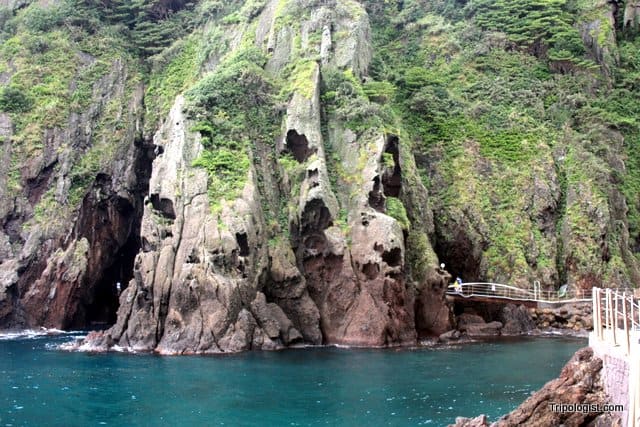 While Jeju may get all the love, Ulleungdo is easily the most beautiful island in South Korea. Sitting in the middle of the East Sea (Sea of Japan), Ulleungdo is often overlooked by travelers, but is definitely worth the time to reach. Ferries depart daily from several east coast cities, but due to their early morning departure, Ulleungdo is best visited as a 3-4 day trip from Seoul.
Ulleungdo is a great place to see fantastic scenery and try some unique food, but it is most famous in Korea as being the jumping off point for trips to the disputed islands of Dokdo.
For more information on visiting Ulleungdo, check out, Ulleungdo: Korea's Emerald Isle.
Gyeongju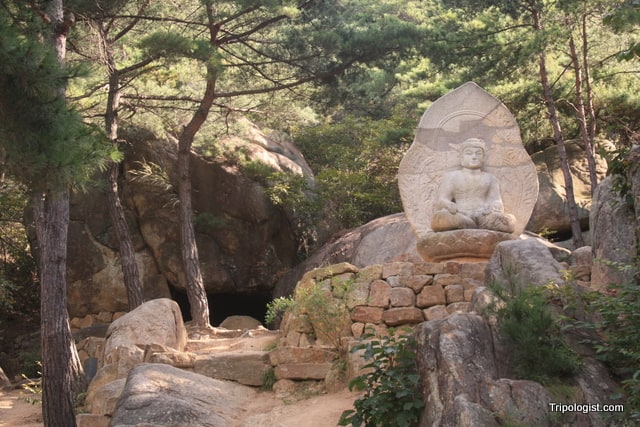 Gyeongju, the ancient capital of Korea, is one of the most interesting cities to visit in the country. Chock full of temples and burial mounds, the city gives visitors a fantastic look into what life was like in ancient Korea. However, the highlights don't just lie within in city's downtown, but instead stretch into the surrounding countryside. From hidden grottos to hikes past ancient statues and monks training in the martial arts, Gyeongju has something for everyone.
For more information about Gyeongju, check out Gyeongju: Korea's Fantastic Ancient Capital, Namsan Mountain: A Magical Hike into South Korea's Past, and Golgulsa: The Most Kick-Ass Temple in Korea.
Do you have a favorite destination in Korea that wasn't on this list? Let us know in the comments below.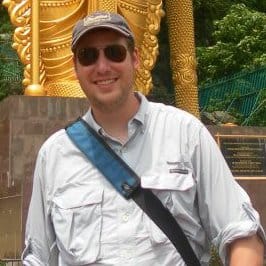 Jim Cheney is the creator of Tripologist.com. Having traveled extensively in North America, Europe, and Asia, Jim enjoys sharing his love of travel and some of his favorite places to visit around the world. He lives in Pennsylvania, USA, with his wife and two kids.