Disclosure: This article may contain affiliate links. We will make a small commission from these links if you order something at no additional cost to you.
Sitting just outside of Seoul, South Korea is a fortress little known to the outside world: Namhansanseong. Significantly less well-known than the UNESCO recognized Hwaseong Fortress located in Suwon, Namhansanseong is actually older and has a more interesting history than Hwaseong.
Nestled high on Namhan moutain, Namhansanseong (which translates to South Han Mountain Fortress) was built in the 16th century to protect the king in the event of war. It was to this fortress that Korean King Injo fled to in 1636 when being attacked by the Chinese. The fortress was able to withstand the attacks, but fell victim to siege after 45 days.
Today, Namhansanseong is a great place for hiking. The fortress walls completely encircle the top of the mountain, and the valley in the fortress's center contains a small town with traditional buildings and several restaurants. While walking the beautifully restored ramparts, you can get an excellent view of the southern part of Seoul and the Han River. However, if you look the other way, you will see a thick forest filled with wildlife.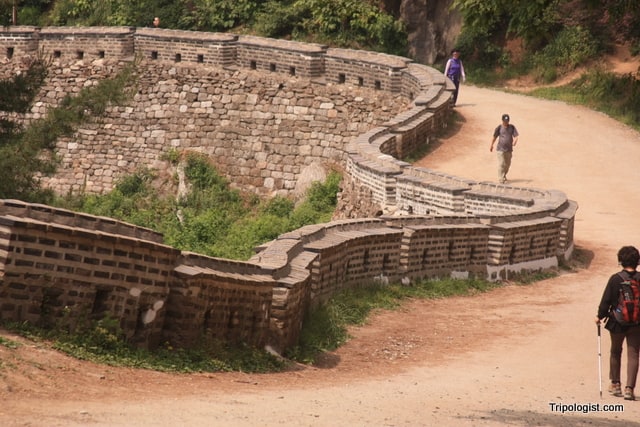 Both inside and outside the fortress walls, Namhan Mountain is dotted with small temples and shrines, as well as some of the original buildings from the 16th century. On weekends, you'll find many Koreans hiking the walls and checking out the mountain's other attractions.
If you are visiting Korea and only have time for one fortress outside of the city, I would recommend skipping the over-touristed Hwaseong Fortress in Suwon and instead seeing Namhansanseong. It's a fantastic day trip for both nature lovers and history lovers.
Getting to Namhansanseong
Despite its proximity to Seoul, Namhansanseong's mountain setting makes it a bit difficult to reach. The easiest way is to take subway line 8 to Sanseong Station, go out exit 2, and take bus number 9 for approximately 20 minutes until you reach the town inside the fortress walls.
For a more challenging hike, take line 8 to Namhansanseong Station and walk out exit 2. From there, you can walk uphill along the road for about 20-25 minutes until you come to a series of hiking trails. Follow the signs for the south gate, which will take you up the hill. From the park entrance, it's about 45 minutes of fairly strenuous hiking, but you will eventually reach the fortress walls and the south gate.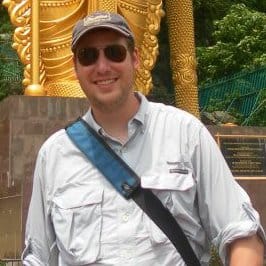 Jim Cheney is the creator of Tripologist.com. Having traveled extensively in North America, Europe, and Asia, Jim enjoys sharing his love of travel and some of his favorite places to visit around the world. He lives in Pennsylvania, USA, with his wife and two kids.