Disclosure: This article may contain affiliate links. We will make a small commission from these links if you order something at no additional cost to you.
The great Ferris Bueller once said, "Life moves pretty fast. If you don't stop and look around once in a while, you could miss it." The same could be said about technology. With new gadgets and phone apps coming out daily, the way you did things last month or last year may no longer the best way to do it.
The same is true for travel planning. With 98% of travelers taking an internet capable device with them on vacation, the rules for how we plan our trips are changing. Here are five major ways that technology has, and is still, changing how we plan our travels:
Plan As You Go
10 years ago if you wanted to book a flight or hotel room, you either had to reach out to a travel agent or call the provider directly. However, today, booking travel is as quick and easy as a mouse click. Using a smart phone, a tablet, or a laptop, it's possible to plan your next destination, tourist attraction, or dining spot while in your hotel room, sitting in a coffee shop, or even while flying.
Finding Travel Companions
Looking for someone to explore a museum with? Hop onto a website like Twitter or Foursquare and there's a good chance you'll find a travel companion. Thanks to social media, it's becoming easier to find other travelers with similar interests no matter where you are.
Finding Deals
Have some flexibility in your travel plans? Instead of tediously searching multiple dates for the best fares, many sites will help you by finding the travel dates with the best fares. While most airfare sites can search a few days at a time, some, like Sky Scanner, can tell you when and where to fly any time in the next year for the best rates.
If you're looking for a weekend trip, many sites also feature last-minute deals. Instead of having to call multiple providers and agents to find a great price, it's as quick as a few mouse clicks.
Lack of Surprises
Unfortunately, thanks to the massive amount of information available online, it's unlikely that you'll visit somewhere as a blank slate. On the positive side, however, knowing what to expect ahead of time ensures that you'll visit the places that will interest you the most and decreases the odds of getting scammed.
Share Your Hidden Gems
Did you find a great coffee shop in Rome? What about a hidden beach in Thailand or a fantastic bookstore in Chicago? Sharing your finds is as easy as putting up a review on a site like TripAdvisor or Facebook. No longer are you limited to your circle of friends or passing the tip along to a guidebook company with hopes they'll include it in their next edition.
How do you think technology is changing travel planning? Let me know in the comments section below!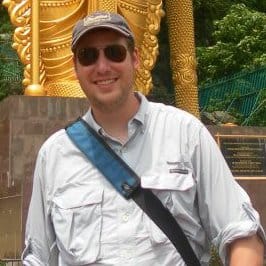 Jim Cheney is the creator of Tripologist.com. Having traveled extensively in North America, Europe, and Asia, Jim enjoys sharing his love of travel and some of his favorite places to visit around the world. He lives in Pennsylvania, USA, with his wife and two kids.