Disclosure: This article may contain affiliate links. We will make a small commission from these links if you order something at no additional cost to you.
Of all the border crossings in Asia, I doubt there are any more notorious and scam ridden than the one between Thailand and Cambodia. At the Thai-Cambodian border crossing between Aranyaprathet, Thailand, and Poipet, Cambodia, hundreds of tourists cross each day (mostly from Thailand into Cambodia) and scamming them is a major industry in the city.
When I crossed in April 2012, I took some time to read about the different scams that I would likely encounter. Fortunately, I was able to pretty much avoid being scammed, but I'm sure I was one of the lucky ones that day.
If you plan on crossing this border, it's important to understand some of the ways that locals will try and get you to part with your money. However, don't let that stop you from crossing the Thai-Cambodian border at Poipet. With a little knowledge and preparation, you can avoid many of the hassles that come from crossing here.
Here are five of the scams you are most likely to encounter when traveling from Thailand into Cambodia, and one huge tip on how to dramatically increase your odds of avoiding them.
Don't Get Your Cambodian Visa in Thailand
Unless you are from the handful of mostly Middle Eastern countries that aren't allowed to get a Visa on Arrival, there is no need to get your tourist visa anywhere other than in Cambodia.
If you have yet to get stamped out of Thailand, you are not at the official visa office. The Cambodian consulate in Thailand is located very close to the border, and this is the regular stopping point for anyone transporting foreigners to the border, whether you're on a bus from Bangkok or a tuk-tuk from Aranyaprathet. The consulate charges at least 50% more to process your visa than the border officials only a few hundred yards away.
If you're on a bus from Bangkok, there is a good chance that people will come on the bus and collect your money and passports before you get to the border, telling you that you are required to buy your visa from them, and that they won't wait for you if you get stuck at the border.
This is, of course, not true. Getting your visa on the Cambodian side of the border is easier, cheaper, and very quick. Refuse to get your visa-on-arrival before being stamped out of  Thailand.
Want to make sure that you're in the right place? Refer to the map below to get a look at the border layout before you go. Remember: You DO NOT need to buy your Cambodian visa before you get stamped out of Thailand.
Map of the Thai/Cambodian Border at Poipet/Aranyaprathet (Creative Commons: Wikitravel.org user Travelpleb)
You Don't Need Help Filling Out the Forms
Another common scam I've heard reported, though I didn't experience myself, are helpful volunteers offering to help you fill out your visa forms and then demanding money. This is completely unnecessary unless you can't read basic English.
The form is simple and straight-forward.
Extra Fees for Your Cambodian Visa
This is a scam that you are pretty much guaranteed to run into because it's run by the Cambodian officials processing the visas. When you fill our your visa on arrival forms, you will see very clearly written signs indicating that the visa fee is $20 + 100 Baht (about $3). The extra fee is not official and the officers simply pocket it.
Despite knowing this, I actually decided to pay it when I crossed the border. I didn't want to be held up by slow processing, something they usually do for those that refuse the fee.
While I hated paying it, I decided arguing it wasn't worth the hassle. That being said, you can likely save the money if you fight it.
You Don't Have to Change Your Money in Thailand
No matter what anyone tells you, you can exchange Thai currency in Cambodia. You also don't have to change your dollars into Riel. In fact, while the official currency of Cambodia is Riel, everyone uses American dollars. The country's ATM machines even dispense US dollars.
It is a good idea to get some American dollars before entering into Cambodia, but do that either in Bangkok or at one of the ATMs in the border area, not from a money changer in Arayanaprathet
You Don't Have to Take the Official Bus in Cambodia
Once you cross the border into Cambodia, you will likely be approached by a group of friendly looking Cambodians telling you that you must get on the bus for a ride to the bus station. They are full of shit (Excuse my language, but those guys still make me angry 1.5 years later).
Ignore them, lie to them, or shove them out of the way, but make sure to get around them and talk to one of the "taxi" drivers quietly sitting close by.
If you get on the "official" bus, you are taken to the tourist bus station, put on an expensive bus to Siem Reap, and then dropped off several miles from town. Conveniently, for them, you are dropped in front of a travel agency with many tuk-tuks waiting to provide you with an expensive ride to the guest house of their choice.
All that being said, if you made the mistake of buying a through ticket from a travel agent on Khaosan Road, this is the bus you need to take to get your transfer.
However, if you don't have through transportation, the "illegal" taxis down the street are who you want to work with. A fair price for the trip is around $25-30 for the whole taxi, which can seat 3-4 comfortably. Getting your own taxi will save you time, money, and aggravation. Don't listen to the "official" bus touts who might tell you that it's illegal to not get on their bus, they are full of shit (Sorry again).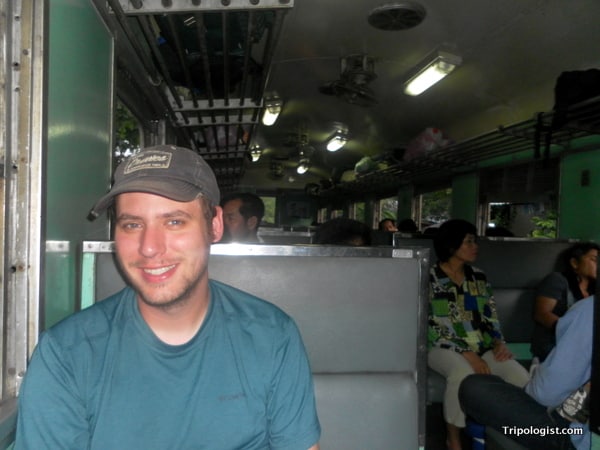 Top Tip to Avoid the Scams at the Thai/Cambodian border at Poipet: Don't buy a bus ticket from any travel agent near Khaosan Road. Instead, buy a ticket at Bangkok's train or bus station to the town of Aranyaprathet and take a tuk-tuk to the border. Then, after crossing the border into Cambodia, walk past the insistent touts just outside the border area and negotiate a private car to your final destination. Lastly, don't pay your tuk-tuk driver or private car driver until you are 100% sure you are at your final destination.
If you follow these steps, you may be transferred from your taxi to a tuk-tuk on the outskirts of Siem Reap under the guise that the driver doesn't know where you hotel is or that he can't enter the city. If this happens, simply refuse to pay until you get to your hotel. When I did the trip, the tuk-tuk driver paid our taxi driver, and then we paid him when we reached our hotel.
It also helps if you keep your luggage with you in the taxi instead of putting it in the trunk. While it may be more uncomfortable, it gives you the ability to simply leave without paying in the unlikely event that they refuse to provide you service to your final destination.
If you look out for the scams I mentioned and follow my tip above, you will have a great chance of making it through the Thai-Cambodian Border at Poipet without falling for any scams.
Have you crossed the Thai-Cambodian border at Poipet? What scams did you see that you think other travelers should be aware of? Let us know in the comments section below.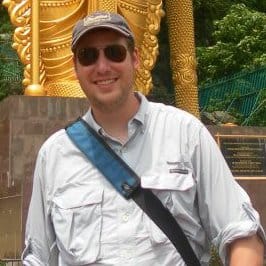 Jim Cheney is the creator of Tripologist.com. Having traveled extensively in North America, Europe, and Asia, Jim enjoys sharing his love of travel and some of his favorite places to visit around the world. He lives in Pennsylvania, USA, with his wife and two kids.