Disclosure: This article may contain affiliate links. We will make a small commission from these links if you order something at no additional cost to you.
I've got some exciting news that I've been itching to share for a while, and have mentioned several times on Twitter if you have been paying close enough attention: I'm taking the plunge into long-term travel!
Having lived and worked in South Korea for the past two years, my wife and I are ready to leave this wonderful country and start the trip home. However, instead of taking the usual 13-hour flight back to the east coast of the USA, we are taking the long way around, and starting our journey home in Singapore.
From there, we have six wonderful months of travel planned.
Without getting into too many details (though it's quite detailed, just to warn you), we will leave Korea on March 7th and head to Singapore. From there, we will head into Malaysia, seeing Malacca, Pulau Tioman, Kuala Lampur, and Penang over about two weeks.
After checking out Malaysia, we will take a bus or train into Thailand, take a rest of Ko Lanta in the south, before heading north and stopping in Bangkok, Sukhothai, and Chiang Mai. I think we'll be in Thailand for about three weeks, but who really knows for sure.
From Thailand, we will take a bus into Cambodia, hoping to avoid the scams at the border, and arriving in Siem Reap to see my number one bucket list item, Angkor Wat. After spending a week or so marveling at one of the wonders of the world, we'll head down to Phnom Phen, possibly taking a day or two to see Battambang or Kep. Then, we'll start the trip north to Laos, stopping for a day or two along the way, maybe in Kratie.
Once we cross the border into Laos, we'll take a few days to soak up the Mekong in the 4,000 Islands region on the border of Laos and Cambodia, before heading up to Champasak, Paske, Tha Khek, and Vientiane.
After a few days in Vientiane, the capital of Laos, we'll head up to Luang Prabang and then take the slow boat up the Mekong to the Laos/Thai border. However, instead of hopping back into Laos, we'll continue north, crossing into the Yunnan Province of China, and heading to Kunming.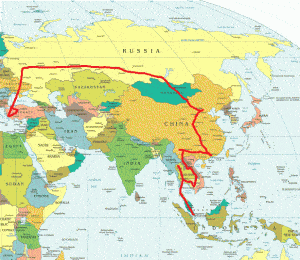 Heading out of Kunming, we'll check out Dali and Lijiang, before heading back to Kunming and taking the supposedly beautiful train ride to Nanning. From there, we may have to head down to Hong Kong to get a Russian visa, if we haven't sorted it out before that and maybe get a new visa for China as well.
Either way, our next stop in China proper will be Guillin and the karst mountains and rice terraces of the area. From there, it'll be a trip up to Xian to see the Terracotta Warriors and then heading over the Beijing.
From there, we'll board the Trans-Siberian train for the ride to Ulaanbaatar, Mongolia, staying a few weeks to do some trekking, and then continuing on the Trans-Siberian to Moscow via Irustuk and another stop or two.
After exploring Moscow for a week or so, we'll fly to Istanbul, Turkey, checking out the city and a few other undetermined locations in the country before finally flying back to America.
We are targeting the end of August for our return to America.
While this may seem too planned out to some, I'm sure that this very basic itinerary will change and we have built in a few weeks of flex time into our trip to see where the wind may blow.
Our trip will take us from Singapore to Moscow by land and through nine countries over about six months. If you have any suggestions for places to see or stay on our route, please let me know in the comments below.
If you are a tour company, hotel, or tourism board along our trip path, feel free to message me using the contact form. I'm always looking for great companies and organizations to work with.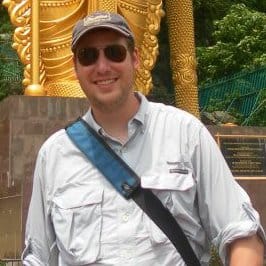 Jim Cheney is the creator of Tripologist.com. Having traveled extensively in North America, Europe, and Asia, Jim enjoys sharing his love of travel and some of his favorite places to visit around the world. He lives in Pennsylvania, USA, with his wife and two kids.