Disclosure: This article may contain affiliate links. We will make a small commission from these links if you order something at no additional cost to you.
For many travelers to Cambodia, their stay starts and ends with Siem Reap, site of the magnificent ruins of Angkor. A few of the more intrepid may make it to Phnom Penh, Battambang, or even Sihanoukville and the nearby islands; however, very few travelers take the time to visit the southeastern corner of the country near the Vietnamese border.
Sitting in the Gulf of Thailand, 4.6 kilometers off the coast of the tiny provincial capital of Kep, sits one of Southeast Asia's last unspoiled island retreats, Koh Tonsay. Better known to travelers as Rabbit Island, Koh Tonsay harkens back to another age, before the deluge of tourism built up the islands in Thailand into mega resorts. With no running water and no electricity, save a few hours of generator power at night, a visit to Koh Tonsay is an experience that many are after, but few find.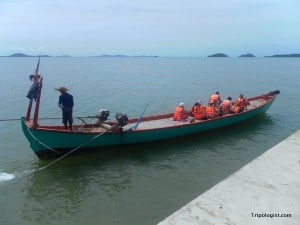 After staying a few days in both Kep and Kampot, my wife and I visited Koh Tonsay in early May 2012. Our journey started at the boat dock on the outskirts of Kep. There, we loaded into several boats, each looking less capable than the last of withstanding anything more than a calm sea. Fortunately, the day was calm, and we arrived 30 minutes later on the peaceful shores of Rabbit Island.
Unlike many destinations in the region, our arrival on Koh Tonsay wasn't heralded by the shouts of local hotel owners. Quite the contrary, we had to seek them out. Choice is quite limited on the island, entirely consisting of wooden huts on stilts. Our luxurious $3 accommodations included a beach-front room with a hammock, a mattress-less bed, a holey mosquito net, and a squat toilet. While the island may not be a good desintation for travelers looking for luxury, the rustic charm of Koh Tonsay makes it a great place to relax for a few days.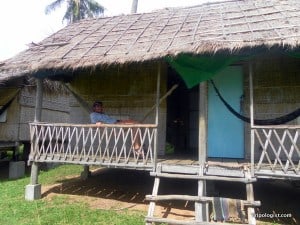 Koh Tonsay isn't a destination for those looking for activities. Sure, you can swim in the calm waters or take a trek around the island, but there is very little to do on the island. While there, I simply lounged in the hammock on our porch, and my wife got an hour-long ocean-side massage for the princely sum of $5.
As the sun sets, the generators at the local restaurants kick on, supplying light and soothing music for 3-4 hours each night. This is a great time to grab a cold beer, order a plate of deliciously cooked local crab ($5 for a plate big enough for 2), and watch the sunset.
Koh Tonsay represents the type of experience that is quickly disappearing in Southeast Asia. While it might not be for everyone, Rabbit Island is a great place to waste away a few days, saving up your energy for your next adventure.
Getting to Koh Tonsay and Other Important Information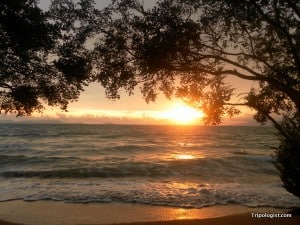 Koh Tonsay can be reached via the boat dock on the outskirts of Kep, a dusty town full of crumbling French colonial buildings. Kep, in turn, can be reached by bus from Phnom Penh, Kampot, or Sihanoukville. Tickets for the boat can be purchased at any guesthouse in the area.
It is possible to visit Koh Tonsay as a day trip from Kep, as many Khmers do; however, I would definitely recommend spending at least one night on the island.
The island has several restaurants open for breakfast, lunch, and dinner that also have drinks available throughout the day. There are no stores on the island, however, so make sure to stock up on necessities like toilet paper, sunscreen, and bug spray before leaving the mainland.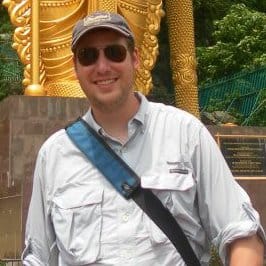 Jim Cheney is the creator of Tripologist.com. Having traveled extensively in North America, Europe, and Asia, Jim enjoys sharing his love of travel and some of his favorite places to visit around the world. He lives in Pennsylvania, USA, with his wife and two kids.