Disclosure: This article may contain affiliate links. We will make a small commission from these links if you order something at no additional cost to you.
In many ways, 2012 was the most exciting year of my life. During the year, I spent time in twelve different countries and traveled for six months. I got to ride an elephant, pet a tiger, traverse Siberia, herd goats with nomads, climb over ancient temples, and even found myself on Korean television. It was truly a great year!
I started off 2012 with thousands of revelers at a temple in Tokyo, Japan, and will likely end it sitting on the couch at my new home in Harrisburg, Pennsylvania with my wife and my dog. While my traveling may be over for the time being, nothing can take away the memories of this fantastic year.
Here are my top ten highlights of 2012. Here's to hoping 2013 is half as good as 2012 was!
Riding Trans-Mongolian
At nearly 5,000 miles, the Trans-Mongolian line of the Trans-Siberian Railroad is one of the world's longest train journeys. It's also one of the greatest. In July and August of this year, I had the pleasure of taking the train through China, Mongolia, and Russia.
Leaving Beijing, it was a 24-hour train ride to Ulaan Baatar, Mongolia, where I was able to spend a little less than two weeks exploring the world's least populated country.
From there, it was another 24-hours to Irkutsk, Russia, and a short bus ride on to the shores of Lake Baikal, the world's largest freshwater lake.
Leaving Irkutsk, it took four nights and three days to reach Moscow. I can't imagine I'll ever be on a more epic journey!
Would I do it again? In a heartbeat! Though, if I did, I'd make sure to get a bottom bunk; you can't see anything from the top.
For a bit more on my Trans-Siberian adventure, check out Picture of the Week: Sunset on the Trans-Siberian.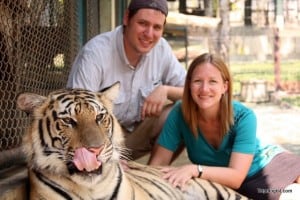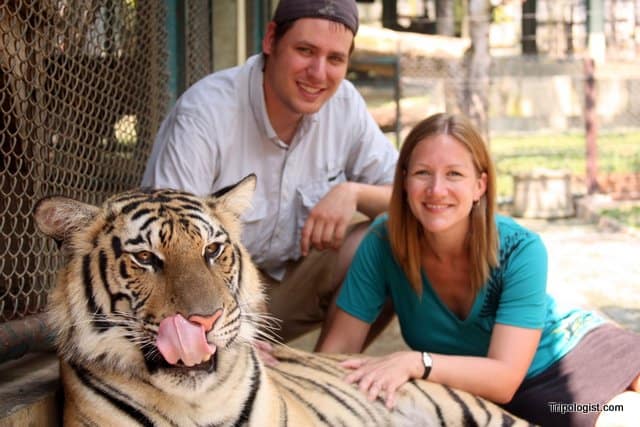 Petting a Tiger in Chiang Mai
I did many things during 2012, but the dumbest might have been to enter a cage with a fully grown tiger. Fortunately, though, my poor decision-making didn't result in the loss of any limbs.
Honestly, though, Tiger Kingdom in Chiang Mai, Thailand ranks up there as one of the coolest things I've ever done. Not only did I get to pet tigers, but I even had baby ones crawling on me.
How Cool is that?
For more on my tiger experience, check out Hugs, Not Drugs at Chiang Mai's Tiger Kingdom.
Relaxing at Bagus Place
While traveling for six months, even the most committed of backpackers needs a break from hostels now and then. Being no different, my wife and I allowed ourselves to have several splurges along the way.
The one that stands out, though, was our time at Bagus Place on the Malaysian island of Tioman.
With just seven bungalows tucked into a quiet cove, Bagus Place is a great place to relax and enjoy nature.
For more on Bagus Place, check out Bagus Place: Where Adventure Meets Luxury.
Riding the Slow Boat on the Mekong
There are many rites of passage for backpackers in southeast Asia, and the slow boat along the Mekong is quickly becoming one of them. Running between the Lao cities of Luang Prabang and Huay Xai, the two-day boat journey takes you through some of the world's most untouched scenery.
While I'd read plenty of horror stories about the boat trip, I found the ride to be quite pleasant. It is quite long though, so make sure you bring a good book to help pass the time.
About halfway between Luang Prabang and Pakbeng (the overnight stop off), make sure to keep your eyes peeled for elephants. I was fortunate enough to see a wild one bathing himself on the western shores of the Mekong a few hours outside of Pakbeng.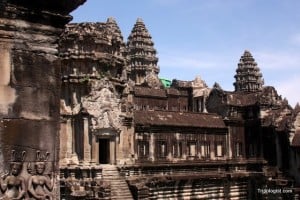 Staring at the Temples of Angkor
There is very little that can compare with your first view of Angkor Wat. From the majestic towers to the organic-looking walls to the huge stone faces that stare back at you, it's a magical experience.
If you ever get the chance, make sure you make it to Siem Reap, Cambodia to see the temples.
For more information, check out Releasing Your Inner Indiana Jones at Beng Mealea Temple and Photo of the Week: A Different Look at Angkor Wat.
Watching the Ssireum Wrestling Tournament
I left South Korea in early March of 2012 after a two-year stint teaching English. However, before I left, I had the great fortune of catching the Ssireum Wrestling Tournament with Eddie of Tigers and Magpies.
Ssireum is a traditional form of Korean wrestling, sort of similar to traditional Mongolian wrestling with a little sumo thrown in. The two biggest tournaments of the year are head during Lunar New Year and Chuseok.
At this tournament, Eddie, my wife, and I were three of the only foreigners there. Because of this, we were treated like royalty. They allowed us to sit in the front row, eat a free meal with the wrestlers, and shake the mayor's hand. We even won a free 20 kilogram bag of rice! To top it all off, since we were foreigners sitting in the front row, we were shown regularly during the television broadcast.
For more information on the tournament, check out Korean Wrestle Mania: The 2012 Seollal Ssireum Wrestling Tournament.
Exploring Macau
The inclusion of Macau on this list surprises even me. After all, our trip to Macau was a mere afterthought. We had spent about 10 days in Hong Kong waiting for our Russian visas, and decided to take another day out of our schedule to take a trip to the city.
While we may have had a limited amount of time in Macau, we were able to see the city's fantastic colonial architecture, some of its oldest temples, and even win some money at a casino. I had no idea there were so many things to do in Macau.
In some ways, Macau was like a day trip from our travels.
To read more about our time in Macau, check out Picture of the Week: Macau's Old City Square.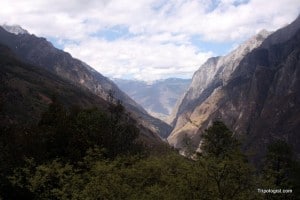 Hiking Tiger Leaping Gorge
If there is a more beautiful hike in Asia that is accessible to almost anyone, I would be flabbergasted. The trail through Tiger Leaping Gorge is phenomenal. A two-day, 15 kilometer trek through one of the largest gorges in the world, Tiger Leaping Gorge is a must do for anyone visiting southwestern China.
As you hike, high above the mighty river below, looking across the gorge at the towering snow-capped Jade Dragon Mountain, you might think you have died and gone to heaven.
The hike is strenuous, but anyone who can climb a hill should be able to hike this fantastic trail.
To read more about my time at Tiger Leaping Gorge, check out Tiger Leaping Gorge: China's Most Breathtaking Hike.
The Adventure of Wat Phou
Nestled in the hills above the Mekong in southern Laos, Wat Phou is a fantastic temple that is off the radar for most travelers. While not as impressive as Angkor Wat, the temple grounds are nearly empty during most of the year. This allows you to really get a great sense of adventure while at the temple.
Combine the temple with the adventure of getting there from the 4,000 Islands (canoe to mini-bus, a 5 kilometer walk with our bags to another ride in a very rickety canoe, a tuk-tuk ride into town, and finally a 10 kilometer bike ride), it was quite an awesome adventure visiting Wat Phou.
For more information about visiting Wat Phou, check out Wat Phou: Angkor Without the Crowds.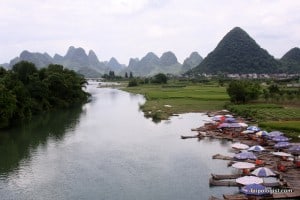 Biking in Yangshuo, China
If Tiger Leaping Gorge is the perfect hike, than the towns around Yangshuo, China might be the best bike ride in Asia. With flat, paved roads, towering karst mountains, and idyllic rivers, the bike ride is astoundingly awesome.
While I've yet to write a post to tell the whole story, highlights include biking on a six-inch wide path through a rural field, getting lost as the sun was setting, and crossing the river in a sinking, homemade raft.
To read more about my time biking in Yangshuo, check out my post: Getting Utterly Lost in Yangshuo, China's Yulong River Valley.
Honorable Mentions
Eating sannakji (still squirming raw octopus) in South Korea
Riding an elephant in Thailand
Bicycling around the ancient ruins of  Sukothai, Thailand
Taking a canoe through a 4km long cave in Laos
What were your favorite travel experiences in 2012? Let us know in the comments section below.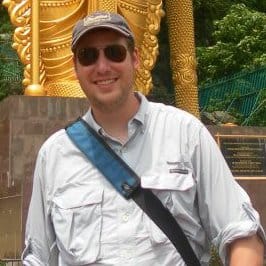 Jim Cheney is the creator of Tripologist.com. Having traveled extensively in North America, Europe, and Asia, Jim enjoys sharing his love of travel and some of his favorite places to visit around the world. He lives in Pennsylvania, USA, with his wife and two kids.