Disclosure: This article may contain affiliate links. We will make a small commission from these links if you order something at no additional cost to you.
Writer's Note: This article is part of a project that I did for Tourism Malaysia. While I usually focus this blog on budget travel, this article is about my one luxury experience in the past six months.
As our small boat bobbed in the waves off of Malaysia's Tioman Island, I finally laid eyes on the secluded resort of Bagus Place. Like a hand stretching out in welcome, the resort's pier reached out into the waters of the South China Sea beckoning us to come ashore.
Having journeyed from the mainland city of Mersing by ferry to reach one of Malaysia's most spectacular resorts, we were more than ready to scamper to shore, resting our tired bodies as we sipped a drink.
Opened in 2004, Bagus Place is a small, exclusive resort situated on the southeastern shores of Tioman Island, featuring only seven rustic cabins nestled within the surrounding mountain-side, all with breathtaking views of the sea below. Each cabin contains its own bedroom and bathroom, as well as a deck.
Tioman Island is a fantastic place to visit. Named as one of the most beautiful islands in the world by Time Magazine in the 1970s, Tioman will surely leave you speechless. Towering mountains give way to lush forests brimming with life, and there are small beaches around every turn. There are also fantastic opportunities for diving off of the island's coast, including many shipwrecks from World War 2.
While staying at the resort, my wife and I stayed in Rumah Laut, the newest cabin, having just been opened for the 2012 season. Originally, this cabin was built for the exclusive use of the resort's managers, fortunately though, they opened the cabin to the public. Rumah Laut features 270-degree views of the sea just below and a fantastic sitting room.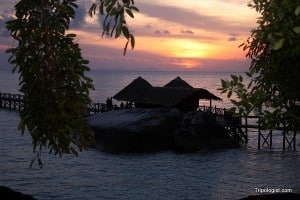 Three fantastic meals are included with the price of lodging: delicious fruits for breakfast, sumptuous western and Malaysian options for lunch, and mouth-watering local cuisine for dinner. As a result, we were never left hungry after meal times. The culinary highlight of our time on Tioman was the cookout on the beach, featuring banana leaf wrapped snapper, several other varieties of meats, and many side dishes. As we ate our meal while sitting inches from the cresting waves, watching a nearby bonfire, we truly understood the magic of the resort.
Unlike other resorts though, Bagus Place is much more Robinson Crusoe than palatial; however, that doesn't mean that it isn't a fabulous choice for adventurous travelers; for example, it was recently named a 2012 Traveler's Choice award winner from Tripadvisor.co.uk. That being said, when you arrive at the resort, don't expect white-coated bellboys and modern luxuries like a swimming pool, wi-fi or cell phone reception. Bagus Place can be a bit rough around the edges, but therein lies its charm.
While visiting, it's possible to feel like you are on your own deserted island as you look out across the beach. Even the wildlife seems relaxed around the resort, and you'll certainly see the local troop of monkeys and maybe even a monitor lizard or two.
For those who like to see the wildlife and get wet at the same time, the end of the pier at Bagus Place features excellent snorkeling around several small coral reefs. Not only do many different types of fish reside in the waters, but you might even get lucky and see one or two of the resident sea turtles.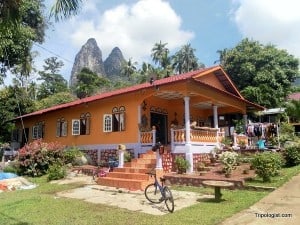 Another great option is the two-hour hike to Asah Waterfall. Located in the forests off the southern part of the island, the waterfall is a great place for a relaxing and cooling swim. Along the hike, you get a chance to walk through pristine forests full of animal life and several small villages, allowing you to experience local life on the island away from tourists.
For travelers looking for a bit more relaxation, Bagus Place offers a masseuse, a small library, a bar, and a beach on which to relax and pass the time.
Overall, I would highly recommend a stay at Bagus Place for anyone looking for a high-class resort with a bit of adventure.
Getting to Bagus Place and Tioman Island
For those heading to Tioman Island and Bagus Place, there are two choices: ferry or airplane. The ferry leaves from the west coast city of Mersing. If taking the ferry, it is possible to get a bus to Mersing from Kuala Lumpur, Melaka, and Singapore. Be aware: if you take the bus, the trip will be long and bumpy, crossing over the mountains of inner-Malaysia on a narrow two-lane road.
Once you arrive in Mersing,make your way to the ferry port. The ferry runs several times every day, but sometimes runs 4-5 hours behind schedule. If taking the ferry when returning from Tioman, make sure to factor in a possible long delay into your travel plans.
On the other hand, if you opt to fly, flights can be caught from Singapore or Kuala Lumpur. Delays are much less likely, but the cost is likely to be more expensive.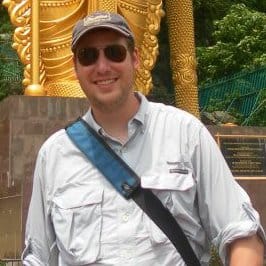 Jim Cheney is the creator of Tripologist.com. Having traveled extensively in North America, Europe, and Asia, Jim enjoys sharing his love of travel and some of his favorite places to visit around the world. He lives in Pennsylvania, USA, with his wife and two kids.