Disclosure: This article may contain affiliate links. We will make a small commission from these links if you order something at no additional cost to you.
Imagine being able to enter the cage of a real tiger. Nervously approaching it, its eyes staring at you with curiosity, you slowly walk  behind it; the prey has become the predator. Quickly, you pounce, hands outstretched until you can feel its body rise and fall with each breath. Stroking the animal's fur, the soft hairs running through your fingers, you forget your fear.
While it may sound like a fairy tale, scenes like this happen every day at Tiger Kingdom in Chiang Mai, Thailand.
Back in April, 2012, my wife and I went to visit Tiger Kingdom. We were very curious, but a little apprehensive. After all, not only would we be going into a cage with a group of large tigers, but we had also heard some disturbing tales.
Fortunately for us humans, none of those tales involved injuries or missing limbs. Instead, they concerned allegations of drugging and mistreatment of the very animals we had come to see. And, while I'm not a member of P.E.T.A., I certainly don't want to see animals abused for my entertainment.
When our tuk-tuk arrived at Tiger Kingdom, we were greeted by the staff and asked which tigers we wanted to see. Having come this whole way, we opted for a package that included three different age groups: Smallest (3 month old cubs), Small (6 months old), and Large (18-24 month old tigers).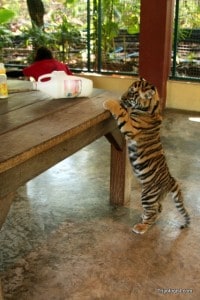 After paying our money, we were escorted to the cage with the three-month old tiger cubs. Before entering, we had to remove our shoes and wash our hands. After doing so, we were free to enter with one of the volunteer handlers.
This was the first good sign for me about Tiger Kingdom. At two of the three cages we entered we were accompanied by a foreign volunteer. It seems to me, that if someone loves tigers enough to travel halfway around the world to volunteer at Tiger Kingdom, they aren't going to put up with a little tranquilizer in the tiger's food.
Once inside the cage, our guide helped us approach the tigers and taught us the rules: no touching the head or front paws. After a few minutes, we became more comfortable with the tigers, and our guide even allowed them to climb on us. As the half dozen tigers, played about the cage, it was very obvious that their moods had not been altered.
After our foray with the smallest tigers, we moved onto the six-month old small tigers. When we approached this cage, my first thought was that the tigers certainly grew between three and six months because, while obviously not fully grown, these animals were much larger than the tigers we had just seen.
Entering this cage, the rules were more even more strictly enforced then they had been in the previous cage, and the tigers were not allowed to play near the visitors. Even so, you could still see them playing in the corners of the cage, and they would actively walk around the area.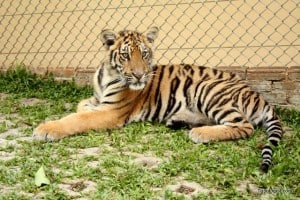 Lastly, we came to the large tigers. At nearly two-years old, these tigers had been around humans their whole lives, and they were used to being petted by strangers. They were, however, more calm than the others had been. At first, I thought that maybe this was due to drugs, but then I thought about the tigers I see when I visit zoos at home; what are they doing? Resting…all the time. That's what tigers do in the middle of the day. So, should it really be any surprise to me that it was what I saw at Tiger Kingdom?
Even so, being in with such a large animal was a little bit nerve racking. Quite honestly, I was glad for the insurance they included in the price of my admission because I would imagine "willing walking into a tiger's cage" is not an included provision in my travel insurance.
That being said, we made it safely through our day, leaving the tigers after about an hour in the cages and with great pictures and memories.
While I can't say about other places that allow you to experience tigers, I can say pretty assuradely that Tiger Kingdom is a legit experience. If you have doubts, go and see for yourself.
Have you been to Tiger Kingdom? If so, what are your thoughts on this issue?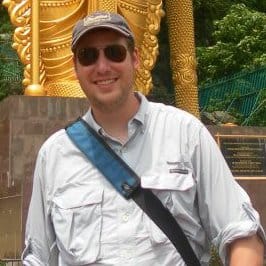 Jim Cheney is the creator of Tripologist.com. Having traveled extensively in North America, Europe, and Asia, Jim enjoys sharing his love of travel and some of his favorite places to visit around the world. He lives in Pennsylvania, USA, with his wife and two kids.