Disclosure: This article may contain affiliate links. We will make a small commission from these links if you order something at no additional cost to you.
Recently, I set out to discover which flight search engine offers the cheapest fares on average. When I started, I didn't think that there would be much difference from one site to the next, but boy, was I wrong.
In fact, did you know that the site you use to book your flight could potentially cost you thousands of dollars? Think I'm joking? I'm not. The full details are below, but on average, picking the wrong site when looking for flights will cost you $272.
My entire methodology is explained below, but let me start by saying that this post is not sponsored by any website. I started this research out of my own curiosity and all research was conducted independently.
So, which airfare search engine is the cheapest? Keep reading to find out.
My Methodology
I conducted 100 different flight searches over the course of about 5 weeks. I picked flight dates and airports at random, but started and ended searches on all six continents with regularly scheduled service. All searches were done for a single roundtrip ticket. Furthermore, all searches were done on each site within a period of approximately five minutes or less. This kept the odds of prices changing to a minimum.
The eight sites I used were: Kayak, Momondo, Bing Flights, SkyScanner, Mobissimo, Hipmunk, OneTravel, and Vayama. There are others out there, but these eight airfare search engines provide a good baseline for the most commonly used sites.
The Results
As I stated above, I was surprised at how much difference there was between the results found on the sites. While prices for flights do tend to fluctuate frequently, the commission margin on flights should result in fairly similar fares across the board. However, what became clear to me is that not all the search engines provided the same quality of results.
For example, of the 100 searches conducted across these eight websites, five percent of the results had more than a $1,000 difference between the lowest fares found by each site. What this means is that if you had only searched one website, you could be costing yourself a lot of money, up to $2,912.
That's right, one flight search gave me a difference of $2,912 between the lowest prices offered on a single, roundtrip ticket from Mexico City, Mexico, and Reykjavik, Iceland. However, this was only an 87% difference in prices. The award for largest percentage difference was 150% on a flight between Charleston, South Carolina in the US, and Manzanillo, Mexico.
Overall, the differences between the lowest fares found by the different sites was $272 or 25%. Not a small amount of money for a single, roundtrip ticket. And, while most of the flights obviously had more manageable differences, every single flight I searched offered a variety of fares depending on the site searched.
So, which Flight Search Engine is the Cheapest?
Based on my data, the cheapest airfare search engine was Momondo.com. Maybe their flights are less expensive because they don't advertise a lot, I don't know. However, they were consistently among the least expensive search engines, providing the cheapest flight (or close to the cheapest flight) 60% of the time.  They also had results that were, on average, $20 less than the next closest site.
The most expensive flight search engine? Hipmunk.com, which provided the most expensive search results 29% of the time. Even worse for Hipmunk, their search results averaged $107 more expensive than Momondo.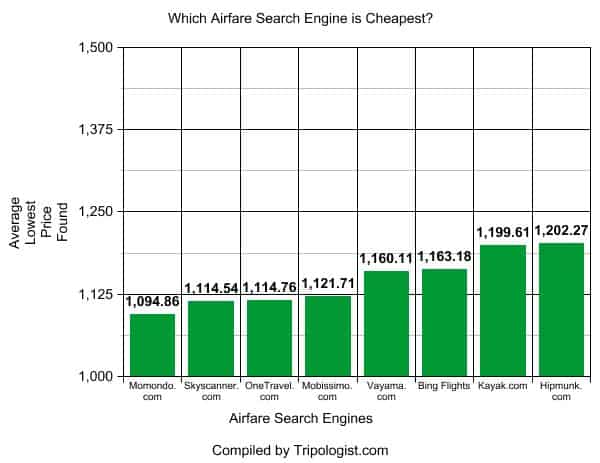 Here's the full list from least expensive to most expensive:
Momondo.com – Average flight costs: $1094.86
Skyscanner.com – Average flight costs: $1114.54
OneTravel.com – Average flight costs: $1114.76
Mobissimo.com – Average flight costs: $1121.70
Vayama.com – Average flight costs: $1160.10
Bing.com/Travel – Average flight costs: $1163.18
Kayak.com – Average flight costs: $1199.61
Hipmunk.com – Average flight costs: $1202.27
Kayak's slogan recently has been "Search One and Done". Given their high prices, I can understand why they would want you to do that. However, regardless of which site you use, I would never recommend searching just one site. Even Momondo.com, which offered the lowest tier fares 60% of the time, still provided one of the highest priced fares 2% of the time.
Ultimately, this is just a cheat sheet to help you figure out where to start your airfare search. In order to find the best rate, always check more than one airfare search engine.
Do you have a favorite airfare search engine or one that you think is the cheapest? Let me know in the comments below.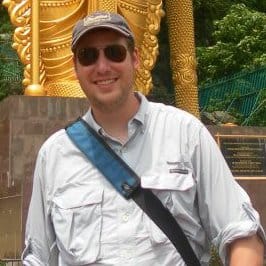 Jim Cheney is the creator of Tripologist.com. Having traveled extensively in North America, Europe, and Asia, Jim enjoys sharing his love of travel and some of his favorite places to visit around the world. He lives in Pennsylvania, USA, with his wife and two kids.