Disclosure: This article may contain affiliate links. We will make a small commission from these links if you order something at no additional cost to you.
Myanmar is Southeast Asia's newest must visit location. Relatively untouched by tourism for many years, the whole country seems to still be in the past.
Yangon (formally Rangoon) has been an exotic and romantic name for centuries and has been inspiration to the likes of George Orwell and R. Kipling.
However, things are changing rapidly as fast food, mobile phones, and Coca-Cola are all establishing themselves and preparing to fast track Burma into the 21st century.

After visiting Yangon many times and exploring most of the city (and its surroundings), I want to share with you the top 5 things to do in Yangon:
Shwedagon Pagoda
If you only see one thing in Yangon, it has to be the Shwedagon Pagoda. It's the nation's treasure, and a lifetime aspiration of every Burmese person to visit it at least once.
The main stupa at Shwedagon, which means 'golden' in Burmese, claims to encase hairs from Buddha himself, and the jewels hanging at the peak are valued at over a billion dollars.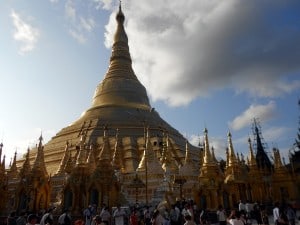 Visiting in the late afternoon is best as there is a hushed and mystical atmosphere, families meet and pilgrims pay respects, and you can get a great view of the sunset from the southwestern corner.
Entrance to the Shwedagon is $10 for foreigners, and I would recommend hiring a guide as their knowledge of the Pagodas history is impressive!
After sunset head to the Sapphire Lounge at the Alfa hotel. An outdoor rooftop bar with good food and reasonably priced cocktails. It boasts the best nighttime views of both Shwedagon and the city skyline.
Inya and Kandawgyi Lake
Yangon is home to two large artificial lakes – Inya and Kandawgyi.
Both are good places to soak up the atmosphere of Yangon residents off-duty, and a common place to see couples taking a romantic stroll.
Inya lake is the larger of the two, and the area surrounding it is one of the wealthiest neighborhoods with most foreign embassies, Yangon University, and Aung San Suu Kyi's house nearby (ask your taxi driver to point it out on the drive).
Dala
As well as lakes, Yangon is also has a large winding river which is a popular shipping route and a major reason for the British invasion in 1819.
If you want to escape the city, then take a ferry ride across the river to the small rural village of Dala.
Despite its location, Dala is still a very traditional village complete with bamboo houses and dirt roads. There are no cars here, but you can rent a trishaw to give you a bumpy tour of the village and its laid-back lifestyle. Dala gets few visitors, so there is no tourist industry, but the rickshaw drivers usually speak enough English to explain things.
To get to Dala, simply head to the river and catch the ferry across. There is only one ferry, and it's easy to find. Ticket prices are $2-5 (depending on the mood of the officer on duty), and you will have to write your name and country in a book. The ride takes about 20 minutes, and there are some traditional Burmese snacks on board.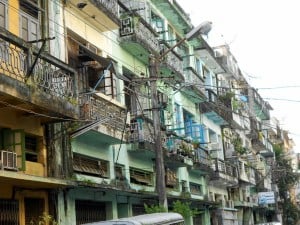 Walking Through Downtown
Yangon's crumbling architecture and colonial buildings are something to be admired. Take a walk around, and you'll find the streets are alive with activity and energy, but be prepared for some curious stares and greetings as tourism (and foreigners) is still relatively new for locals.
Whlie wandering around, don't forget to take a break at a roadside tea stand with their low chairs and very sweet tea (or coffee if you prefer), always drunk hot whatever the temperature.
Boyoke Market
Myanmar's most famous market, Boyoke, is perfect for buying antiques, gold, souvenirs, or longyis (traditional skirts). You'll be amazed at the bargains to be had, but don't change money at the market – even if the rate seems good, you're likely to get scammed.
After a shopping frenzy, cross the road to Traders Hotel to relax in air-conditioned luxury. They serve a very reasonably priced high tea ($12), and it includes coffee, lunch, cake, and nibbles; there was almost too much food to finish. Traders is also a good place to catch up with the outside world, as it's one of the few places to get a strong Wi-Fi connection.
Despite being a former capital city, Yangon is still relatively underdeveloped, allowing tourists to feel like they've stepped back in time. There are not many shops or attractions here, but what you get instead is a glimpse of real life, and a chance to slow down and explore a forgotten city bustling with energy and charm. The best time to visit is between October and January, but even in the off-season, you'll be welcomed with a big smile.
[box_light]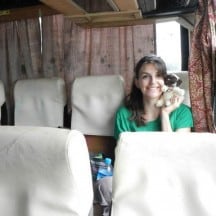 Laura Gibbs is a seasoned traveler based in Thailand. She has been living in Asia for the last 3 years and despite travelling extensively in Myanmar, she has many plans to go back and experience even more.
Her website, Travelling Thailand and Japan, is currently a hobby and a way to focus her thoughts.
She is interested in the refugee situation on the Thai-Burma border, travel, languages and drinking coffee.
[/box_light]