Disclosure: This article may contain affiliate links. We will make a small commission from these links if you order something at no additional cost to you.
If you are anything like I was before I came to live in South Korea, you probably know very little about this wonderful country. That's not to say you know nothing. After all, you likely know a bit about the Korean War and of course you know all about North Korea thanks to the 'Axis of Evil' and 'Team America: World Police'. You might even know that some of the world's biggest companies (Samsung, LG, Hyundai, Kia, etc.) are from here. But really, you don't know that much about the history of the country.
For example, until a few years ago, I was unaware that South Korea was once a unwilling part of Japan. That's right, from 1910 to 1945, Korea was considered a part of Japan, having been forcefully annexed in the Japan-Korea Annexation Treaty of 1910. During this time, many Koreans were forced to work in Japanese factories, take Japanese names, and even speak Japanese instead of Korean.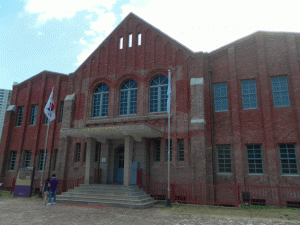 This, of course, made many Koreans angry, leading to the Korean Independence Movement. With so many Koreans rising up in protest, the Japanese government decided to build a prison in downtown Seoul to house political dissidents. Opened in 1908, while Korea was still only a territory of Japan, Seodaemun Prison was designed to hold up to 500 prisoners, but held many, many more throughout its history.
Seodaemun Prison housed both male and female prisoners, who were forced to work long hours making clothing; however, there was also a darker side to the prison. At Seodaemun, many prisoners were put through horrific torture and ultimately executed, their bodies snuck out of the prison through a tunnel to hide the evils within.
Today, Seodaemun Prison is open to the public so that the current generation can learn about the horrors that were inflicted on the Korean independence fighters.
Visiting Seodaemun Prison
After entering the prison grounds, your first stop should be the museum, which housed the former administration building on the prison. The museum has adequate English signage in most places, and shows the history of the prison and of the Japanese occupation. The second floor continues to show the history of the prison, as well as showing the photos of many of the executed prisoners. In the basement, there are mock cells and very realistic looking mannequins showing some of the torture methods that the Japanese guards would use. While disturbing, I found the presentation to be much more tame than many similar institutions around the world.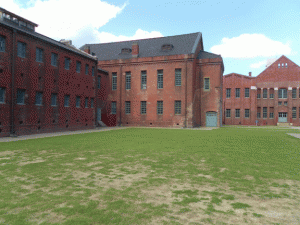 After exiting the museum, you can walk around the grounds of the former prison, inspecting several prison buildings, including jail cells and the building where some prisoners were ultimately executed.
In my opinion, Seodaemun Prison is a must for any visitor who is interested in the history of the Japanese occupation of Korea.  The well-manicured lawns and brightly lit cells make it hard to imagine what it must have been like to be a prisoner there, but Seodaemun Prison is a sobering and stark reminder of the horrors humans can unleash on each other.
How to Get to Seodaemun Prison
Seodaemun Prison is located in the middle of Independence Park, which honors those who died trying to obtain Korean independence. The closest subway station is Dongnimmun on Line 3. Take exits 4 or 5 to get to Independence Park.
The entrance fee for Seodaemun Prison is only 1,500 Won (about $1.30 USD), and the prison is open every day except for Mondays and a few select holidays.
When visiting Independence Park, make sure to check out Dongnimmun Gate, which was modeled after the Arc de Triumph.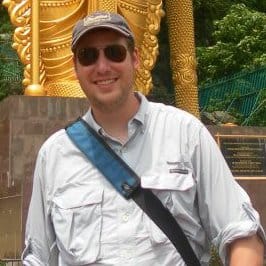 Jim Cheney is the creator of Tripologist.com. Having traveled extensively in North America, Europe, and Asia, Jim enjoys sharing his love of travel and some of his favorite places to visit around the world. He lives in Pennsylvania, USA, with his wife and two kids.