Disclosure: This article may contain affiliate links. We will make a small commission from these links if you order something at no additional cost to you.
The thought of traveling for several weeks, several months, or even longer with just one small bag can be intimidating. After all, you're trying to pack for weeks in a suitcase or backpack that you would normally use for a weekend trip away. However, when you're on the road, the convenience of traveling with a light bag can't be overstated. They are easier to carry, to store, and to manage in crowded places.
When I first bought a backpack and started to get my things together, I tried to bring way too much. However, after having completed two major trips with just a backpack, I've learned a few things about packing light.
Here are my top five light packing tips.
Take Quick Dry Clothes
Most travelers embarking on a long-term trip have spent so much time and money preparing for the trip, that the thought of buying special clothes doesn't even cross their mind. And, if you don't plan on doing any laundry on the trip, then there really isn't an issue with taking whatever clothes you're most comfortable in.
However, when traveling long-term, getting quick-drying clothes is very important. Unlike many western countries, clothes dryers aren't very common in Asia or many developing nations. If you take a pair of blue jeans or a few cotton shirts and you're forced to air dry them, they'll take a long time to dry.
On the other hand, quick-drying shirts made of material like nylon often will dry overnight, even in super humid destinations like Southeast Asia. Not only will this save you money on dryers, but it will also keep you from having to wear super wet clothes. You'll also be able to more easily wash your clothes in a sink to save even more money while you travel.
While many hostels offer laundry for just several dollars a load, some nicer hotels can charge $5-10 (or even more) per item.
My two favorite travel shirts are the ExOfficio Air Strip Light and The North Face Velocitee Crew Shirt. Both dry quickly, pack small, and look nice.
Have Room in Your Bag When You Leave Home
All your attempts at light packing can be jeopardized if you leave home with a bag that's completely stuffed.
Even if you don't buy any souvenirs during your trip, odds are you're going to pick up something while traveling. Maybe you are buying something you forgot or didn't bring from home, maybe you picked up snacks for your train ride, or maybe you just didn't pack your bag quite as well when trying to leave your hotel quickly.
No matter what though, if you leave home with a bag packed to the gills, you'll likely end up having to carry around some extra plastic bags to hold your things.
In my opinion, it's always a good idea to have a minimum of 10-20% of your bag empty when you leave home to account for these issues and keep you packing light.
Pack Convertible Pants
Some might think that convertible, or zip-off, pants (pants that have zip-off legs and turn into shorts) look dorky; however, they can be a godsend when traveling.
Not only are they typically made of durable, quick-drying material, but they help cut down on how much you have to pack. Instead of taking both shorts and pants, you can take them both in one.
It can also be great when you plan on visiting a site during the day that requires long pants (churches, temples, palaces, etc.), but don't want to wear pants all day. They also come in handy on cool mornings or evenings, and for the occasional time that you might want to dress up a bit.
As I said, they certainly aren't the most stylish pants out there, but the huge benefits they bring outweighs any minor fashion faux pax that you might be making.
My favorites are the ones from North Face. While they aren't the cheapest, they are certainly the most durable and comfortable.
Don't Take Things "Just in Case"
Many of us are used to packing extra things just in case we need them. Even I'm guilty of it, especially on short trips. Am I packing for a weekend away? Let me throw in an extra pair of socks and underwear, just in case. However, I never, ever have to use them.
When planning a long-term trip, the list of things you'll need "just in case" can be really, really long.
While it is probably prudent to throw in a small medical kit, a needle and thread, and maybe even some duct tape and a pocketknife, it's probably unnecessary to pack anything else "just in case".
For a simple rule of thumb, only put in a "just in case" item if it will potentially save your life or avoid a major mishap.
Don't Take Everything You Need
While this may sound a bit odd, I have two very good reasons for saying this.
First, if you've never traveled long-term, it's unlikely that you need half of what you think you need.
During my 6-month trip through Asia, I only took two pairs of convertible pants and four shirts. I would occasionally pick up a souvenir shirt and wear it a few times before shipping it back, but I really didn't have an issue with having so few clothes.
Think I only was able to do that because I'm a guy?
My wife took two bottoms and five tops for the same trip. While traveling, she decided she needed another bottom, so she just picked up something in a local shop.
That gets to the second point: you can buy what you need while traveling.
Unless you're going to a rural destination in a third-world country, you should have no problem finding the things you need. After all, locals still need shampoo, they still need umbrellas, and if you find yourself in a cold country, they still need gloves and winter hats.
Taking 6 months of shampoo and a pair of gloves for month number five is just plain silly.
Do you have any other light packing tips? Let us know in the comments section below.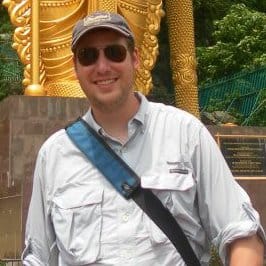 Jim Cheney is the creator of Tripologist.com. Having traveled extensively in North America, Europe, and Asia, Jim enjoys sharing his love of travel and some of his favorite places to visit around the world. He lives in Pennsylvania, USA, with his wife and two kids.