Disclosure: This article may contain affiliate links. We will make a small commission from these links if you order something at no additional cost to you.
Russia and Turkey are two of the most popular countries on traveler's wish list. And let me tell you, from visiting both countries, they are amazing. I highly recommend visiting both countries on your next trip.
Unfortunately, many don't consider including both on the same trip because they don't share an obvious border with each other. Of course, I wouldn't be writing this article if they weren't wrong.
While there is no land border between the countries, and traveling by train would be a long journey through the Ukraine, Romania, and Bulgaria, there is a quick and inexpensive way to travel by land between the two countries: a ferry on the Black Sea.
Sitting on the border of Eastern Europe and Asia, the Black Sea is surrounded by six different countries, two of which are Russia and Turkey. It makes sense, then, that ferry service is offered between the two countries.
Several times every week, ferries depart from Trabzon on the Turkish side and Sochi, site of the 2014 winter Olympics, on the Russian side. (Unfortunately, there is no Istanbul to Sochi ferry at this time.)
Trabzon, Turkey
Trabzon is a conservative city, think many Muslim women wearing scarves and cloaks, in northeastern Turkey. The city itself is pretty, but has little to interest tourist. On the other hand, there are some great sites nearby.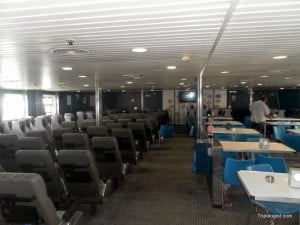 Sitting just outside of the city center is Aya Sofya, not to be confused with the church of the same name in Istanbul. It is a beautiful and uncrowded church that still contains some fantastic frescoes. If you have been in Turkey for a while, it might be a bit underwhelming, but if you are new to the country, it is quite stunning.
Further afield is the more well-known Sumela Monastery. Standing up against a cliff face, this monastery is one of the most beautiful in all of Turkey and well worth the time to see.
It is possible to get direct bus transportation to and from many of the larger cities in Turkey. You can also travel directly to/from Cappadocia by catching a bus in either Nevshehir or Kayseri. Trabzon also has an airport that serves several of the larger cities in Turkey, as well as Moscow (worth noting just in case you run into trouble with the ferry).
Sochi, Russia
When you first arrive in Sochi, Russia, you likely wonder the same thing Russians do, "Why are the Winter Olympics being held here?" Bordered by beautiful beaches, palm trees, and men wearing shockingly small swimsuits, Sochi is a seemingly odd choice for the Winter Olympics. For travelers though, Sochi is a wonderful place to relax for a few days. Featuring miles of clear water and a fantastic boardwalk, it's certainly a hard place to leave.
At the moment, there isn't much to do in and around Sochi. If you head into the mountains, there is good hiking (or skiing in the winter), and you can even visit Stalin's summer home. Unfortunately, though, the language barrier and lack of English signage in the area makes traveling hard. Hopefully, the Olympics will improve this.
Getting to Sochi from Moscow is a simple train ride to or from Moscow. If you aren't used to long train rides, be prepared; the trip takes around 26 hours. It is also possible to fly to Moscow or Istanbul from Sochi.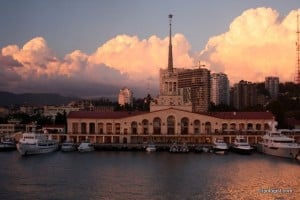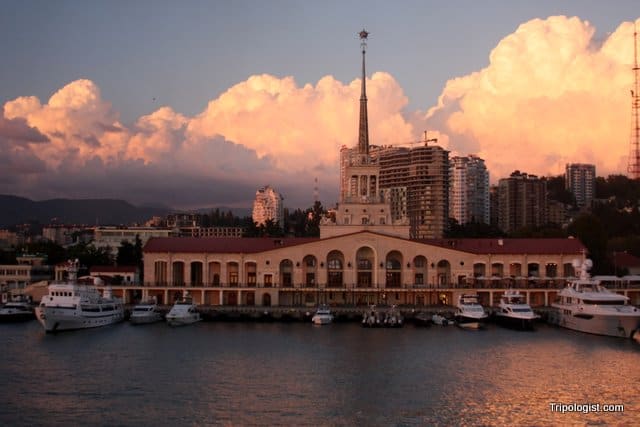 Choosing Your Ferry
There are two ferry options to get from Trabzon to Sochi.
The first is the fast ferry. Currently, the ferry runs from Sochi to Trabzon on Mondays, Wednesdays, and Fridays and from Trabzon to Sochi on Tuesdays, Thursdays, and Sundays. The trip itself takes about 4.5 hours, leaving in mid-afternoon and arriving around dinner time. The trip costs 4,000 Rubles in Russia or $130 USD in Turkey. For more information, go to their website, which is mostly in Russian, or contact [email protected] in Trabzon where they speak a bit of English.
The second option is the overnight ferry between the two cities. Costing roughly the same as the fast ferry, the overnight ferry takes 13-14 hours to arrive. As of August 2012, when I took the ferry, it leaves from Sochi on Friday evenings and from Trabzon on Sundays.
The slow ferry was a well-built boat in good running order. It featured comfortable cabin seats, a nice deck, and even a bar and restaurant area. There are also sleeper cabins that you can get, but the cost is about $30 more per person.
On our date of departure from Sochi, the ferry ticket indicated 16:00 as the departure time, a fact which was confirmed by the women at the ticket counter. We arrived at the customs area at about 3:15pm, where a crowd was already gathered. It wasn't until 4pm that the gates into the customs area were actually opened. Due to the crowd, lots of pushing and shoving ensued to get on the boat first, but we were able to get through customs with no issues by around 4:45pm. After finding seats, we made our way onto the deck.
The boat continued to fill up, and more people joined us on deck. Our fellow travelers, of which about 85% were Turkish males, were very friendly, but almost no one spoke English.
In the mean time, people continued to board the ferry, and the clock kept ticking. Despite our tickets saying 4pm, the ferry didn't depart the port until a few minutes after 8pm.
That being said, if you take the slow boat, get there early as seats are first come, first serve. While the boat didn't feel overcrowded, they do sell more tickets than available chairs. This meant that those getting on the boat late had to sleep on the deck, which got quite chilly, even in mid-August. On the plus side, they did hand out thick blankets to those unfortunate enough to get stuck sleeping outside.
The week I was taking the trip, the fast ferry was closed for maintenance. While the slow boat was good quality and reasonably comfortable, I would recommend taking the fast ferry if possible.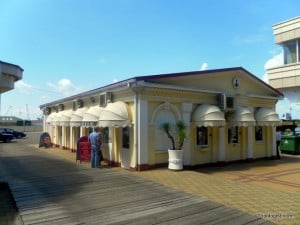 How to Get Tickets
In Sochi, Russia, the ticket office is in a small office next to the very large, main port building. If facing the building, the ticket office will be to your right, directly behind the Subway Restaurant. They don't speak English, but if you write down the date you want to leave, you shouldn't have any trouble.
In Trabzon, you can buy tickets from any number of vendors along the road leading to the port. The port itself is located down the hill from the main town square.
Overall, I would highly recommend taking the ferry. It certainly isn't the fastest way from Russia to Turkey, but it allows you to see two charming cities and travel in a unique way between two very different destinations.
Note: If you need them, visas on arrival are available at the port in Trabzon, Turkey. Stand in line for immigration, and when you get to the front, show the immigration officer your passport. He will direct you to the official who sells the stamps. For Russia, most nationalities will need to get a visa before arriving. It is not available at the port.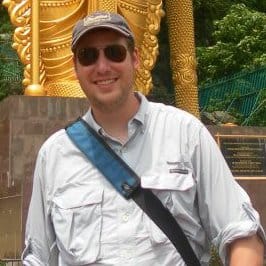 Jim Cheney is the creator of Tripologist.com. Having traveled extensively in North America, Europe, and Asia, Jim enjoys sharing his love of travel and some of his favorite places to visit around the world. He lives in Pennsylvania, USA, with his wife and two kids.