Disclosure: This article may contain affiliate links. We will make a small commission from these links if you order something at no additional cost to you.
Unlike many cities in Eastern Europe, Moscow can be a very expensive city to visit.
What makes it even worse for travelers on a budget is that while some expensive cities are full of free things to do (like Tokyo, Japan, or Washington, DC), many of the best attractions in Moscow cost money.
However, there are still some great things that you can do for free. Whether you like history, architecture, religion, or the macabre, there's something free for everyone in the Russian capital city.
So, without further ado, here's my list of five great free things to do in Moscow, Russia:
Pay Your Respects at Lenin's Mausoleum
Lenin's body rests inside the ornate sarcophagus pictured in Moscow, Russia. (Creative Commons: Wikimedia.org)
Like many famous dictators around the world, the body of Russian dictator Vladimir Lenin was embalmed shortly after his death. Despite Lenin's wishes in life, his body has been on display in Moscow's Red Square since his death nearly 90 years ago.
The techniques used to keep his body presentable since 1924 are enough for their own post, but suffice to say, Lenin is more wax than man at this point. However, that doesn't stop people from lining up to see his body.
When visiting, it's hard to wrap your head around the fact that the body you are looking at belongs to the famous Russian dictator and not a wax museum. Nevertheless, it's still an interesting place to visit, for the sheer novelty if for no other reason.
Lenin's Mausoleum is open from 10am-1pm everyday except Mondays, Fridays, and holidays. Cameras, hats, and bags are not permitted.
Christ the Savior Cathedral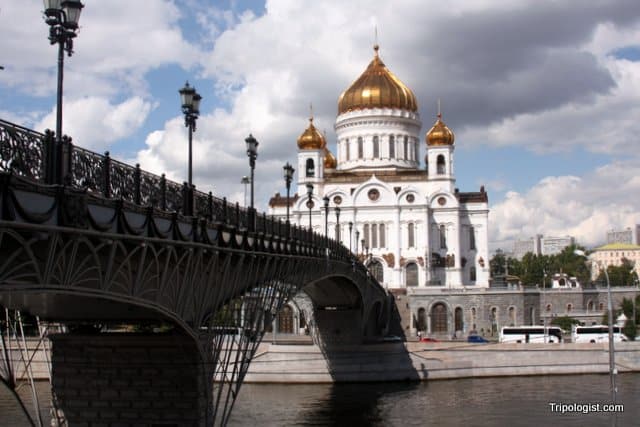 One of the more beautiful churches in Moscow, Christ the Savior Cathedral is quite striking on both the outside and the inside.
Sitting on the location of a planned 1,400-foot tall Palace of the Soviets, the original church was torn down, only to be rebuilt in 2000. Though the church may not be historic, it is definitely a beautiful building worth seeing.
While this may sound crazy, I would liken a visit to Christ the Savior Cathedral to seeing Notre Dame Cathedral in Paris a few short years after it was opened. After all, on first sight, it's pretty clear that this cathedral will be around for many, many generations.
Christ the Savior Cathedral gained notoriety in 2012 as the location of a protest by Russian rockers Pussy Riot, who are still in jail for their actions.
Admission to the Cathedral is free, but it's worth noting that shorts and tank tops are not allowed.
Stroll Through Red Square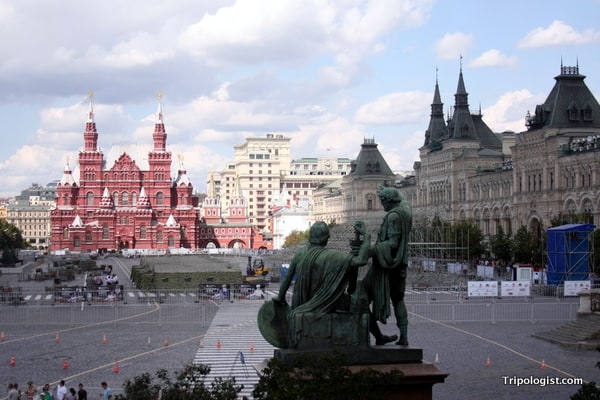 Once the center of the Soviet Union and the site of grand military parades, Red Square now sees grand hordes of camera touting tourists viewing some of the most iconic buildings in all of Russia.
Surrounding Red Square are buildings such as the Kremlin, Saint Basil's Cathedral, and Lenin's Mausoleum. However, my favorite building was the large shopping mall, complete with high-end stores like Prada and Gucci.
Nothing says communism like a designer handbag!
Check out the Metro
Grand arches and stain glass at Novoslobodskaya Station (Creative Commons: Flickr user Andrew Griffith)
Okay, this might not technically be free, but since you have to get around the city one way or another, it's not going to cost you anything extra.
What surprised me the most when I visited Moscow wasn't the beautiful buildings above ground, but the elaborately decorated subway stations below ground. From ornate chandeliers to Soviet propaganda murals, there's something for everyone to enjoy in Moscow's subway stations.
While it may sound crazy, I found the subway system to be Moscow's most beautiful area.
Create Your Own Architecture Tour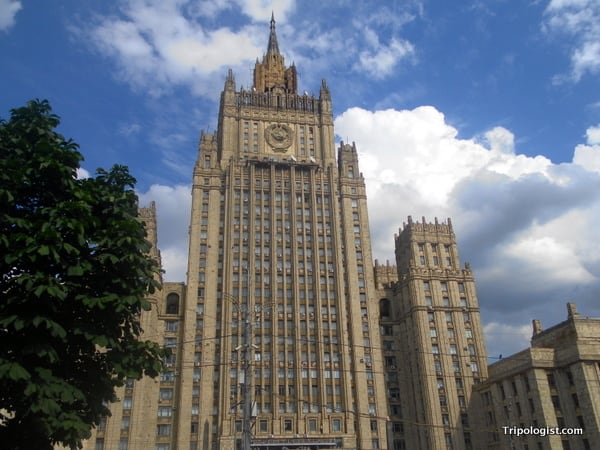 If your visit to Moscow is your first time in Russia, you'll definitely want to take a walk through the city.
With towering Soviet-era skyscrapers and beautiful public buildings, Moscow is a real treat for anyone who likes architecture. My favorite buildings in the city are known collectively as the Seven Sisters. Each designed in the Stalinist-style of Soviet architecture, the grand buildings still tower over the city's skyline.
If you're looking for somewhere special to stay in Moscow, two of them are now hotels and are great places to stay.
Do you have any suggestions of free things to do in Moscow, Russia? Let us know in the comments section below.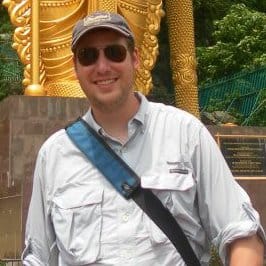 Jim Cheney is the creator of Tripologist.com. Having traveled extensively in North America, Europe, and Asia, Jim enjoys sharing his love of travel and some of his favorite places to visit around the world. He lives in Pennsylvania, USA, with his wife and two kids.