Disclosure: This article may contain affiliate links. We will make a small commission from these links if you order something at no additional cost to you.
From luxury, all-inclusive hotels to a couch in a stranger's apartment, there are nearly as many different kinds of accommodations as there are types of travelers. And, while many of us stay in a variety of different styles of accommodations when we travel, we all have a favorite kind. So, for this week's discussion, I want to know: what's your favorite type of accommodation when you travel?
As I get older, the types of accommodation that I'm interested in has changed. When I was younger, I didn't made staying somewhere inexpensive, even if it was a bit dirty or I had to share the room with 8-10 other people.
However, as I've gotten older, I've come to appreciate a bit of down time in the evenings. Therefore, when I have the chance, I'll often opt for a private room. That being said, I'm still cheap, and in some larger cities, a dorm bed in a hostel can save me a lot of money, so I opt for that.
While I must admit that I do enjoy a really nice hotel room from time to time, my favorite type of accommodation is a private room in a high-quality hostel. There are several reasons for this.
First, private rooms in hostels are usually much cheaper than a room in a hotel of comparable quality. Ultimately, a lot of my preferences still come down to price.
That being said, even if they are the same price, I still prefer private rooms at hostels for two reasons: convenience and local knowledge.
Hostels tend to be very well located. For example, in planning my trip to Seattle, I found a private room in the heart of the city for the same price as a cheap hotel by the airport, over half an hour outside of town by public transit. Of course, it isn't just Seattle where you find disparities like this, it occurs in most large cities around the world
Hostels are also great places to stay because the staff usually have a much better local knowledge than the staff at major hotel chains. Sure, they might not all be locals, but they've all be in the area for a while, know how to use public transportation, and know the great and inexpensive local restaurants and sites.
If you stay at a major hotel chain, they often don't know how to get around via public transit and will often point you to either an expensive restaurant or a nearby restaurant chain.
For those three reasons, I'm glad hostels have started to offer more and more private rooms. I may have outgrown a dorm room, but I haven't outgrown the price and convenience of a hostel.
What about you? What's your favorite type of accommodation when you travel and why? Let me know in the comments section below.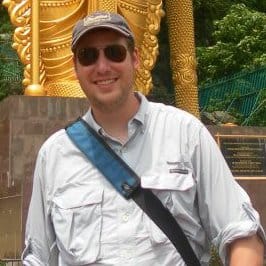 Jim Cheney is the creator of Tripologist.com. Having traveled extensively in North America, Europe, and Asia, Jim enjoys sharing his love of travel and some of his favorite places to visit around the world. He lives in Pennsylvania, USA, with his wife and two kids.