Disclosure: This article may contain affiliate links. We will make a small commission from these links if you order something at no additional cost to you.
"Welcome to Paradise!" says the sign that greets the mostly Australian visitors to the Indonesian island of Bali. Taxi drivers grab tourists right out of the airport doors, hoping they do not realize that they should first get a quote from the taxi counter for a fair rate.
Streets are noticeably difficult to navigate, so drivers earn their fees, and traffic can be even more daunting with so many motorbikes switching constantly from lane to lane.
Once out of the most congested areas of Kuta and Legian (known for partying and surfing), Bali becomes "Balinese." Sanur Beach town lulls visitors into a relaxed state of being, as do other northern coastal villages.
We planned our week in Bali well…
Day One: Settle in for a day. Relax. However, that plan quickly turned into us going down to Uluwatu to see the "Kecak Dance" performance overlooking the temple and cliffs. As with all performances in Bali, the Kecak Dance tells the story of a god defeating evil. In this case, it's performed primarily by men, and includes bare chests and chanting. Afterwards, on the advice of our driver, we ate dinner on the beach. My husband seriously enjoyed the fish he chose out of the tank for his supper!
Day Two and Three: Make our way to Ubud. See a volcano. Eat at a really neat restaurant in Ubud (since they're famous for their food choices). To get from Sanur to Ubud, we decided to hire a driver, named Buddha, for US$50 per day to take us touring . We felt that his knowledge of the English language, the benefit of getting answers about his culture, and sightseeing at our own pace, made this expense worthwhile. Buddha picked us up in Sanur.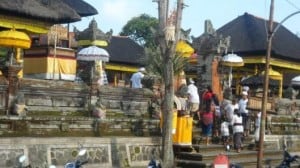 We then went to a "Barong Dance" performance, another Bali traditional dance which tells a story of a god defeating evil. This time, however, there were traditional musicians playing traditional Balinese instruments. Apparently, the Barong Dance is performed at Hindu Temples across the island during every Galugan Celebration. According to Buddha, Galugan is like Western Christmas in its importance level. More on that in a moment…
After the Barong Dance, we passed in and out of a number of villages on our way to Batur Volcano. That route included a number of stops at shops making and selling traditional Balinese items like silver, Batik textiles, and different types of artwork. Many of the villages have set up these shops to provide work to the people of the village as well as to fund their schools. It was interesting to see how they made things, and there was no pressure to buy.
Finally, we arrived at Batur Volcano, a little past 2 pm. We ate lunch on the side of the mountain facing the beautiful volcano. Lunch was pricey (about $15 for the privilege), but the view made it worthwhile.
On the drive from Batur Volcano to Ubud, we stopped at another beautiful temple and stopped again to take photos of the most beautiful, green rice terraces in the world. We also noticed so many people making decorations in preparation for the next day's major holiday celebration: Galugan.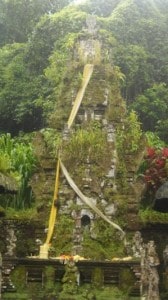 The only full day we stayed in Ubud was the final day of preparation before the Galugan celebration. Galugan is the Hindu celebration of Dharma (good) defeating Adharma (vice). As with most holidays in Bali, many of the shops would be closed. Therefore, we made arrangements to only spend one night in Ubud, and head to the beach. During the evening, night and the next day spent we were in Ubud, we got the best reflexology massage we have ever had, ate at different restaurants (all fabulous), and tried different foods. Our room was $35 per night and included a fantastic view of green fields, a pool, and breakfast.
Days Four through Seven: ummm, I'm not sure, let's just wing it! In the end, we decided to head to the beach. We were truly enjoying the hot weather, but since we were on vacation, we decided to relax in the pool and see some sunsets.
We took the advice of many friends, and we headed to Seminyak Beach. We checked in to a fantastic, beautiful seaside hotel with a gorgeous pool, and relaxed for three days. We walked a bit, shopped a bit, ate out a bit, but mostly, we swam in the pool, read books in the loungers, watched sunsets on the beach, and relaxed.
When we think about our Bali holiday, the things we remember are the emerald green rice terraces, crashing waves, majestic volcanoes, entrancing performances, brightly colored fabrics, sacred Hindu ceremonies, and temples. But most of all, we remember the tolerant, happy people!
[box_light]Jennifer Burns teaches history and social studies to Middle and High School students from various countries and cultures. She and her husband Roger travel on as many school breaks as they can.[/box_light]