Disclosure: This article may contain affiliate links. We will make a small commission from these links if you order something at no additional cost to you.
Europe is home to 50 countries housing a variety of cultures, languages, people and most importantly, food. When visiting Spain, France, and the Netherlands, the food is incredibly diverse, especially for countries that are very close to one another.
While traveling in Europe, the majority of my time was spent in Spain, so I was exposed to a wide variety of food from a few select regions. In northern Spain, specifically San Sebastian and the Basque region, pinchos are more popular with locals than the more–widely recognized tapas. Pinchos are smaller, more compact dishes that are placed on a small slice of baguette and sold for about a Euro.
In chic San Sebastian, bars serve a wide variety of seafood like octopus and shrimps pulled fresh from the ocean mere feet away. Toothpicks stacked with fresh anchovies, green beans, olives, and Spanish olive oil are served at almost any bar in the city, and are a salty bite that pairs perfectly with beer.
Not that tapas are bad, either. In Madrid and Barcelona, tapas are king. Small plates filled with squid–ink rice, skewers of meat, and plates of jamon are popular items, and of course, paella. The classic Spanish dish is popular in Barcelona, where seaside restaurants offer special deals on a large plate of paella and a jar of sangria. The crispy saffron rice with a plethora of fresh caught seafood is a perfect meal for a pre or post beach hangout. Washing it all down with sweet red sangria, it is easy to feel like life was meant to be this relaxing.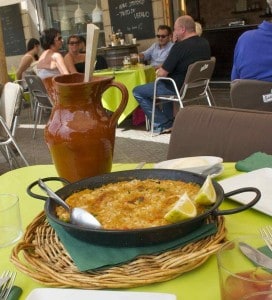 In larger cities like Madrid and Barcelona, open–air markets are another popular choice for delicious and cheap food. In Barcelona, the Mercat de La Boqueria is a popular stop in the morning, for fresh juices for a Euro a piece and fresh cups overfilling with jamon for a few Euros. The most incredible stall however, was the seafood stall. Fresh piles of razor clams, mussels, and other incredible assortments of seafood line the stall, with a few seats for customers to enjoy their meal. Order a plate of the mussels, and they cook them in wine and garlic and serve them steaming on a plate with crispy bread. I still dream of this stall and the mussels that changed my life.
An incredible part of the pincho and tapa cultures is the price. A good meal for two can be had in Spain for less than 40 Euros for anywhere from five to seven tapas, including a pitcher of sangria. The small plates and bites command only small prices, making Spain a wallet–friendly place for the budget–minded.
In France, it is easy to have high expectations of food. Paris is known for having some of the best food in the world, or at least some of the snootiest people who believe their food are the best. However, they're not wrong. Parisian restaurants range from simple to expensive, and visitors can try a myriad of foods from many different cultures. While there, however, classic French food is what I craved.
During my travels in France, I gorged myself on foie gras and frog legs, duck and escargot. Staying close to Montmartre, I spent mornings at local bakeries eating French pastries and sipping tea.
If there's one thing the French should be known for, it's their bread and pastries. The croissants of local bakeries have forever ruined American baked goods for me, and I miss them every morning. Light, flaky, and buttery, there is a huge difference between a freshly baked croissant on the streets of Paris and the ones you find at the local supermarket.
Then there were the baguettes. Cheap and freshly baked, they make the loudest and most satisfying crunch when you tear a slice off, and are soft and spongy between the crust. With a small jar of foie gras, some fresh raspberries, and some macaroons, a perfect Parisian picnic can be enjoyed on the mall overlooking the Eiffel Tower.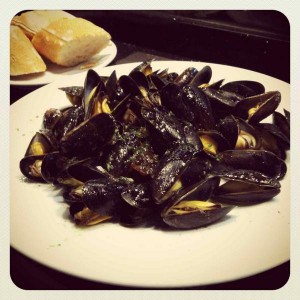 Luckily for me, the French are also incredible at cooking meats and cheeses as well. Escargot, steak with Béarnaise sauce, and mussels adorn small curbside tables, alongside bottles of French red wine and ashtrays. I had duck served with the most incredible mustard sauce curbside in Montmartre, and had crème brule by the Eiffel Tower.
The various neighborhoods of Paris also affect the types of food enjoyed by locals. In the Arab communities, food from the Middle East is prevalent, while towards the center of the city, more traditional food can be found. In hip Montmartre, bakeries and small "classic French" eateries are prevalent, mixed with more modern takes on French food.
While more expensive than Spain, France still did not break the bank. The most expensive meal I enjoyed was a three–course, six plate meal for two including dessert and a bottle of wine. We did not spend over 100 euros. While there are many expensive places in Paris that visitors can enjoy, if you explore the streets of this beautiful city, cheap and delicious food is easily found on side streets off the main roads.
In Amsterdam, every main road looks like a side street, and each canal has so much indescribable beauty. The city's residents are incredibly relaxed individuals, possibly due to the city's relaxed stance on marijuana. While you might expect that the food in Amsterdam would be only "munchies", burgers, chicken nuggets, and fries, the cuisine is much more than that, and the variety is incredible.
Many smoke shops serve food, which is ingenious, and many take pride in the food they're serving. Wagyu beef burgers topped with home made sauces, home made pies and refreshing fruit juices are prevalent in these shops because alcohol is not sold in the same places as pot, an understandable law. We didn't miss it.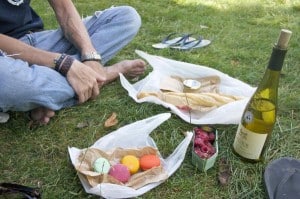 Amsterdam is home to many restaurants that have been reviewed by the Michelin guide, a revered and respected guide to some of the world's best resturants. Beef carpaccio topped with a crisp salad and dressed with truffle oil, BLTs better than those in the states, and thoughtful dinners of fish and roasted meats are served canal side in numerous small restaurants.
Life is slowed down in Amsterdam, and the food is definitely more than meets the eye. Storefronts are small and intimate, and residents of Amsterdam are kind and welcoming. Toward the center of the city, more touristy options can be found, larger restaurants charging more for less, but the best places to spend time are on the canals a little farther out from the center of the city, where the locals enjoy their evenings, fresh bottles of white wines, and tulip adorning the night. An evening of some incredible food while enjoying the tranquility of the canals can be expensive, in the area of 100 euros for a meal consisting of two entrees and a bottle of wine, but the price is well worth the quality.
Europe is a cultural mecca, and along with culture comes food. Incredible destinations for so many reasons, Paris, Barcelona, Madrid, San Sebastian, and Amsterdam also have incredible food to boot, and the variety is immense. It is not a good time to be on a diet while traveling in Europe, but a wonderful time to travel if you want to taste the unique flavors of each city.
[box_light]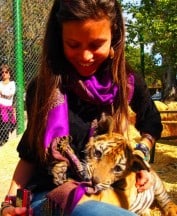 Originally from New York City, Lana Lagomarsini has always had a love of many cultures. As a young adult, she spent a great deal of time traveling throughout South America, experiencing the culture, people, and food.
In college, she majored in journalism and discovered a love of writing to express her travels to the world. She believes eating helps you experience new cultures as much as any other traveling activity, and began her own blog to document her love of food. She lives in Boston with her fiancé and her hedgehog.
[/box_light]