Disclosure: This article may contain affiliate links. We will make a small commission from these links if you order something at no additional cost to you.
The island of Penang in Malaysia is one of the world's best places for food. In fact, in 2009, New York Times readers voted it the world's second best city for food. Obviously there is something special about the food on the island.
So, when my wife and I started planning our trip, we knew that we had to try a cooking class when visiting Penang.
Sitting just outside of Georgetown, the largest city on the island and the base for most travelers, sits the Tropical Spice Garden. Nestled in a once abandoned rubber plantation, the garden features a variety of tropical plants and spice plants and several trails on which you can explore the beautiful grounds. Within the last year, they have even added a cooking school to their offerings.
My wife and I arrived a bit before 9am for our cooking class, and we were allowed to enter the garden's grounds even though it was before opening time.
Once we had registered, our tour guide, Danny, started off by offering everyone natural citronella bug spray. The Tropical Spice Garden strives to be as environmentally and socially friendly as possible, using only natural pest control methods, working with the local community, and using small local vendors whenever possible. After getting sprayed up, we started a tour of the garden grounds.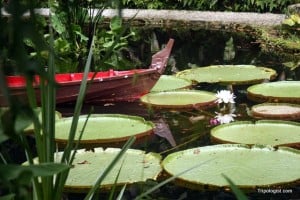 We started the tour by looking at some of the most common plants in Malaysia. Everything from large trees to small shrubs are represented in the garden. Our tour guide was very knowledgeable, pointing out the uses of each plant and other interesting facts.
After looking at the local plants, we headed over to the spice garden. The spice garden was full of a large variety of spices that we were allowed to smell, touch, and even taste. Our tour guide, Danny, was able to quickly tell us the uses for each spice in the kitchen and the medical benefits that they provide.
After the tour, which lasted about an hour, we were led to the cooking school area. The cooking school area was very modern and featured space for up to 10 students. The ingredients that we needed were already laid out for us, and the onions were even peeled.
Our menu was called "A Complete Malaysian Lunch" and was led by our cooking instructor, Azizah Othman. Today, we were going to make chicken cutlet with potatoes (called begedil in Malay), fish curry, and banana pancakes.
After donning our Spice Garden aprons, which we were allowed to keep, we started by mixing the batter for our banana pancakes. After the batter was mixed, we moved on to the chicken cutlets with potatoes. First, we had to brown the pre-cut potatoes and dice the vegetables. We then cooked the chicken, and mixed everything together. Finally, we made small meatballs from the mixture and, after dipping them in bread crumbs, cooked them until the outside was a golden brown.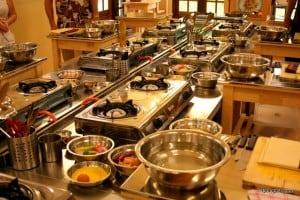 Then, we moved on to the fish curry. We all had portions of fish in our bowls, and I was lucky (I guess that's the right word) to have a portion of fish roe in my bowl. We started the curry by cutting up the vegetables and then browning half of them in a clay pot before adding water, curry powder, and other spices. We then added okra, the fish, and coconut milk to the mixture.
Finally, we were ready to cook our banana pancakes. Since we had already made the mixture, this was a simple as putting a bit of the mixture in a pan and cooking it.
At last, it was time to eat. The seven of us in the cooking class all loaded our food onto trays and carried them up to the eating pavilion above the cooking school. While there, we finally got to taste the efforts of our morning labors. In one word, the food was fantastic. I don't think that I've ever cooked food that delicious. The chicken cutlets were perfectly seasoned and moist, the fish curry was just the right amount of spicy, sweet, and sour, and the banana pancakes were warm and delicious.
As we ate the food, accompanied by a sweet tea from some of the garden's spices, we all talked and got to know each other. Soon, our bellies were full, but there was still much food on the table. Thankfully, our instructor was kind enough to give us plastic containers to take our food back to our hotels. The leftovers made an excellent dinner that evening.
Before we left, we were each given a copy of the recipes so that we could make the dishes at home. Fortunately, there was very little that we used that would be hard to come by in a western country. The recipe for the fish curry was slightly different from what we made, but I'm sure the taste would be similar.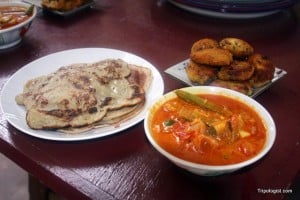 I'm very glad that I had the opportunity to visit the Tropical Spice Garden Cooking School and would highly recommend it to those interested in the region's food. The classes, at 200 Ringgit (about $68) are more expensive than cooking classes in some of the other southeast Asian countries, but feature a different style of cooking that you can't learn in those countries. They offer a different menu and food style Tuesday to Sunday, featuring Malay, Nyonya, and Indian cooking. You can reserve your spot by visiting their website.
If you don't have the money for the cooking course, you can still visit the spice gardens. They offer daily guided tours for 22 Ringgit ($7.25) or a self-guided tour for 14 Ringgit ($4.75). The grounds are definitely worth seeing even if you don't do the cooking school.
The Tropical Spice Garden also features a gift shop featuring a variety of spices and crafts and a beautiful restaurant with ocean views.
Getting to the Tropical Spice Gardens
Getting to the Tropical Spice Gardens is fairly easy from Georgetown. You can hop on bus 101 or 102, both of which stop at the central bus station at Komtar. You can also pick up bus 101 from Lebuh Chulia Street in the center of Chinatown. It takes about 45 minutes to get to the Spice Gardens from Chinatown on bus 101.
Disclaimer: In exchange for writing a review of the Tropical Spice Garden, my wife and I were given a free tour and cooking class. However, the opinions in this article are my own and as unbiased as possible. The Tropical Spice Garden had no editorial say in the contents of this article.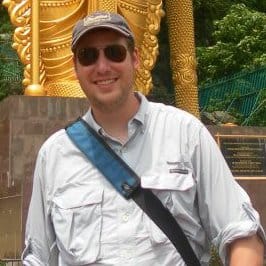 Jim Cheney is the creator of Tripologist.com. Having traveled extensively in North America, Europe, and Asia, Jim enjoys sharing his love of travel and some of his favorite places to visit around the world. He lives in Pennsylvania, USA, with his wife and two kids.