Disclosure: This article may contain affiliate links. We will make a small commission from these links if you order something at no additional cost to you.
Chiang Mai, Thailand, is one of my favorite cities in all of Asia. Sure, it's a bit overrun with tourists, but there is just so much awesome stuff to do, it's dirt cheap, and the food is amazing! If you only have time for one destination in Thailand, skip Bangkok and head straight for this amazing city.
Unfortunately, though, with so many tourists, each carrying the same three or four guidebooks, it can be hard to really get away from the crowds and really discover what makes the city so special.
Recently, my friend Chris Backe moved to Chiang Mai after a very long stint in South Korea and a short stay in Bangkok. Chris has a knack for finding the most offbeat and hidden things to see and do in whatever area he happens to be living in. So, when Chris told me that he had put together a 3-day itinerary for Chiang Mai, Thailand, I was excited to check it out.
Having spent about ten days in Chiang Mai back in 2012, I thought I had a pretty good grasp on things to see and do in the city. However, as I've come to expect, Chris has come up with a ton of amazing sites that you certainly won't find in your guidebook. Some of my favorite finds in this itinerary are an insect museum, a mini-golf course, and a rarely visited royal mansion.
This guidebook does a great job of getting you to many of the top sites in Chiang Mai, along with some out of the way places, but it's far from a complete listing of the amazing things to do in and around the city. Missing are a few of my favorites, such as zip lining in the rain forest, and some of the more controversial things to do, like chilling with a tiger at Tiger Kingdom. It might be worth spending a few extra days in Chiang Mai to experience some of the other attractions and sites that catch your eye.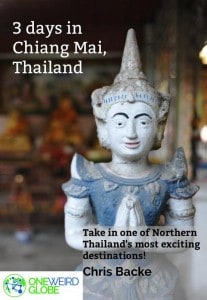 One thing I really liked about Chris' 3-day Chiang Mai itinerary is that he includes really good directions, as well as addresses and GPS coordinates. If you've ever used a traditional guidebook, you'll know that their maps and directions are often difficult or impossible to follow. I can't see you having that issue with this itinerary.
It is worth noting that a good portion of this itinerary does require wheels of some sort; be that a rented scooter, car, or hired vehicle. Given how touristy Chiang Mai has become, you'll certainly want to get out of the Old City at some point, but it's something to be aware of before you purchase this itinerary.
Overall, I definitely recommend Chris Backe's "3 Days in Chiang Mai, Thailand" for anyone wanting a great mix of traditional sites and off-beat destinations when visiting this northern Thai city.
"3 Days in Chiang Mai, Thailand" can be bought for $4.99 on Amazon.com. However, if you visit Chris' site, OneWeirdGlobe.com, directly, you can use the coupon code "jimrocks" to get 50% off a PDF or MOBI copy purchased directly on his website.
Planning a trip to South Korea? Check out my review of Chris Backe's "Weird and Wonderful Korea".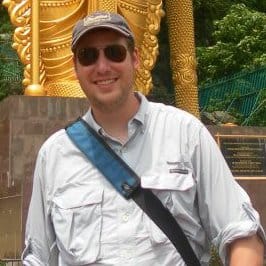 Jim Cheney is the creator of Tripologist.com. Having traveled extensively in North America, Europe, and Asia, Jim enjoys sharing his love of travel and some of his favorite places to visit around the world. He lives in Pennsylvania, USA, with his wife and two kids.