Disclosure: This article may contain affiliate links. We will make a small commission from these links if you order something at no additional cost to you.
Nestled  in the northwestern corner of Malaysia, Georgetown is one of the country's most popular tourist destinations. Sitting on the eastern shores of the island of Penang, the city and the surrounding villages are some of the most historically important in all of Southeast Asia.
Settled by the British in 1786, Georgetown was the first British colony is Southeast Asia, even predating the colonies in Singapore, Malacca, and Hong Kong. Because of this, Georgetown became a major trading hub during the 19th century, creating a city with a vibrant variety of cultures.
Today the city center, which was named a UNESCO World Heritage Site in 2008, features a fantastic mix of colonial architecture, Indian and Asian food, and many different religions and ethnic groups.
Because of this, the island of Penang has something to offer every traveler. From sandy beaches, to historical buildings, to mouth-watering delicacies, it is easy to spend a week seeing what the island has to offer.
Unfortunately, many travelers don't have the luxury of that much time; however, it is possible to see many of Georgetown's highlights in a 24-hour period.
Since there are a lot of things to see, it is important to start your day with a delicious breakfast. To start your day like the locals, head over to one of the many dim sum restaurants, which are typically only open during the morning hours, for some fantastic bite-sized dishes.
If that doesn't suit your taste buds, there are plenty of bakeries and cafes where you can have more western-style fare.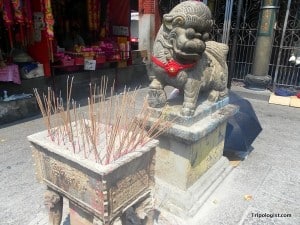 Once you finish breakfast, start your day of sightseeing in Georgetown's large and dynamic Chinatown, the location of many of the city's hotels. Much of Chinatown is filled with historical colonial buildings that were built during the 200 years of British rule. These stand in stark contrast to the neighborhood's many temples. The incense wafting in the air over a pastel colored colonial mansion is a scene you are unlikely to see anywhere other than Georgetown, Malaysia.
One temple worth checking out is Wat Chaiyamangalaram. Built in 1845 as a Thai Buddhist Temple, it features one of the world's largest reclining Buddhas. This temple, like many in Georgetown, is quite active during the day. Other temples worth seeing include Dhammikarama Buddhist Temple, a Burmese temple located across from Wat Chaiyamangalaram, and Kuan Yin Teng, one of the oldest temples on the island, dating from 1801.
After checking out Chinatown, go next to Little India. Throughout this section of town, carpet sellers and stores full of religious icons fill the streets between the occasional temple or mosque. This is easily one of the most vibrant parts of town.
Close to Little India is Fort Cornwallis. Built in 1810 on the site of the initial British landing, the Fort is located in a beautiful park, surrounded by colonial era government buildings and monuments. Make sure that you see the Queen Victoria Clock Tower and the whitewashed city hall.
As one of the world's best destinations for inexpensive food, lunchtime in Georgetown is a treat. Follow the crowds to one of the many eateries that dot the street and order a plate of chicken rice. Despite its low cost, this meal will be delicious and filling.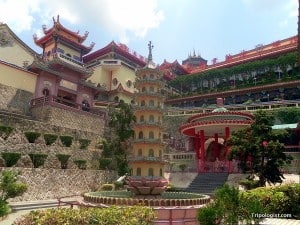 After lunch, take a bus or taxi to Kok Lok Si Temple, located west of the city center. Built in 1890, the temple is the largest Buddhist temple in all of Southeast Asia. This sprawling complex is full of large statues, towering pagodas, and devout worshipers. Make sure to take the funicular train ride up the hilltop where the 36 meter tall Goddess of Mercy statue is located. The hilltop not only features a beautiful statue, but also has great views of the surrounding area, as well as some interesting sculptures in the surrounding park (make sure to keep your eye out for Mickey Mouse!).
After you've seen Kok Lok Si Temple, make your way over to the nearby Penang Hill. Reached via a funicular, the hill is a great place for a sunset dinner overlooking the city and the Straits of Penang. Conversely, after sunset, make your way back to the city and head back to Little India for some of the best Indian food in Southeast Asia.
Georgetown is a great city to visit and easily worth several days of travel. However, it is possible to see the highlights and enjoy some excellent food in only 24 hours.
If you enjoyed this article and would like to find out more about travelling to Malaysia, please visit the Tourism Malaysia website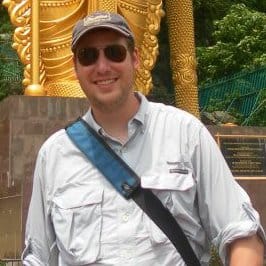 Jim Cheney is the creator of Tripologist.com. Having traveled extensively in North America, Europe, and Asia, Jim enjoys sharing his love of travel and some of his favorite places to visit around the world. He lives in Pennsylvania, USA, with his wife and two kids.