Disclosure: This article may contain affiliate links. We will make a small commission from these links if you order something at no additional cost to you.
Any vacation is exciting and needs to be planned for, but extra planning is necessary when traveling internationally. When you arrive, you'll likely be confronted with a completely new culture, maybe even a new language, and you don't want to have trivial planning mistakes hanging over your head.
Here are five things that you must do before you leave on your international trip.
Call your Bank
In the past, traveler's cheques and cash were the most common source of funds for oversees travelers. However, with the increase number of ATM machines around the world, more and more people are choosing to use their ATM cards while traveling abroad.
Using your card has several advantages, including consistent exchange rates, being more easily replaceable than cash if stolen, and being accepted in more places than traveler's cheques.
However, if you fail to call your bank and use your card overseas, you run the risk of them blocking your account to prevent fraudulent charges. To avoid this, make sure that you call your bank (and credit card company, too) before you leave home and tell them about your travels. That way, you won't run into a nasty surprise when you try to use your card.
Scan your Passport and Bank Cards
What if you are traveling overseas, and the unthinkable happens, you lose your passport your ATM card is stolen? What do you do? If you have scanned your important items before you leave home, this can help to hasten the process of getting them replaced and reporting them stolen. If something were to happen, simply open your email and print off a copy of the stolen items. You'll then have all the important phone numbers, account numbers, etc. that you need to help speed up the process.
Getting a visa for some countries is a real pain in the ass. (Creative Commons: Flickr User: TheTransparentEyeball)
Book Your Hotel
Even if you are starting long-term travel and don't have any definitive plans, I find that it's always a good idea to book your first few nights accommodation before leaving. That way, when you arrive in a distant city or on a new continent, you won't have to figure out where to stay, and you can instead direct your energy on using the available public transportation or taxis to get your hotel. If you book early enough, you might even be able to find a hotel that will pick you right up from the airport.
With the simplicity of booking a hotel room online, there is really no reason to not book your first night or two in a new country.
Check if you Need a Visa
The number of countries that require travelers to get visas continues to shrink; however, several months prior to your trip, it's worth checking online to see if you need a visa. Some popular countries, like China and Russia,  still require visas of nearly every nationality, while others only require visas of certain nationalities.
It's also worth considering how long you are planning to stay in a country. Visas don't allow unlimited stay in a country, so if you plan to stay more than a few weeks in a country, you may need to get a visa prior to departure.
If you fail to get a needed visa, you likely won't even be allowed on the airplane; however, even if you are allowed to board, you'll likely to be turned away at the border and have to take the next flight home.
Purchase Travel Insurance
In my opinion, purchasing travel insurance is a very important step in the process of planning for your international trip. Not all insurance companies cover you when you are out of the country, so if something were to happen to you, you would have to pay the bill upfront.
Even if you are going to a country with rather inexpensive medical care, you must consider the cost of having to be evacuated in the event of a medical emergency, something that can run several hundred thousand dollars.
Travel insurance has other benefits, such as covering you in the event of a missed flight, lost luggage  etc., but the most important part is the medical coverage.
Don't be the person that winds up costing themselves and their families a ton of money because you didn't think to get a bit of insurance before leaving home.
Do you have any other tips for travelers going on international trips? Let us know in the comments section below.
This post was brought to you by a valued advertising partner.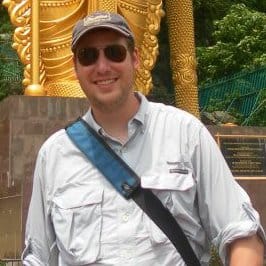 Jim Cheney is the creator of Tripologist.com. Having traveled extensively in North America, Europe, and Asia, Jim enjoys sharing his love of travel and some of his favorite places to visit around the world. He lives in Pennsylvania, USA, with his wife and two kids.