Disclosure: This article may contain affiliate links. We will make a small commission from these links if you order something at no additional cost to you.
The Colosseum in Rome. Angkor Wat in Cambodia. Chichen Itza in Mexico. Some sites around the world were absolutely amazing to see in person no matter how many times I'd seen pictures of them or how much I'd built them up in my head. However, the Terracotta Warriors in Xi'an, China, definitely do not fall into this category. In fact, I don't think that it's a stretch to call them the most disappointing and overrated tourist attraction in the world.
I realize that many of you must think that I'm crazy. It's very possible that you have been there and thought that the Warriors were amazing. Or maybe, they are near the top of your "must-see" list, and you can't imagine being anything but wowed. And honestly, a year ago, I would have been right there with you; I went into the Terracotta Warrior experience expecting nothing but great things.
I mean, how couldn't you? The sight of thousands of stone warriors made over two thousand years ago should inspire a real sense of awe; shouldn't it? We've all seen the pictures.
The thing is, it just doesn't. At least not for me.
After mulling it over in my head for the last six months, and letting the initial disappointment fade, I feel like I have figured out several reasons why Xi'an's Terracotta Warriors are the most disappointing tourist attraction in the world.
The Terracotta Warriors Lack the 'Wow' Factor
At first glance, this might seem like a weird thing to say. After all, you are staring at thousands of statues built a really, really long time ago. However, when you visit the Warriors, they require the very large crowds to stand back a decent distance and look down on the Terracotta Warriors. Of course, this certainly isn't the fault of the planners, I mean, you can't just go stand next to them; I'm sure they are quite fragile.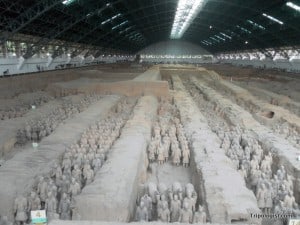 Unfortunately, though, this setup takes away from the grandeur of the statues. When you go to see Angkor Wat, the Pyramids, or other great structures, you are often amazed by them because they tower over you. You can go and stand next to them, touch them even. You can really get a great feel for the beauty of these ancient wonders. However, standing so far back from the warriors and looking down on them really makes appreciating them difficult.
It's sort of like seeing a celebrity and realizing that they are really short in real life.
What's Real and What's Fake?
Don't get me wrong, I'm not saying that the Terracotta Warriors are fake (though some people do). I just feel like the display that we are shown today is not a true representation of what has really been found.
When you visit the largest pit on the site, you are greeted by thousands of intact Terracotta Warriors standing at attention in large formations. However, everywhere else you look there are simply fragments of warriors sitting in the unexcavated dirt. It seems hard to believe that they excavated so many complete, or almost complete warriors, in one area of the pit, when all the ones still in the ground aren't intact.
Based on this, there are only three logical possibilities to me:
The statues you see are real ones from all over the site that have been moved to their current location for effect.
Most or all of the statues were found in pieces and reconstructed to appear whole.
Most or all of the statues displayed are modern reproductions of the ancient warriors.
If numbers 1 or 2 are correct, it doesn't really bother me. I just think that they should be forthright with the information. An honest statement about the reconstruction wouldn't detract much from the potential impressiveness of the site. I mean, the things are over 2,000 years old.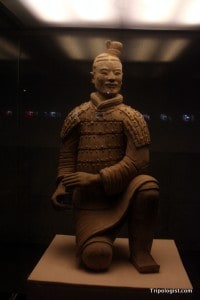 On the other hand, there is the third statement.
Now, before you just immediately think that I'm some crazy conspiracy theorist, there is one very important point to consider: The only archeologist to ever examine the Terracotta Warriors on location have been approved by the Communist Chinese government. No foreign archeologists have ever examined the Warriors that are in the pit.
Why the secrecy if everything is legit?
Is it possible that few intact ones that they found are in various museums around the world, and the ones that we see in Xi'an are mostly reproductions?
The Whole Backstory Seems Sketchy
As the story goes, a group of farmers were digging a well in 1974 and happened upon one of the (if not the) most amazing archeological discoveries of the 20th century.
I'm not going to lie, I don't have much faith in governments, especially communist ones. However, it just seems a bit to convenient to me that the Terracotta Warriors were found by common farmers just as China was starting to open up to the western world. The Chinese government would have a lot of incentive to mislead us as to who found them and when.
Now, that of course, really has nothing directly to do with whether the warriors are legit, or even whether or not they are impressive. However, the pattern of questionable feelings that I received at the site reinforced to me that the warriors were just not nearly as impressive as they should be.
In fact, I honestly believe that, real or not, the Terracotta Warriors are the most disappointing tourist attraction in the world.
But, what do you think? Have you been to the warriors and think that I've finally lost it, or do you agree with my feelings about the Terracotta Warriors? Let me know by commenting below.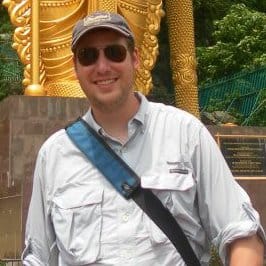 Jim Cheney is the creator of Tripologist.com. Having traveled extensively in North America, Europe, and Asia, Jim enjoys sharing his love of travel and some of his favorite places to visit around the world. He lives in Pennsylvania, USA, with his wife and two kids.