Disclosure: This article may contain affiliate links. We will make a small commission from these links if you order something at no additional cost to you.
Lying just off the south-eastern coast of China lies the island of Taiwan. Long known for its beauty, the island has faded into the background as a tourist destination in recent years. However, in recently, Taiwan has been getting more and more well-deserved attention as a fantastic place to visit.
Any visit to Taiwan is likely to start and end in the capital of Taipei. And, while there is much to see outside of the capital region, it would be a shame to skip over Taipei. When I visited in December of 2010, I found Taipei to be a charming city with wide and beautiful tree-lined streets, bustling markets, and several fantastic sights to see.
One other fantastic thing about Taipei is that it is an affordable option for those traveling on a budget. However, is it possible to spend a fun-filled day in Taipei, Taiwan for $30 US? Let's find out.
How Much Money Do We Have – 900 New Taiwan Dollars
As always, we will be working with a budget of $30 US. As of January 11, $1 is worth approximately NT$30 (New Taiwan Dollars), so our $30 US is worth NT$900. Let's see if we can have a great day of sleeping, eating, and sightseeing for that amount of money.
Accomodation – NT$400
Taipei isn't a terribly expensive city, and accommodation is no exception. Looking at the hostel options on HostelWorld.com, you can get a well-rated hostel for NT$400 or even less. That works out to less than half of our budget for the day. A great deal when staying in a large city. Conversely, you can spend a little more and find a great hotel in Taipei for not too much money.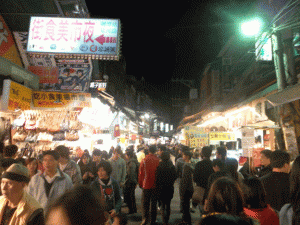 Food – NT$300
Taiwan is one of the world's best destinations for food. Drawing from its Chinese heritage, the food on the island resembles typical Chinese fair in many ways but still has its own unique flair. In fact one of the world's best restaurants is from Taiwan, Din Tai Fung. It is a fantastic dining experience and quite easy on the wallet. I would highly recommend a visit. However, since we are on a pretty tight budget today, we'll have to save that for another day.
As with most of Asia, one of the best ways to eat cheap in Taipei visiting one of the many street stalls that pop up, especially in the night markets.
For breakfast, find a hole-in-the-wall restaurant serving baozi, which are large steamed buns filled with a variety of meats and vegetables. One should be enough to fill you up, but shouldn't set you back more than NT$50.
For lunch, pop into almost any convenience store or train station and get a biandang box. Similar to Japanese bento, biandang is a full meal, consisting of rice, meat, and several different types of vegetables. This is one of the most popular lunch options for office workers in Taipei. These can be found for as little as NT$40, but shouldn't run you more than NT$100.
That leaves us with NT$150 for dinner. I would highly recommend holding off your evening meal until the night markets open around dusk. There are no shortage of these markets in the city, but the Shilin Night Market is considered one of the city's best. At the market, there will be a wide variety of foods that you can pick up, from soups to grilled meat and from stinky tofu to things you've never seen or heard of. NT$150 should be enough for you to get 2 or 3 of the items at the various stands. Just pick something that looks and smells good. It's hard to go wrong here.
Total Food Costs: NT$300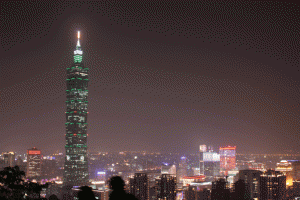 Sightseeing – NT$0
Taiwan is a fantastic place to do a bit of sightseeing. In some ways it reminded me of an Asian version of Washington, D.C. with tree-lined streets and monuments to the leaders of the past.
Upon leaving your hostel, your first stop should be the Chiang Kai-Shek Memorial Hall at the subway stop of the same name. Flanked by the very ornate (and very orange) National Theater and the National Concert Hall, the white-washed Memorial Hall itself looked more Middle-Eastern than Taiwanese to my amateur eye.
Following the steps up leads to the main hall of the memorial, featuring a towering statue of Chiang Kai-Shek, the first president of the Republic of China. If you are there during a changing of the guard ceremony, make sure to check it out.
When you are ready to leave, proceed back to the subway, and head over to see Longshan Temple (Again, the subway is named after the sight. Very helpful, if unoriginal, naming). The temple was originally built in the 18th century, but was largely destroyed by an American bomb during World War 2. Rebuilt after the war, the temple isn't confined to any one religion or deity. Instead, it features a mixture of Buddhist, Tao, and local folk religions. The temple complex, while not being huge, is well worth the time to visit and walk around.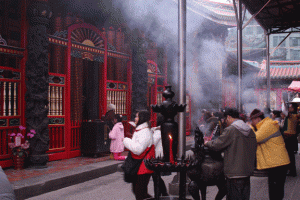 After checking out the temple, head back on the subway and head to Sun Yat-Sen Memorial Hall (Guess the name of the subway station). Recognizing the founder of the Republic of China, the hall is free and worth viewing for a few minutes. You can also get a great view of Taipei 101, the second tallest building the world, from the back gardens.
After checking out the temple, your next destination should be a hike on Elephant Mountain in downtown Taipei. The hike up shouldn't take you any longer than 20 minutes or so, but the top of the mountain affords you a fantastic view of downtown Taipei and Taipei 101. I highly recommend trying to time your visit with the sunset.
To get there from the Sun Yat-Sen Memorial Hall, start by heading towards Taipei 101, the giant building you see from the back gardens. If you have a few minutes, the mall in the base of the building is worth checking out, but most of the stores are of the very expensive variety.
Once you get to Taipei 101, I'm going to default to the wonderful directions I followed last year. They got me from Taipei 101 to the top of Elephant Mountain without any trouble. I highly recommend this hike.
After getting your fill of the sunset from Elephant Mountain, head back to the Sun Yat-Sen Memorial Hall Station and head out to one of Taipei's best night markets, the Shilin Night Market at Shilin Station. The night market is a 5-10 minute walk from the station (Follow the subway tracks south to get there). At the night market you can sample a wide assortment of food. There are also some neat temples scattered throughout the night market that are worth checking out.
Total Sightseeing costs: NT$0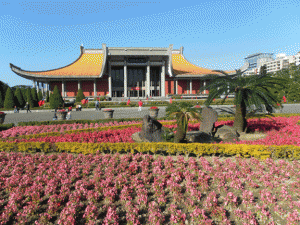 Transportation – NT$150
If you follow the sightseeing itinerary above, you'll be doing a lot of moving around to different parts of the city. Fortunately, the Taipei subway system is efficient, clean, and very cheap. None of your rides should cost you more than NT$30, with most being around NT$20-25. Therefore, for the six rides that you will need for the trip, I've settled on an average of NT$25 per ride, for a total of NT$150. It is possible that your total might be a bit cheaper.
As a note, Taipei does offer an all day pass, but it isn't worth it for your travels today.
Conclusion – Total Spent: NT$900
It may have taken every last dollar that you have, but you can have a very fun and adventurous day in Taipei, Taiwan for $30 USD. This itinerary provides you with a chance to see some of Taiwan's best monuments, go on a hike, and eat some of the world's best cuisine. Overall, it should be a very successful and fulfilling day.
Lastly, if you are looking for something else to do while in Taipei, make sure to check out the Beitou Hot Springs just north of the city and a short walk from the subway. It's a great, and very cheap, day trip.
Do you have any money saving tips for visiting Taipei, Taiwan? Let us know in the comments section below.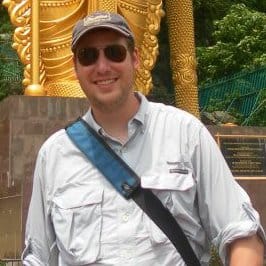 Jim Cheney is the creator of Tripologist.com. Having traveled extensively in North America, Europe, and Asia, Jim enjoys sharing his love of travel and some of his favorite places to visit around the world. He lives in Pennsylvania, USA, with his wife and two kids.