Disclosure: This article may contain affiliate links. We will make a small commission from these links if you order something at no additional cost to you.
Located in central New Hampshire, White Mountain National Forest is one of New England's best outdoor regions. Here, you can take a train to the highest spot on the east coast, explore amazing vistas, and hike on some of the region's best trails. There is also another great reason to visit the White Mountains: waterfalls.
White Mountain National Forest is home to many fantastic waterfalls along its miles of trails. Some of these are roadside and require almost no effort to see, while others require several miles of hiking on steep trails.
If you are looking for the best White Mountain waterfalls, these are a few of my favorites.
Arethusa Falls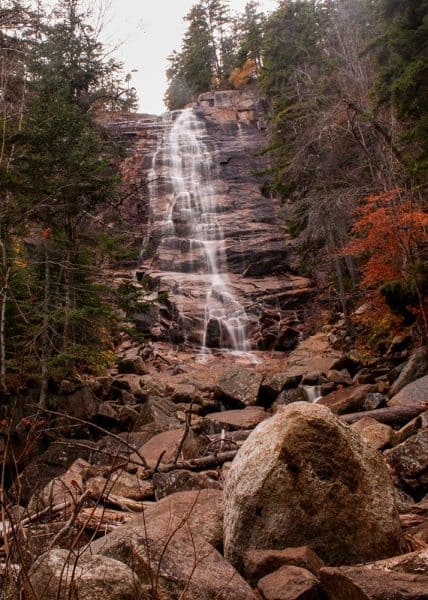 Arethusa Falls is a massive waterfall near Crawford Notch State Park and is widely considered to be one of the most beautiful waterfalls in the White Mountain National Forest. At somewhere between 140-200 feet in height (depending on the source), it's also the tallest year-round waterfall in New Hampshire.
The hike to Arethusa Falls is 1.5 miles in length and climbs roughly 900 feet in elevation. The trail to get there is steep with many rocks and roots, but the chance to see this beautiful waterfall makes the hike worthwhile.
Sabbaday Falls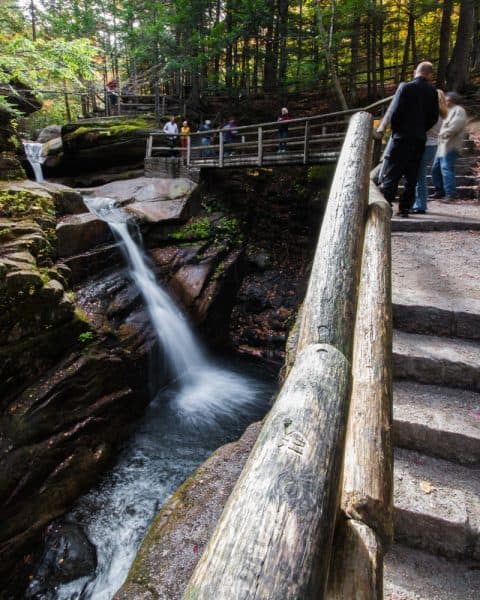 Sabbaday Falls is located along a short and easy trail off of the fantastic Kancamagus Highway.
A 0.3-mile hike will take you to the base of this three-tier waterfall. The lowest tier is a bit hard to see without getting your feet wet (especially if water levels are high), but the upper viewpoints offer nice views of both the lower and upper tiers of the 45-foot White Mountain waterfall.
This waterfall is also notable as it's said that the first viewpoint of the waterfall is handicapped accessible along a wide, gravel path.
If you are driving the Kancamagus Highway, don't miss this fantastic stop.
The Basin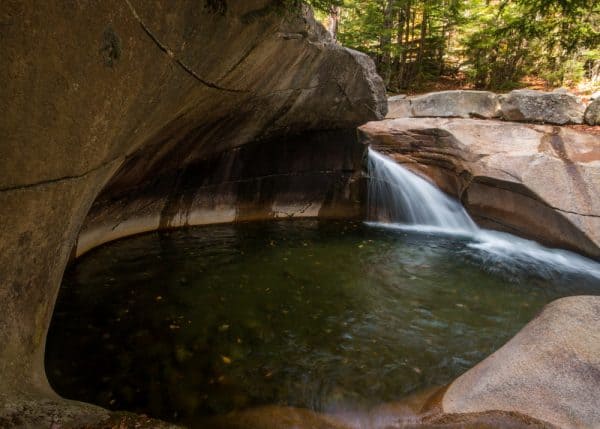 The Basin is one of the smallest named waterfalls in the White Mountains, but it's also one of the most popular waterfalls in the region.
This is partially because of how easy it is to get to, but also because of its shape. You see, while the Basin isn't a large waterfall, the water here has carved out a 30-wide circle from the hard rock. This perfectly-circular shape is quite unique and a wonder to see.
Even author Henry David Thoreau once said it was "perhaps the most remarkable curiosity of its kind in New England."
Kinsman Falls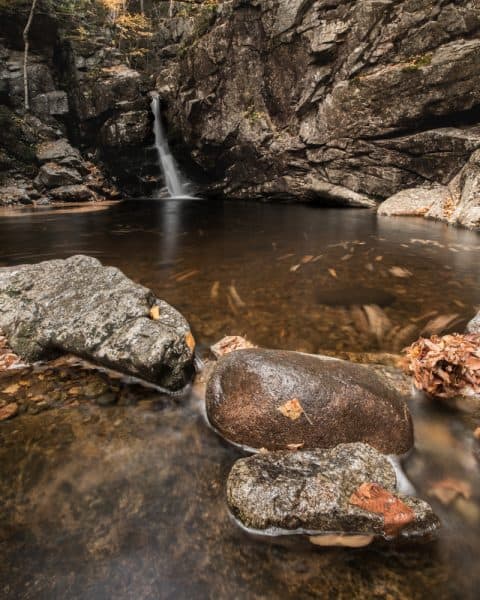 Another great thing about the Basin is that it's located along a trail that features even more waterfalls. Continuing another half-mile up the trail leads to Kinsman Falls.
This 15-foot waterfall is best seen from the far side of its large plunge pool. It carves a narrow channel in the towering cliffs surrounding it.
Rocky Glen Falls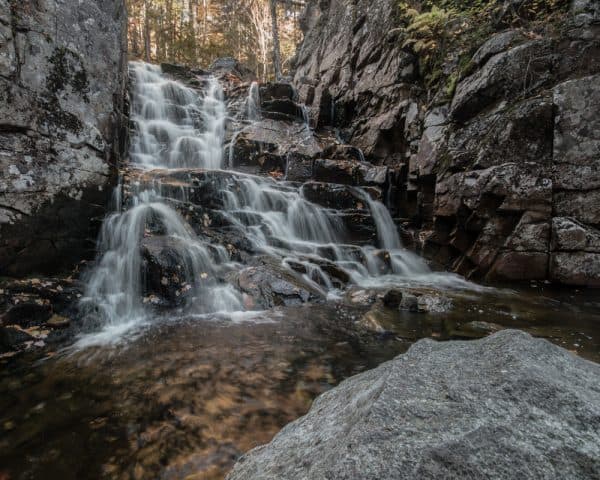 The final waterfall on the Basin-Cascade Trail is Rocky Glen Falls. Located a mile from the Basin and half-a-mile from Kinsman Falls, Rocky Glen Falls is a great reward for hiking this suburb trail.
Rocky Glen Falls is a 30-foot waterfall located near the end of the trail, just a tenth of a mile from the Appalachian Trail (making it a worthwhile detour for those hiking the AT).
There are several spots to view this waterfall from both the side and, if water levels aren't too high, from the front.
Ripley Falls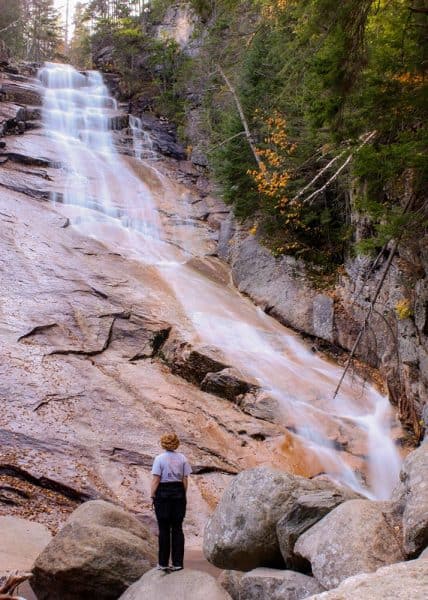 Ripley Falls is located in Crawford Notch State Park and is another can't miss White Mountain waterfall.
This 100-foot waterfall flows down a 60-degree angle, which is much steeper than most slide falls. Because of the shape of this waterfall, it is sometimes the site of guided repelling trips.
The hike to Ripley Falls is just over half-a-mile long but is somewhat steep with 400 feet of elevation gain along the trail.
Upper Falls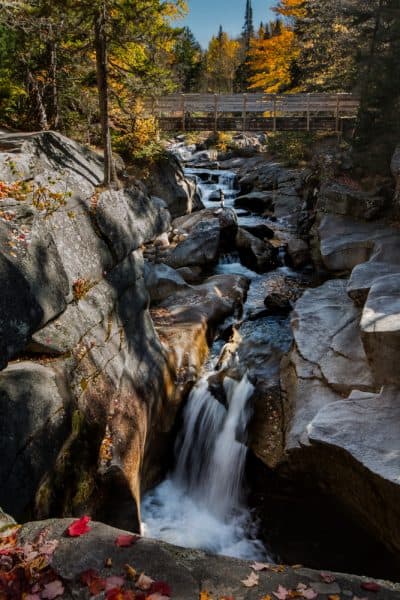 Upper Falls is located on the side of Mount Washington along the Ammonoosuc River. While it's not well marked, parking for this waterfall is located along Base Station Road, the road that runs to the Cog Railroad to the top of Mount Washington.
From the parking area, a short walk past several warning signs leads to the edge of the river. The warning signs indicate that swimming is not allowed here and that people have died not heeding this warning.
While the waterfalls here aren't very tall, they are quite unique as they cut a narrow chasm through the rocks that you can look down on from above.
If you are taking the railroad to the top of Mount Washington, this is a great diversion while you are in the area.
Lower Falls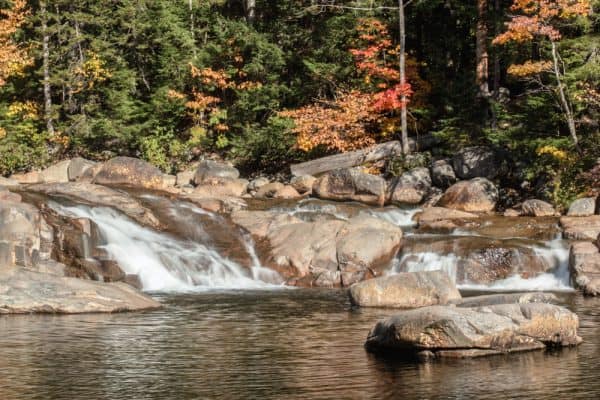 Despite the name, Lower Falls is not located near Upper Falls. Instead, it is a stop along the Kancamagus Highway in the White Mountain National Forest.
While this is the smallest waterfall on this list, it's popularity and ease of access make it a worthwhile White Mountains waterfall to include.
Lower Falls is located at a stop of the same name on the Kancamagus Highway near Albany, NH. This waterfall is more of a large cascade, and people love to climb around on the rocks near the falls when water levels are lower.
If you are looking for a beautiful roadside waterfall in White Mountain National Forest, this is a great choice.
Cloudland Falls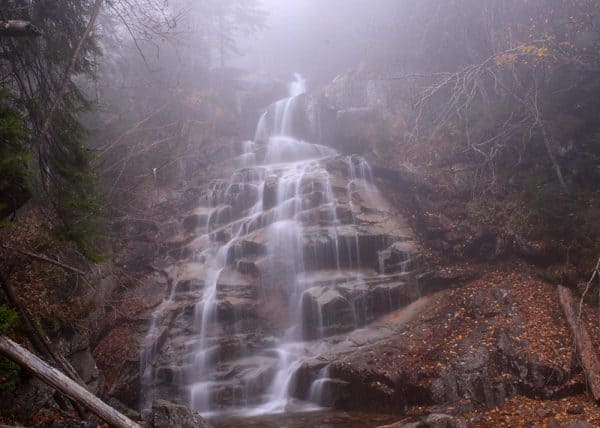 Cloudland Falls is located along the Falling Waters Trail in Franconia Notch State Park and upstream of two other beautiful waterfalls: Stairs Falls and Swiftwater Falls.
The trail primarily follows Dry Brook as it climbs Mount Lafayette and starts near the Lafayette Place Campground. This 2.5-mile roundtrip hike is definitely challenging, both in elevation gain and rockiness. However, the 80-foot Cloudland Falls is one of the most beautiful in New Hampshire and makes the effort worthwhile.
Do you have a favorite White Mountain waterfall? Let us know in the comments below.
Looking for more waterfalls in New Hampshire? The book "Hiking Waterfalls in New England" offers a ton more options in the region.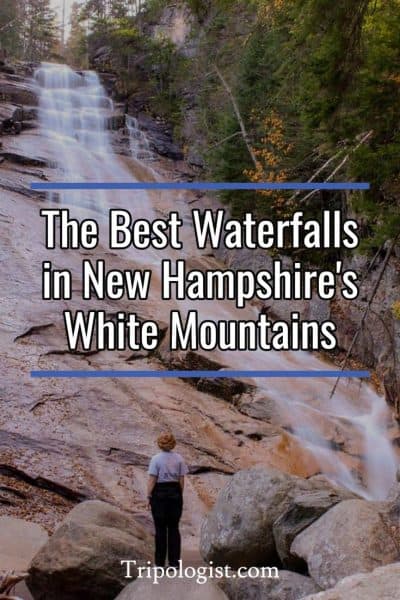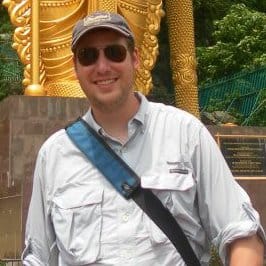 Jim Cheney is the creator of Tripologist.com. Having traveled extensively in North America, Europe, and Asia, Jim enjoys sharing his love of travel and some of his favorite places to visit around the world. He lives in Pennsylvania, USA, with his wife and two kids.