Disclosure: This article may contain affiliate links. We will make a small commission from these links if you order something at no additional cost to you.
When you think beer, Portland, Oregon, in the US Pacific Northwest might not be the first city to come to mind. However, it should certainly be near the top of the list. Despite not having the centuries old beer heritage that cities like Munich, Prague, or even Philadelphia have, Portland is home to many fantastic breweries. In fact, Portland has more breweries inside its city limits than any other city in the world.
Featuring more than five dozen amazing breweries, you are guaranteed to find something that you like to drink. Furthermore, if you are a big fan of full-flavor beers bursting with hops, then you'll be in heaven.
Portland's Pearl District is the perfect area of the city to visit if you want to take a brewery crawl through this beer heaven. Here are five unique and amazing breweries to try. All can be visited on foot in a single afternoon, so head to Portland and get crawling!
Rogue Distillery and Public House
A good place to start your journey is at the Rogue Distillery and Public House. Rogue Beer is brewed in Newport, Oregon, but their public house features more than three dozen taps of Rogue's finest beers, including some that can only be found at this location, you're guaranteed to find a brew that you love. Of the ones that I tried, I have to highly recommend their "Dead Guy Ale". You may already be familiar with this beer as it's one of their most widely distributed beers.
While you're at Rogue's Distillery and Public House, take a few extra minutes to try something off their extensive pub menu or to take a tour of their distillery and try some samples of their fine liquors.
Bridgeport Brewing Company
Now in their 30th year, Bridgeport Brewing Company claims to be Oregon's oldest craft brewery. Their Bridgeport India Pale Ale has won numerous gold medals at places such as the Great American Beer Festival and the Brewing Industry International Awards.
They feature a handful of year-rounds brews as well as several rotating seasonal beers that you are sure to enjoy.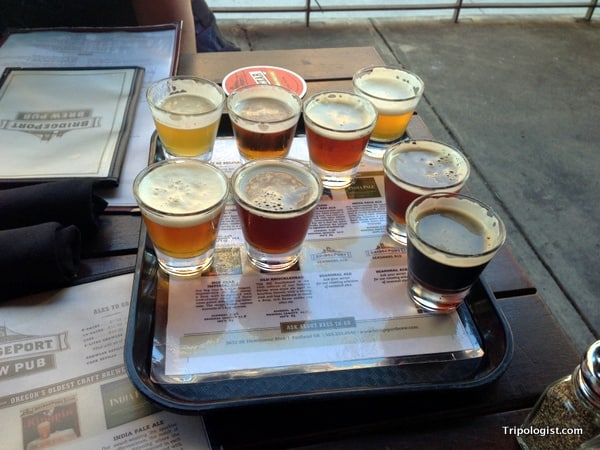 Deschutes Brewing Company
In the world of Oregon craft breweries, Deschutes in the big boy. In fact, it's the twelfth largest brewery in the United States and Oregon's largest beer brand.
Like Rogue, Deschutes' main brewery isn't located in Portland. Instead, most of their beer is brewed in Bend, Oregon, which is a great place to visit if you ever have the chance (Click here to read my full review of my experience at Deschutes Brewery in Bend). However, like Rogue, they also brew several exclusive brews just for their Portland Brewpub.
In my opinion, Deschutes is the one must-visit brewpub on this list. Trust me, you won't regret it!
McMenemins' Riglers Pub.
If you visit the Pacific Northwest and don't visit a McMenemins' location, you're definitely missing out. This unique company takes over old buildings and restores them to their former glory. Once complete, they put in a restaurant, bar, brewery, hotel, spa, or whatever else they feel like including.
In downtown Portland, I had the chance to visit Ringlers Pub, which is located on the first floor on an old ballroom. In the location, they serve beers fromMcMenemins' Crystal Brewery, one of the 24 different breweries that they run in Oregon and Washington. Yes….24.
While the brews might not be quite up to the quality of Deschutes or Rogue, they definitely win points for being served in a unique setting.
Tug Boat Brewing Company
Of all the breweries on this list, Tug Boat Brewing Company is easily the most unusual and unassuming. Located in an alley around the corner from a strip club, walking through the plain exterior of the brewery makes you feel like you're entering a secret clubhouse. And, once inside, this feeling isn't likely to change.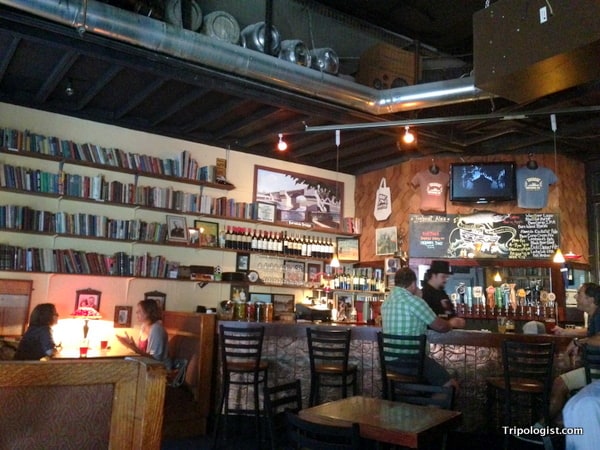 The interior of Tug Boat Brewing Company is like a cross between a cellar and someone's personal library.
Tug Boat offers several quality beers, but what makes this place so special is the chill atmosphere. Visitors are encouraged to stay for a while, pull out a board game, and just enjoy the experience.
Without a doubt, Tug Boat is a great place to end your brewery tour through Portland's Pearl District!
Do you have a favorite Portland brewery that I didn't include? Let me know in the comments below.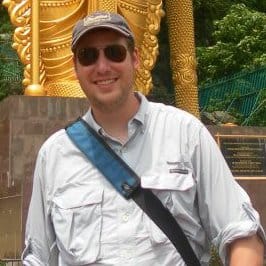 Jim Cheney is the creator of Tripologist.com. Having traveled extensively in North America, Europe, and Asia, Jim enjoys sharing his love of travel and some of his favorite places to visit around the world. He lives in Pennsylvania, USA, with his wife and two kids.