Disclosure: This article may contain affiliate links. We will make a small commission from these links if you order something at no additional cost to you.
I'm not going to lie, one of my biggest pet peeves when traveling is places that charge foreigners more than locals. It drives me absolutely crazy.
Some sites are quite subtle about it, putting the lower pricing in the local script while putting the tourist price in English. Other times, they're very blatant about the different pricing for locals and foreigners and write both prices in English.
To me, there's something really wrong about this practice no matter how you do it. When sites do this, it makes me feel that they only care about my money and not that I've come to see their attraction and learn about their country's history and culture.
It's really almost a slap in the face.
The one instance that really stands out to me was in Bangkok. At the Grand Palace, the ticket pricing for foreign visitors is 500 Baht (about $16 USD). On the other hand, locals get in for free. To make matters worse, foreigners had to go to a specially designated line and wait to enter while Thai's walked in without issue.
However, it's not just Thailand where this happens. In fact, at many of the most popular sites in Asia this is a common practice. At places as diverse as Angkor Wat in Cambodia, river tours in Malacca, Malaysia, and the Terracotta Warriors in Xian, China, I've been charged a good deal more than locals to enjoy the same experience. To me, this just isn't right.
When it comes to restaurants, hawkers, or even taxi drivers, I can understand why they try to overcharge foreigners. However, I feel that a government owned or supported tourist attraction shouldn't be promoting this practice. Not only is it unfair, but it also encourages local business owners to see tourists as walking banks.
What are your thoughts? Is it okay to charge foreigners more, or is it a bad practice that hurts tourism? Let me know in the comments section below.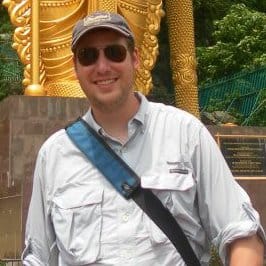 Jim Cheney is the creator of Tripologist.com. Having traveled extensively in North America, Europe, and Asia, Jim enjoys sharing his love of travel and some of his favorite places to visit around the world. He lives in Pennsylvania, USA, with his wife and two kids.