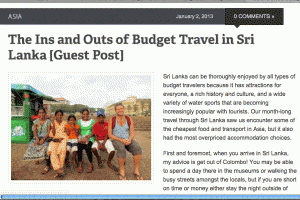 Tripologist.com is now accepting submissions for guest posts. Before submitting an article for publication on Tripologist.com, please take the time to check out several articles on the site. Tripologist.com focuses on independent, budget travel and is unlikely to post articles unrelated to this. All posts must be non-commercial in nature.
If you are interested in submitting a sponsored, commercial post, please check out our advertising page for more information or contact us for current rates.
Please read the following details before submitting your post.
– All work must be original and unpublished in print or online.
– Ideally, submissions should be between 500-1000 words.
– Please include 3-4 photographs and captions with your submission (one must be horizontal). All photos must have been taken by yourself or be licensed through Creative Commons with proper attribution included.
– No monetary payment will be given.
– You may include one non-commerical link in your post. Additional links to related content on Tripologist.com may be added prior to publication by the site administrator.
– Please include a short bio that tells a bit about yourself and a photo. You can include up to two non-commercial links in your bio (for example: your blog or social media pages).
– Posts will be edited before publication to ensure a consistant voice throughout the site.
– Tripologist.com has the right to refuse any post for any reason.
– Two weeks after publication on Tripologist.com, you are free to publish the article elsewhere.
If you are interested in writing for Tripologist.com or have any questions, please contact us.