It's been just a few days over two years since I left my temporary home in South Korea and started on a long and epic journey home. However, even though I only lived in Korea for two years, there will always be a part of me that thinks of it as a second home.
Because of this, I've continued to be very interested in anything related to Korea. So, when I discovered that the Philadelphia Museum of Art, which is a mere 90-minute drive from my home, would be featuring the most comprehensive collection of Joseon-era items to ever visit America, I knew I had to visit.
The "Treasures of Korea" exhibit at the Philadelphia Museum of Art features over 150 different pieces of Korean art, many of which have never before left South Korea. From beautiful calligraphy to antique pottery and furniture, this is a great exhibit for anyone interested in the arts and culture of the Korean Peninsula.
During my time in Korea, I visited many different museums and
palaces throughout the country
. Because of this, many of the items on display were similar to things that I had seen before. However, the free audio guide that was provided gave me a lot of great insight into the beautiful collection.
The Treasures of Korea exhibit also had a section about western influences of Korean society. I found this area particularly interesting because it covers a time of change in Korean culture that isn't often covered in Korean museums. It also provides an outside perspective on these changes that you won't find elsewhere.
While many of the items are quite exquisite, make sure you don't miss the giant Buddha banner that hangs above the museum's main staircase. This item has been declared a National Treasure of Korea and is one of the larger and more beautiful Korean tapestries that I have seen.
While at the Philadelphia Museum of Art, make sure to spend a few hours checking out the rest of the exhibits. Even though the museum is one of the top art museums in America, it may be more famous for its outdoor stairs, which were conquered by Rocky Balboa in the movie "Rocky".
However, on the inside, the museum is filled with many amazing works of art from painters such as Van Gough, Renoir, Picasso, and Monet. The museum primarily focuses on European paintings, but does have a great collection of American art and even a small section dedicated to European arms and armor.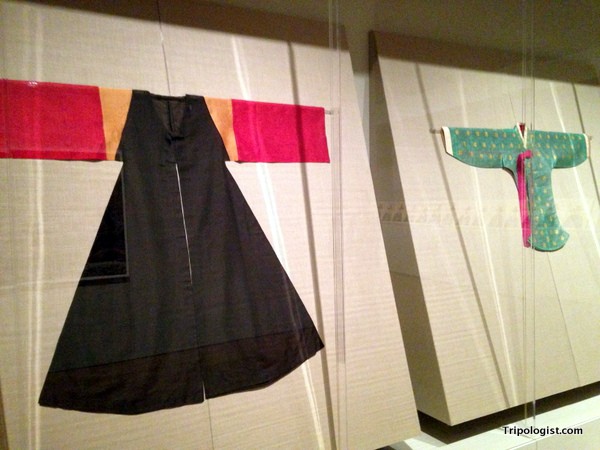 For those interested in Asian art, there is a great section of the museum dedicated to it. I enjoyed walking through the area seeing outstanding works of art from China, India, Japan, Thailand, and yes, Korea.
While the Philadelphia Museum of Art is open year-round, the Treasures of Korea exhibit is only on display until May 26, 2014. Admission to this temporary exhibit is included with your regular admission ticket to the museum, so there's no excuse not to spend a few minutes checking the rest of it out during your visit.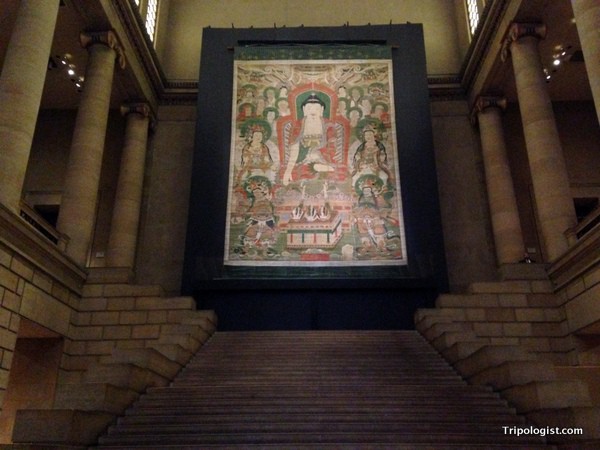 For more information on visiting the Treasures of Korea exhibit at the Philadelphia Museum of Art, check out their website, which also lists many of the cultural activities going on to support the Korean exhibit.
And, if you're planning a visit to Philadelphia, check out my other site, UncoveringPA.com, to find some of the best things to do in Pennsylvania.
As a quick final note, if you aren't able to make it to the Philadelphia Museum of Art for the Treasures of Korea exhibit, the exhibit will also be appearing at the Los Angeles County Museum of Art from June 29 – September 28, 2014, and at the Museum of Fine Arts in Houston, Texas, from November 2, 2014 – January 11, 2015.
Note: In order to facilitate this review, I was given free admission to the Philadelphia Museum of Art. However, the opinions expressed in this post are my own and were not subject to review.