Did you know that the average person spends nearly 30 hours planning their travels? And that's just for a week-long vacation. If you're planning on traveling for weeks or even months, you'll certainly spend longer then that planning your travels.
It's no wonder that we spend so many hours planning our trips. With hundreds of websites offering different prices on hotels, flights, tours, etc., and with thousands of possible destinations and routes, just figuring out where to go can be daunting.
Don't you think there has to be a better way to get the experiences you want without spending every waking moment planning your next trip?
That's where the Tripologist Travel Planning Service comes in. While a traditional travel agent can help you plan your travels, they often won't have been to the destinations you are going to. Also, since they are being paid by the airlines, hotels, tour operators, etc., they aren't going to be looking out for the best deal for you. Instead, they'll often recommend the hotel, flight, or tour that provides them with the highest commission. Does this sound like something that will benefit you?
However, by having me assist you with your planning, I'm always looking out for you. Having been both a travel agent and a long-term traveler, I know the tricks to save you money and time. Whether you're trying to figure out how to backpack through Asia or just want to save time and money on your one-week vacation, I can help.

Specializing in Asia, Europe, and North America, I know how to ask the right questions to find you the destinations and operators that will meet your needs and maximize your experiences and budget.
How Does the Travel Planning Process Work
Questionnaire – We start off with my specially designed questionnaire. By filling this form out, you'll make sure that we don't have to waste valuable time discussing where you want to travel, how you want to travel, what your budget is, etc. By analyzing your form prior to our first conversation, I will be able to come prepared with appropriate follow-up questions, making sure you get the most out of our first Skype conversation.
Consultation – Next, we'll talk via Skype for up to 1 hour. During this time, I'll make sure that I understand your needs and what your ideal trip looks like.
Planning – Using the information I gathered during our conversation, I'll spend several hours putting together your trip. This can be anything from a basic itinerary all the way up to assistance with finding the best flights, hotels, and tours. It all depends on what you want. No two consultations are the same! I'll then email you the information no later than 48-hours before our final conversation so you have time to review it.
Follow-Up – Lastly, we'll meet again on Skype for about 30 minutes to go over your itinerary. If you have any major concerns or questions, I can adjust accordingly and send you an altered itinerary.
All told, there will be four different options available so that you will be able to purchase the right package to fit you needs. These four packages are: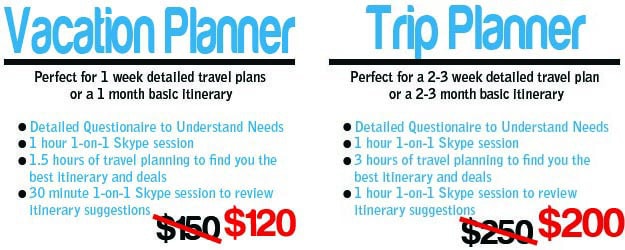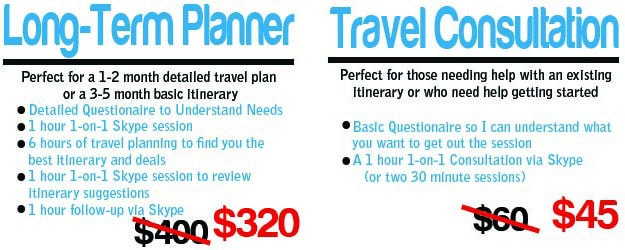 Here's what people are saying about the Tripologist Travel Planning Service.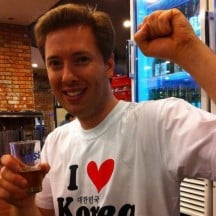 Jim at Tripologist has been a big help to me. Having blazed trails through the Asian rice fields and concrete jungles before me, Jim has consistently been a helpful and knowledgable guy to ask for advice on where to visit, what to see and do, and what to be aware of any time I have headed out on a new adventure.
When I take off to spend four months exploring Asia next spring, I expect the Tripologist will be one of my main sources for recommended destinations, travel tips and advice, and helpful assistance. Thanks Jim!
– Simon Naylor
If you would like to book a travel planning consultation or have any questions about what we offer and how we can help you, feel free to message me using the contact form below.
Comments or questions are welcome.