Disclosure: This article may contain affiliate links. We will make a small commission from these links if you order something at no additional cost to you.
The idea of traveling around the world can be very daunting. Whether you are touring Europe on a large budget or backpacking in Southeast Asia on a tiny one, the world can seem like a big vacuum, sucking the money out of your pocket until all that is left is torn ticket stubs and memories.
At some point, everyone, no matter high their traveling budget is, will experience anxiety about the revolving door they used to call their wallet; however, when you are traveling, you don't want to miss those once in a life-time excursions or regret not picking up that cliche, but still cool, souvenir.
So, how do you avoid breaking your budget and still having a great time? I mean, unless you are one of those people who thrive on sleeping on park benches while traveling, or you think that taking a shower is for wusses and grannies, you are going to need to splurge every once in a while.
They key is to learn how to spread several cheap days into your plan, and that's what this series is all about.
Every few weeks, Tripologist.com will bring you a series of articles about how to survive some of the world's biggest cites on less than $30.
However, just because you are on a budget backpacking across Asia or taking the train in Europe with Rail Europe
 it doesn't mean that you will have to skimp on exciting activities. Every article will feature practical advice on what to see, where to sleep, and what to eat, so you can still enjoy yourself while giving your wallet a mini-vacation.
In every article that we feature, we'll include at least one tourist site, three local meals, and a realistic room rate as quoted by HostelWorld.com.
So, come with us on an adventure that will surely lead to both you and your budget being happy as you backpack your way across the world.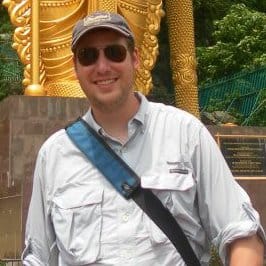 Jim Cheney is the creator of Tripologist.com. Having traveled extensively in North America, Europe, and Asia, Jim enjoys sharing his love of travel and some of his favorite places to visit around the world. He lives in Pennsylvania, USA, with his wife and two kids.